On the ropes? It's been a bad week if you're an immigration-reform supporter… This comes as Boehner huddles with House Republicans to discuss how to proceed on immigration… Will GOP supporters strike back? Bush is set to deliver immigration speech today, but will that help GOP reformers or hurt them?... Obama meets with the Congressional Hispanic Caucus at 11:00 am ET to discuss immigration reform… Ex-Obama staffers join Ready for Hillary effort… Rand Paul and the issue of race… Bob McDonnell has seen his political career turn upside down… How does this impact Cuccinelli?… And Jessica Taylor's Top 5 races of 2013.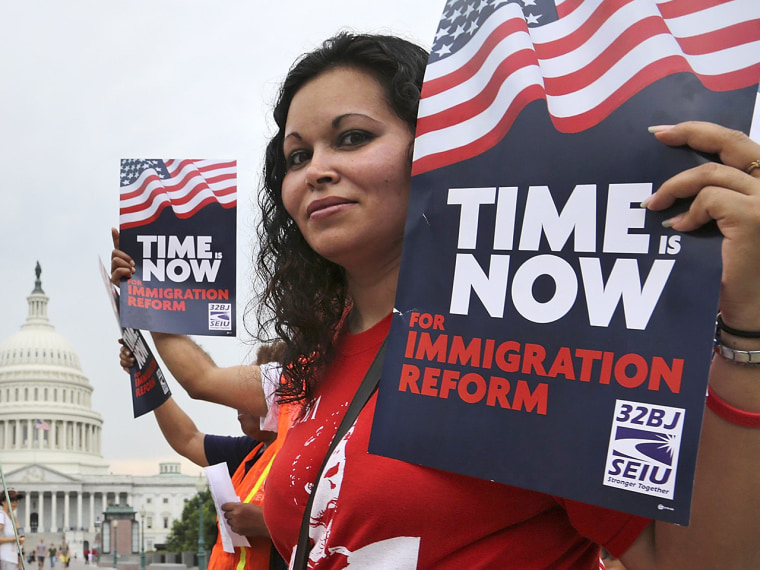 *** On the ropes? This has been a bad week if you're a supporter of comprehensive immigration reform. As Speaker John Boehner today huddles with his conference on how to proceed on immigration, it's clear that the GOP-led House isn't close to coming up with an immigration bill -- at least one that could go to conference. Yesterday's joint Bill Kristol-Rich Lowry op-ed signaled that part of the Republican establishment is now against reform. And conservatives are now creating new excuses (like the rocky implementation of the health-care law) to oppose immigration reform. So there are two ways to view the status of immigration reform after the Senate passed its bipartisan legislation. One, it's dying a slow death in the House, as Politico notes, because most House Republicans just don't have an incentive to pass it. Two, this is just going to be a long process with lots of ups and downs, and House Republicans won't budge until very late in the year when finally budging becomes their best card to play. But even immigration supporters have to admit that they probably didn't think they'd be in the position of trying to make House Republicans have to budge late in the year.
*** Will GOP supporters strike back? Given the growing conservative opposition to immigration reform, here's a question worth asking: Can pro-reform Republicans strike back? Today from his presidential library in Dallas, TX, George W. Bush will be delivering a speech on immigration. But is this going to help convince conservatives or make them even more resistant? Remember, the modern conservative movement hasn't been too friendly to Bush's policies or presidential agenda. The GOP-leaning American Action Network is up with a $100,000-plus national TV ad campaign, urging Republicans to support the Senate's immigration reform bill. But is $100,000-plus enough? And GOP immigration supporters have released a poll showing that Republican primary voters want to fix the immigration system and prefer an imperfect solution to no solution. But is releasing a poll going to do the trick? Right now, the Republicans who want immigration reform to pass have been VERY QUIET lately. Does that change?
*** Obama meets with Congressional Hispanic Caucus to discuss immigration: For the White House's part, President Obama and Vice President Biden meet with the Congressional Hispanic Caucus at 11:00 am ET to discuss immigration reform. Also, the White House today has released a report highlighting what it says are the economic benefits to achieving immigration reform. The report says these benefits are: 1) growing GDP, 2) fostering innovation, 3) increasing worker productivity, and 4) reducing the budget deficit.
*** Ex-Obama staffers join Ready for Hillary effort: Much was made when Sen. Claire McCaskill (D-MO) announced she was supporting Ready for Hillary, the group promoting a presidential bid by former Secretary of State Hillary Clinton. But today's announcement might be a bit more significant: A firm run by members of Obama's vaunted campaign team is now partnering with this pro-Hillary effort. Per a press release, the firm 270 Strategies -- headed by Mitch Stewart and Jeremy Bird, the Obama campaign's top field aides -- has joined up with Ready for Hillary, an additional sign that Obama World is embracing a potential Clinton candidacy in 2016. Once again, we'll point out that Ready for Hillary has no formal ties to Clinton or her top advisers. And also note that this isn't akin to David Plouffe or David Axelrod getting aboard the Ready for Hillary train. We also have this question: Does creating an aura of inevitability help Hillary for 2016? Remember, it didn't work out in 2008…
*** Rand Paul and the issue of race: In other 2016 news, the conservative Free Beacon raised eyebrows with a piece noting that Sen. Rand Paul's (R-KY) social media director, Jack Hunter, "spent years working as a pro-secessionist radio pundit and neo-Confederate activist, raising questions about whether Paul will be able to transcend the same fringe-figure associations that dogged his father's political career." More from the piece: "In one 2004 commentary, Hunter said Lincoln assassin John Wilkes Booth's heart was 'in the right place.' 'Although Lincoln's assassin, John Wilkes Booth's heart was in the right place, the Southern Avenger does regret that Lincoln's murder automatically turned him into a martyr,' he said in 2004… He also compared Lincoln to Saddam Hussein and suggested that the 16th president would have had a romantic relationship with Adolf Hitler if the two met." Normally a staffer's past statements wouldn't merit much news, but it's a reminder that the issue of race could potentially dog a Rand Paul 2016 candidacy -- much like it did for his father after the revelations of racially tinged newsletters he once published under his name. This is why you're probably going to see Rand Paul go out of his way to court African Americans during any presidential bid (like his stop at Howard University in April).
*** What About Bob? Virginia Gov. Bob McDonnell -- a one-time rising GOP star, Romney VP possibility, and potential 2016 presidential candidate -- has seen his political career turn upside down. Here's the likely coup de grace via the Washington Post: "A prominent political donor gave $70,000 to a corporation owned by Virginia Gov. Robert F. McDonnell and his sister last year, and the governor did not disclose the money as a gift or loan, according to people with knowledge of the payments. The donor, wealthy businessman Jonnie R. Williams Sr., also gave a previously unknown $50,000 check to the governor's wife, Maureen, in 2011, the people said. The money to the corporation and Maureen McDonnell brings to $145,000 the amount Williams gave to assist the McDonnell family in 2011 and 2012 — funds that are now at the center of federal and state investigations." In Washington, so much was made about the scandal/controversies hitting the Obama administration. But the real political scandal has taken place right next door. Technically, McDonnell might not have broken any laws -- which exempt disclosing gifts to spouses and family -- but this is politically toxic because he certainly didn't seem to follow the spirit of the law. Remember, Virginia has some of the weakest campaign-finance and ethics laws in the country.
*** And how will the news impact Ken? The question now becomes whether McDonnell's fall from grace hurts gubernatorial nominee Ken Cuccinelli, who Democrats point out also has close ties to Jonnie Williams (including accepting gifts from him). The Cuccinelli campaign responds that Cucinelli's AG office initiated this investigation, and they don't believe McAuliffe will be a credible messenger to attack them on this issue. But it's hard to see how this doesn't hurt Cuccinelli, because he needs to court moderates and the GOP business community, and right now McDonnell looks to be toxic to help him with those groups. Meanwhile, the Cuccinelli campaign is hitting Democratic gubernatorial nominee Terry McAuliffe for campaigning today with Maryland Gov. Martin O'Malley. "Gov. O'Malley signed the largest tax increase in Maryland history and earned a 'D' rating for supporting increased spending and higher taxes. He supports the war on coal, Obamacare, and even forced non-union teachers to pay union fees," the Cuccinelli campaign says in a release. 
*** The Top 5 races of 2013: Finally, don't miss Jessica's Taylor look at the Top 5 political races of 2013. At the top of the list – the Cuccinelli-McAuliffe race in Virginia.
Click here to sign up for First Read emails.
Text FIRST to 622639, to sign up for First Read alerts to your mobile phone.
Check us out on Facebook and also on Twitter. Follow us @chucktodd, @mmurraypolitics, @DomenicoNBC, @brookebrower