First Read is a morning briefing from Meet the Press and the NBC Political Unit on the day's most important political stories and why they matter.
Closing ugly
Given the campaign we've watched over the past year, it shouldn't surprise anyone that the closing arguments from both Hillary Clinton and Donald Trump are incredibly negative. Trump has a TV ad referring to "pervert Anthony Weiner," and he has made the false charge that Clinton is "under criminal investigation," which NBC's reporting doesn't back up. Meanwhile, Clinton is throwing the kitchen sink at Trump, re-litigating his issues with women (Alicia Machado) and noting that Trump was endorsed by the KKK newspaper, which Trump's campaign has disavowed. (NBC's Leigh Ann Caldwell sums up the negative closing arguments here.) But these ugly closing arguments do create a HUGE opening for either candidate to rise above the negativity -- and make the other side pay for it. For Trump, it's displaying remorse or humility. For Clinton, it's making a plea for trust and transparency. Indeed, it's the current occupant of the White House who knows how to fight but also to inspire. "Right now, young people, you have this opportunity that doesn't come around all the time where history can move, you can bend the arc of history in a better direction you can reject divisiveness, mean spiritedness, we don't have to go backwards, we can go forward," President Obama said in Jacksonville, FL yesterday. "You have this precious chance to shape history don't let it slip away."
"The FBI is Trumpland"
Maybe the biggest political story out there are the multiple reports that the damaging leaks hitting the Clinton campaign appear to be coming from a band of FBI agents hostile to Clinton, especially in the New York office.
The Guardian's Spencer Ackerman: "Deep antipathy to Hillary Clinton exists within the FBI, multiple bureau sources have told the Guardian, spurring a rapid series of leaks damaging to her campaign just days before the election... 'The FBI is Trumpland,' said one current agent."
Reuters: "FBI Director James Comey was driven in part by a fear of leaks from within his agency when he decided to tell Congress the FBI was investigating newly discovered emails related to Hillary Clinton, law enforcement sources said on Thursday... Two law enforcement sources familiar with the FBI's New York Field Office, which initially discovered the emails, said a faction of investigators based in the office is known to be hostile to Hillary Clinton. A spokeswoman for the FBI's New York office said she had no knowledge about this."
The Washington Post: "In February, people familiar with the case said, agents made their case to public integrity prosecutors about why they should proceed with a probe looking broadly at whether donors to the Clinton family charity were given improper benefits by the Hillary Clinton-led State Department. Justice Department attorneys and FBI officials in Washington viewed the agents' presentation as lacking substantive evidence. The attorneys felt it relied too heavily on public reports and the book 'Clinton Cash,' and denied the agents authority to move forward, according to people familiar with the discussions. The 2015 book, by conservative author Peter Schweizer, relied heavily on public records and presented a largely circumstantial case that State Department actions were driven by donations to the Clinton Foundation and payments to Bill Clinton. The move frustrated some agents in New York."
And then there's this from Rudy Giuliani on Fox News two days before Comey's announcement last week: "I think he's [Donald Trump] got a surprise or two that you're going to hear about in the next few days. I mean, I'm talking about some pretty big surprises," Giuliani said, per The Daily Beast. "We've got a couple of things up our sleeve that should turn this thing around." Here's the video. Giuliani was asked about that video this morning on Fox News:
STEVE DOOCY: Two – a couple days before this all broke, you're on with Martha McCallum, and you looked at Martha and go, well look out, something's coming down, and certainly it did. What did you know? And a lot of other networks are pointing that out -RUDY GIULIANI: Well, it's very simple.BRIAN KILMEADE: - as if you were part of that?RUDY GIULIANI: I'm not part of it at all. All I heard were former FBI agents telling me that there's a revolution going on inside the FBI and it's now at a boiling point, and –
It's the final Friday of the 2016 election, so watch out!
The New York Times' Maggie Haberman smartly observes that Fridays have brought most of the bombshell news of this presidential race. "The last day of the workweek has often proved meddlesome for both Mr. Trump and Mrs. Clinton. Key moments in the F.B.I.'s email investigation landed on Fridays; and a 2005 audio recording of Mr. Trump bragging about sexual assault was also revealed on a Friday. The week could end quietly, or it could close with yet another in a series of wave-making afternoons."
The final candidate travel schedules (so far)
Here's what we know of Clinton's final travel schedule, per NBC's Monica Alba: PA->MI->OH->FL->PA->NH->OH->PA. And here's Trump's final travel sked, per NBC's Peter Alexander: NH->OH->PA->FL->NC->NV->CO->IA->WI->MI->PA. How do you know Trump is behind? Because when you embark on a 10-state, 11-stop blitz at the end -- a la Bob Dole in '96 -- you're not trying to pick one state to flip in order to win. You're trying to flip multiple states.
Early voting ends today in Nevada and tomorrow in North Carolina
With President Obama stumping in North Carolina -- in Fayetteville and Charlotte -- it's worth remembering that early voting ends tomorrow in the Tar Heel State. And it ends today in Nevada and Georgia, where a new NBC/WSJ/Marist poll showed Trump leading by just one point in the Peach State. As of yesterday, some 33 million Americans have already voted, and here are the numbers in the battlegrounds:
Arizona: 1.3 million (40%R, 34%D)
Colorado: 1.4 million (36%D, 35% R)
Florida: 4.4 million (40%D, 40%R)
Georgia: 1.7 million (42%D, 53%R)
Iowa: 500,000 (43%D, 35%R)
Michigan: 856,000 (39%D, 36%R)
North Carolina: 2.2 million (43%D, 32%R)
Nevada: 611,000 (43%D, 37%R)
Ohio: 1.3 million (48%D, 40%R)
Pennsylvania: 135,000 (48%R, 42%D)
Virginia: 360,000 (51%D, 38%R)
Wisconsin: 446,000 (51%, 37%R)
*** The battleground ad spending one week out: Speaking of numbers, here are the ad-spending figures – to date – between Team Clinton (campaign + outside groups) and Team Trump in the key battleground states.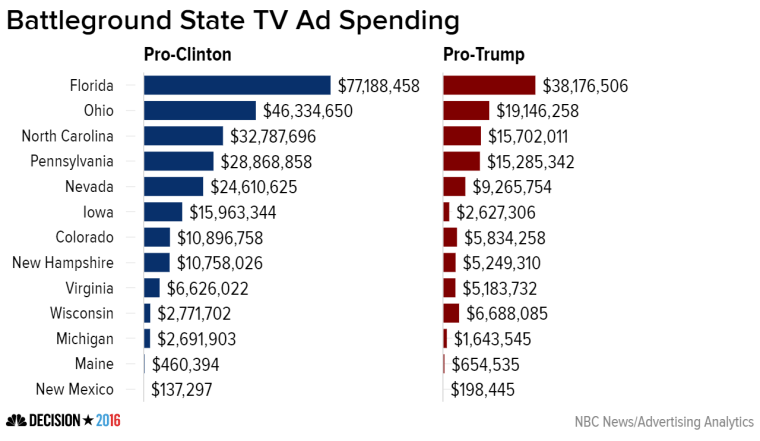 First Read's downballot race of the day: CA-49
California Republican Darrell Issa built a national profile during his time as the chairman of the House Oversight Committee, the GOP congressional panel famed for its recent bedeviling of the Obama administration. But Issa, the wealthiest member of Congress and a booster of Donald Trump, now finds himself in a highly competitive race in a district with a relatively well-educated population and growing share of Hispanic voters. He faces Democrat and retired Marine colonel Doug Applegate.
On the trail
Hillary Clinton stumps in Pittsburgh at 12:45 pm ET, Detroit at 5:15 pm ET, and then with Jay-Z in Cleveland at 8:00 pm ET… Donald Trump hits Atkinson, NH at noon ET, Wilmington, OH at 4:00 pm ET, and Hershey, PA at 7:00 pm ET… Mike Pence is in Michigan, North Carolina, and Florida… Tim Kaine also is in the Sunshine State… President Obama stumps in Fayetteville, NC at 3:25 pm ET and Charlotte at 7:15 pm ET… Vice President Joe Biden is in Wisconsin… Bill Clinton is in Colorado… And Bernie Sanders campaigns in Iowa.
Countdown to Election Day: 4 days