WASHINGTON — In Florida's competitive gubernatorial contest, first came President Donald Trump's endorsement of Rep. Ron DeSantis, R-Fla. — over presumed GOP frontrunner Adam Putnam. Then came DeSantis' lead in the polls and promise to be just like Trump.
"Build the wall," DeSantis says in a new TV ad as he plays blocks with his toddler. "Then Mr. Trump said, 'You're fired,'" he reads to his infant. "Make America Great America," he reads to his daughter from a Trump campaign sign.
While casting oneself as Trump's mini-me is smart politics in a Republican primary, there's an important question to ask as Trump campaigns for DeSantis at 7:00 p.m. ET tonight in Tampa: Is it the best way to win a general election, especially in a race for governor? And especially this election season? (A new Mason-Dixon poll shows Trump's rating in Florida at 43 percent positive, 46 percent negative.)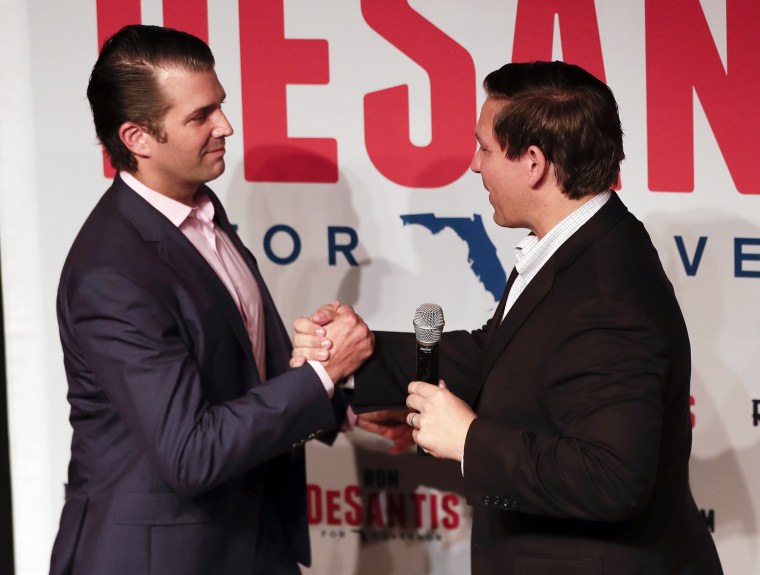 Indeed, starting with last week's GOP runoff in Georgia's gubernatorial contest, several candidates who either have been endorsed by Trump or have tied their campaigns around the president are taking the stage in the next month. They include:
Brian Kemp, who won Georgia's gubernatorial runoff and faces Democrat Stacey Abrams in the fall;
Rep. Diane Black, R-Tenn., who has hugged Trump in her ads ahead of Thursday's GOP gubernatorial primary in Tennessee;
Kris Kobach, who is challenging incumbent Kansas Gov. Jeff Colyer on Aug. 7;
Bill Schuette, who was endorsed by Trump in Michigan's gubernatorial primary on Aug. 7;
And DeSantis, who faces Putnam on Aug. 28.
"Republicans were dealt a blow as their nominee [in Georgia's gubernatorial contest] is polarizing and controversial," the Cook Political Report's Jennifer Duffy tweeted after Kemp's victory last week. "The question is whether this is a one off or a sign that they are headed into a difficult August with primaries in FL, KS, MI, MN and TN that could produce weak nominees."
November's midterm elections will answer many important questions. And you can add another to your list: Will GOP gubernatorial candidates who are tightly tying themselves to Trump succeed? Or is it better to have a little distance, even in red states?
The New York Times on how DeSantis became the GOP frontrunner: frequent appearances on Fox News
Staying with Florida's GOP gubernatorial primary, the New York Times' Jonathan Martin has a great explanation HOW DeSantis won Trump's endorsement — and became the frontrunner in the GOP contest: by being a regular guest on Fox News.
"By going on the network as often as he could to rail against Mr. Mueller's investigation and defend Mr. Trump — he has appeared on Fox prime-time shows at least 41 times since Mr. Trump was inaugurated — Mr. DeSantis attracted the president's attention and his favor. After watching a Fox segment on Air Force One last December that featured Mr. DeSantis, 39, Mr. Trump tweeted favorably about the three-term congressman's campaign for governor but stopped short of a full-throated endorsement… But according to White House officials who spoke on the condition of anonymity to disclose private discussions, Mr. Trump kept bringing up Mr. DeSantis, a candidate who is not only among the president's most visible allies but also possesses attributes he prizes: Ivy League degrees (Yale undergraduate and Harvard law) and military service (Navy officer and Iraq veteran)."
More: "Mr. DeSantis's campaign has even gone so far as to conduct polls on the Fox News viewing habits of Florida's Republican electorate. They found that 66 percent of likely primary voters watch the cable network anywhere from every day to a few times a week, according to Mr. DeSantis's strategists."
Bottom line: DeSantis' path to becoming the GOP frontrunner in this race is largely the same path that Trump took in 2015: heavy appearances on Fox News.
Mr. Manafort goes to trial
NBC's Pete Williams: "Jury selection begins Tuesday in the federal court trial of Paul Manafort, a former chairman of Donald Trump's presidential campaign. It's the first case brought by special counsel Robert Mueller to go before a jury. The charges do not involve Manafort's time with Trump. Instead, they stem from Manafort's work for the Russian-backed government of Ukraine and its former president, Viktor Yanukovych, an ally of Russian President Vladimir Putin."
"But if Manafort is convicted, prosecutors would have powerful leverage for attempting to compel his testimony before a grand jury about whether he knows of any improper dealings between the Trump campaign and the Russians. The trial itself is not expected to shed any light on Russia's election meddling. 'I don't anticipate that a government witness will utter the word "Russia,"' said Greg Andres, a member of the Mueller team, in a pre-trial hearing."
Trump fires back at the Koch network
After the Koch network and its top brass distanced themselves from Trump, the president responded this morning via Twitter:
The globalist Koch Brothers, who have become a total joke in real Republican circles, are against Strong Borders and Powerful Trade. I never sought their support because I don't need their money or bad ideas. They love my Tax & Regulation Cuts, Judicial picks & more. I made.....
...them richer. Their network is highly overrated, I have beaten them at every turn. They want to protect their companies outside the U.S. from being taxed, I'm for America First & the American Worker - a puppet for no one. Two nice guys with bad ideas. Make America Great Again!
As we wrote yesterday, it's always better to be united — rather than divided — heading into a fall election.
WaPo: North Korea is working on new missiles, per U.S. spy agencies
"U.S. spy agencies are seeing signs that North Korea is constructing new missiles at a factory that produced the country's first intercontinental ballistic missiles capable of reaching the United States, according to officials familiar with the intelligence," the Washington Post writes. "Newly obtained evidence, including satellite photos taken in recent weeks, indicates that work is underway on at least one and possibly two liquid-fueled ICBMs at a large research facility in Sanumdong, on the outskirts of Pyongyang, according to the officials, who spoke on the condition of anonymity to describe classified intelligence."
When asked for a reaction to reports that North Korea is developing new missiles, a White House official told NBC's Kristen Welker, "We don't comment on intelligence."
Trump administration considers tax cut for the wealthy — by bypassing Congress
"The Trump administration is considering bypassing Congress to grant a $100 billion tax cut mainly to the wealthy, a legally tenuous maneuver that would cut capital gains taxation and fulfill a long-held ambition of many investors and conservatives," the New York Times says.
"Steven Mnuchin, the Treasury secretary, said in an interview on the sidelines of the Group of 20 summit meeting in Argentina this month that his department was studying whether it could use its regulatory powers to allow Americans to account for inflation in determining capital gains tax liabilities. The Treasury Department could change the definition of "cost" for calculating capital gains, allowing taxpayers to adjust the initial value of an asset, such as a home or a share of stock, for inflation when it sells."
"'If it can't get done through a legislation process, we will look at what tools at Treasury we have to do it on our own and we'll consider that,' Mr. Mnuchin said, emphasizing that he had not concluded whether the Treasury Department had the authority to act alone. 'We are studying that internally, and we are also studying the economic costs and the impact on growth.'"