Eighty percent of success, as the famous saying goes, is simply about showing up. That's also true in politics, especially when a political party is trying to improve its standing with African Americans after losing the black vote by a whopping 87 percentage points in 2012. Since that last presidential election, the Republican Party has:
reactivated dormant and chartered new College Republican chapters on the campuses of Historically Black Colleges and Universities as part of the RNC's "Growth and Opportunity Project"; -- hired key staffers to do additional outreach to the African-American communities in 14 states, including North Carolina, Ohio, and Florida;
deployed RNC Chairman Reince Priebus to address key audiences like the National Urban League and the National Association of Black Journalists at their conventions last month. "We have become a national party that has decided that it's OK to show up once every four years, five months before an election," Priebus told the National Association of Black Journalists, acknowledging the GOP's lack of engagement in the past.
"At the RNC, we're optimistic and determined," said Orlando Watson, the RNC's Communications Director for Black Media. "Our goal is to compete for each and every black voter through non-stop engagement effort."
Indeed, competing for African-American voters can pay dividends. One recent example is Sen. Thad Cochran, R-Miss., in his successful runoff race against Tea Party primary opponent Chris McDaniel. Analysts attribute his win to high turnout from African-American voters, whom Cochran's campaign aggressively courted.
But Democrats and other African-American political experts argue that, in politics, the policy matters as much – if not more – than just showing up and asking for votes. One policy, in particular, that has irked a large part of the African-American community has been the GOP's drive for voter ID laws, which some believe is intended to keep them from the polling places. Last year, a North Carolina conservative activist admitted that his state's voter ID requirements were intended to hurt Democrats. "The law is going to kick the Democrats in the butt," he said.
"Our goal is to compete for each and every black voter through non-stop engagement effort."
Dr. Lorenzo Morris, a political science professor at Howard University, thinks the large African-American turnout for Democrats in 2012 was, in part, a reaction to these laws. "If there's one thing middle-aged blacks remember well, it's the Civil Rights movement. Even for young people it stands out as an image. So when they unintentionally mobilize people around this deprivation of rights, it did a lot to inflame participation on the Democratic side."
Democrats and African-American leaders also argue that GOP efforts to repeal the federal health-care law – as well as not expand Medicaid to low-income Americans without health insurance – disproportionately hits the black community. And then there's what they see as the Republican Party's hostility toward the nation's first black president. "African-American voters get the sense that there has been an historical hostility and disrespect words for this president that they don't feel has been the same for any other president," said Democratic pollster Cornell Belcher.
Belcher, who believes that some of the hostility is racially tinged, adds, "It leads back to the original conversation: You cannot persuade a community if that community thinks you are, in fact, hostile towards them." Race also became a lightning-rod issue in that Mississippi runoff after McDaniel and his supporters complained of African Americans voting for Cochran. "There is something a bit strange, there is something a bit unusual about a Republican primary that's decided by liberal Democrats," McDaniel said after Cochran's surprising win.
What's more, an anonymous caller interrupted a media call with Cochran's aides in July and asked, "If black people were harvesting cotton, why is it OK to harvest their votes?"
"You cannot persuade a community if that community thinks you are, in fact, hostile towards them."
When it comes to voter ID laws, Republicans counter that the goal isn't to block black voters from the polls – rather, it's to prevent fraud and cheating. "'Disenfranchise' is a dog-whistle term that Democrats use to insinuate that Republicans are frankly either suppressing the vote or are not working towards having free and fair elections," said Tara Wall, the RNC's senior strategist for media and engagement. "We are and always will work towards having free and fair elections and that everybody that has a valid legal vote will have the opportunity to vote."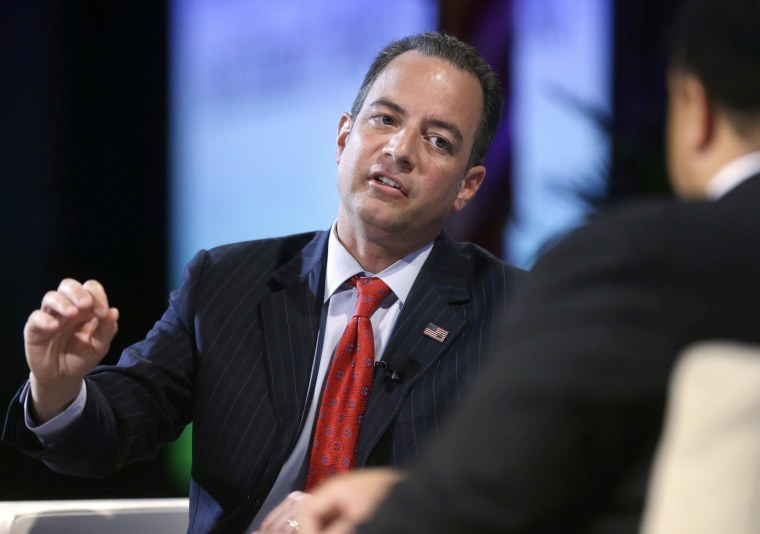 Her colleague Watson agrees. "When talking about this issue with voter ID, we have to deal with the facts," he said. "A lot of what's been said is pure speculation. A state like Georgia, for example, that passed voter ID legislation in 2006, in 2008 the black voter turnout actually increased and exceeded white voter turnout."
As for the charge that the GOP is hostile towards the nation's first black president, Republicans say that's a distraction. "What the RNC is focused on is providing solutions that are addressing the community's concerns. And you have to look at the actions and the policies we're working toward enacting and what their positive impact would be in the community and give us a chance," Watson said.
Wall also sees common ground between African Americans and the Republican Party on policies. "We have senators like Rand Paul that are talking about restoring voting rights for felons and prison entry programs under [former Virginia] Gov. McDonnell that are instrumental in some of our communities in getting people back on their feet, back into society, back into being responsible, productive citizens," she said. "There are other initiatives that Republicans have really been bold about and championing and taking a front seat on that aren't necessarily traditional things you think about when it comes to Republicans."
But Priebus, the RNC chairman, admits that the GOP's outreach may take some time to pay off. "I understand that this is not something that is going to change overnight by a few speeches and a couple appearances," he told the gathering of black journalists. "And what I'm saying is that instead of getting 6 percent of the black vote in this country, if we get out there and fight can we get 15? And then 20? And then can we get 22 and 23?" "I'm in this for the long haul," he added.