WASHINGTON — The Republican senators whose votes are crucial to the fate of health care in America have faced a $15 million barrage of TV advertising from outside groups opposing the GOP legislation — and no air cover from any group backing the bills.
According to ad-buying tracker Advertising Analytics, groups opposing the GOP health care push have spent $14.8 million since May on TV ads targeting 13 key senators, with even more ad buys rolling in daily as the debate in the Senate reaches fever pitch.
No groups have run ads in those states in support of the ever-evolving Republican legislation to repeal and replace parts or all of Obamacare.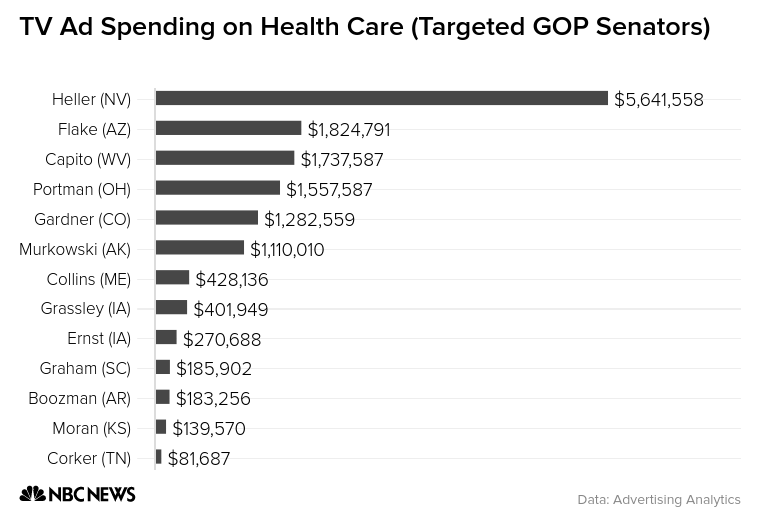 More than a third of the spending has been aimed at Sen. Dean Heller, R-Nev., widely viewed as the most vulnerable GOP senator in next year's elections and an early critic of proposed rollbacks of Medicaid expansion. To date, $5.6 million in anti-repeal ads have aired in Nevada.
Heller slammed a version of the Republican health care bill last month, saying it was "simply not the answer." A pro-Trump outside group, America First Policies, responded by placing TV ads skewering Heller for breaking his "promise" to voters, only to cancel them almost immediately after an angry backlash from Heller's fellow Republicans.
Sen. Jeff Flake, R-Ariz., who is also up for re-election in 2018, has been the target of an additional $1.8 million in TV ads.
Other GOP senators who have faced more than a million dollars of TV ads are Shelley Moore Capito, R-W.Va. ($1.7 million spent), Rob Portman, R-Ohio (1.6 million spent), Cory Gardner, R-Colo. ($1.3 million spent), and Lisa Murkowski, R-Alaska ($1.1 million spent).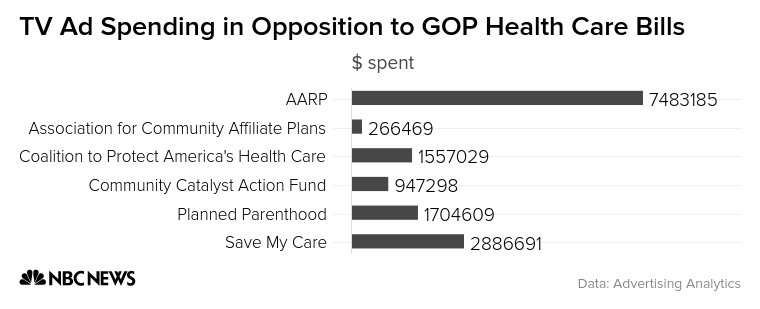 Outside groups have also spent about $428,000 to target Susan Collins, R-Maine, who has continued to buck her party as a reliable no vote against the repeal effort.
Other recipients of ire over the airwaves so far are: Iowa Republicans Chuck Grassley and Joni Ernst, Lindsey Graham, R-S.C., John Boozman, R-Ark., Jerry Moran, R-Kan., and Bob Corker, R-Tenn.
About half the spending to date — $7.5 million — has come from the retirees advocacy group AARP. One of the most vociferous opponents of the GOP bills, AARP has promised to print every senator's vote in its bulletin, which the group says is read by over 30 million people.
Save My Care, another pro-Affordable Care Act outside group, has shelled out $2.9 million on the airwaves, while Planned Parenthood has spent about $1.7 million.