First Read is a morning briefing from Meet the Press and the NBC Political Unit on the day's most important political stories and why they matter
Town halls + no legislation to defend = political trouble
You take the boisterous town hall grillings that Republican lawmakers are receiving, add it to a lack of detail on the GOP's biggest legislative priorities (Obamacare, tax reform), and you get political trouble. Big league. After all, you can't beat something with nothing. And right now, all Republican lawmakers have are outlines and goals about their legislative priorities — but nothing concrete to defend. Indeed, one of the consequences of this town hall backlash coming so soon in the Trump Era (it's Town Hall Winter, not Town Hall Summer) is that there hasn't even been time to craft legislation, let alone begin key committee hearings. And it all creates additional pressure on President Trump, who holds a legislative-affairs strategy session at the White House at 4:00 pm ET.
Where is direction on how to repeal and replace Obamacare? Where is the movement on taxes? The longer it takes, the less political cover Republican lawmakers will get. Of course, it's an open question how long and sustainable this Dem/progressive energy will last. But as long as it's there, it puts Republicans in a bind, especially when they haven't even started the legislative process.
Why have the town halls and protests come so early?
One answer: a lack of outreach to the opposition: One reason why the boisterous protests — in the streets, in town halls — have come so early in Trump's presidency is due to his lack of outreach to the millions of Americans who didn't vote for him (remember, Trump lost the popular vote by about three million votes). At yesterday's White House press briefing, NBC's Hallie Jackson asked Press Secretary Sean Spicer why Trump had previously declined to broadly denounce anti-Semitism before yesterday, and Spicer responded, "Well, I think the idea, Hallie, that -- he has. And I think there's a point at which he talked literally on election night about uniting this country and making sure that all Americans, et cetera." But when you have to go back to Election Night to highlight an example of Trump promoting unity, you realize why there's this level of energy among the opposition and why Trump's approval rating is in the low 40s. (Even at yesterday's event at the National Museum of African American History, Trump was flanked by supporters like Ben Carson, Sen. Tim Scott, and Alveda King, not African Americans who didn't vote for him in 2016.)
While the protests and low poll numbers were always coming — they happen to every president, after all — you could imagine that he might have enjoyed more of a political honeymoon had he made a more concerted effort to reach out to the millions who didn't vote for him.
Trump's enforcement plan has immigrants bracing for raids, deportations
NBC's Suzanne Gamboa: "To immigration advocates, the Trump administration laid out nothing short of a mass deportation plan on Tuesday when it detailed how it will enforce U.S. immigration laws. 'We are bracing ourselves for increased raids, increased detention of our family members, of our community members,' said Marielena Hincapié, executive director of National Immigration Law Center.The administration rejected that description of the pair of memos issued by the Department of Homeland Security. The memos serve as guidance to immigration and border agents and officers on how to implement the immigration executive orders that President Donald Trump issued soon after his election. When asked at a the White House briefing if this amounts to mass deportation, White House Press Secretary Sean Spicer said 'no.' 'The message from this White House and from the DHS is that those people who are in this country and pose a threat to public safety or have committed a crime will be the first to go and we will be aggressively making sure they are the first to go,' Spicer said, adding that about 1 million people fit that criteria."
What immigration crisis?
Writing for Bloomberg, Noah Smith argues that there is hardly an illegal-immigration crisis in the United States. "Illegal immigration to the U.S. ended a decade ago and, according to the Pew Research Center, has been zero or negative since its peak in 2007. About a million undocumented immigrants left the country in the Great Recession. But even after the end of the recession, illegal immigration didn't resume."
More: "Why? One reason might be economic — even after growth resumed, there was no return to the mania of the bubble years. Another reason is that Mexicans — both undocumented and otherwise —are flocking back to Mexico. A third reason is increased border enforcement. For years, many Americans demanded that the border with Mexico be secured in order to stem illegal immigration. Presidents George W. Bush and Barack Obama did exactly that. Obama, especially, stepped up the pace of deportation."
Trump's Team of Generals
"President Trump's appointment of H. R. McMaster, an Army lieutenant general, as his new national security adviser creates a powerful troika of senior officers who served in Iraq, teaming him up with Defense Secretary Jim Mattis and John F. Kelly, the secretary of homeland security, both retired four-star Marine generals," the New York Times writes. "This administration is the first to have all three security jobs filled by senior military veterans at the same time. The ascension of the three generals to political jobs at the National Security Council reflects the rise of a generation of military leaders that came of age during the wars in Afghanistan and Iraq that began after the Sept. 11, 2001, attacks. Each officer saw up close what a losing war looked like and took away lessons about how to avoid repeating fatal mistakes. Each got to where he is today in part by bucking the military hierarchy."
Cabinet watch
Still one-third of Trump's cabinet has not been confirmed: The good news for the Trump administration is that more members have won Senate confirmation — 14 in total. The bad news? There are still seven members who haven't been confirmed. Indeed, at this same point in time in Obama's presidency, 27 members of his cabinet and team had won Senate confirmation.
Secretary of State: Rex Tillerson CONFIRMED
Attorney General: Jeff Sessions CONFIRMED
Treasury: Steve Mnuchin CONFIRMED
Defense: JamesMattis CONFIRMED
Homeland: John Kelly CONFIRMED
Interior: Ryan Zinke NOMINATED
HHS: Tom Price CONFIRMED
HUD: Ben Carson NOMINATED
Education: Betsy DeVos CONFIRMED
Commerce: Wilbur Ross NOMINATED
Transportation: Elaine Chao CONFIRMED
Labor: Alexander Acosta NOMINATED
Agriculture: Sonny Perdue NOMINATED
Energy: Rick Perry NOMINATED
Veterans Affairs: David Shulkin CONFIRMED
OMB Director: Mick Mulvaney CONFIRMED
U.S Trade Representative: Robert Lighthizer NOMINATED
UN Ambassador: Nikki Haley CONFIRMED
Environmental Protection Agency: Scott Pruitt CONFIRMED
Small Business Administration: Linda McMahon CONFIRMED
CIA Director: Mike Pompeo CONFIRMED
What were other presidents doing on February 22?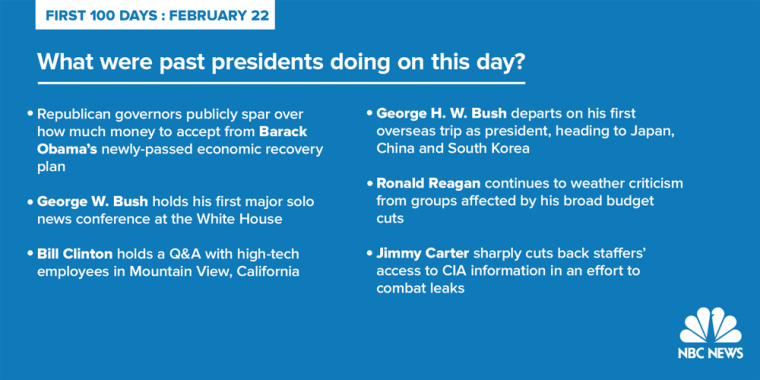 Heading to SXSW?
So is Chuck! Hear from him on March 14th at 5 p.m. CT as he explores if big data is destroying the U.S. political system. http://bit.ly/2l4Vwr4