As Defense Secretary Chuck Hagel resigned Monday amid criticism of his management abilities, some of President Barack Obama's foes grumbled that it's the administration's handling of the military that should be questioned.
Two of Hagel's predecessors recently described their own frustrations with the Obama administration over military decision making, decrying national security aides for "micromanaging" decisions.
At a public event November 15th at the Reagan National Defense Forum at the Reagan Library in Simi Valley, California, former Defense Secretaries Robert Gates and Leon Panetta spoke openly about what they called the perils of interference from National Security Council staff at the White House.
Gates was blunt. "It was that micromanaging that drove me crazy," he lamented.
Gates, who stayed in the job serving both President George W. Bush and then President Barack Obama, described an incident when he was traveling in Afghanistan, "I was touring a [Joint Special Operations Command] in Kabul and discovered a direct line to somebody on the NSC, and I had them tear it out while I was standing there," he said. "And I told the commanders, 'You get a call from the White House, you tell 'em to go to hell and call me.'"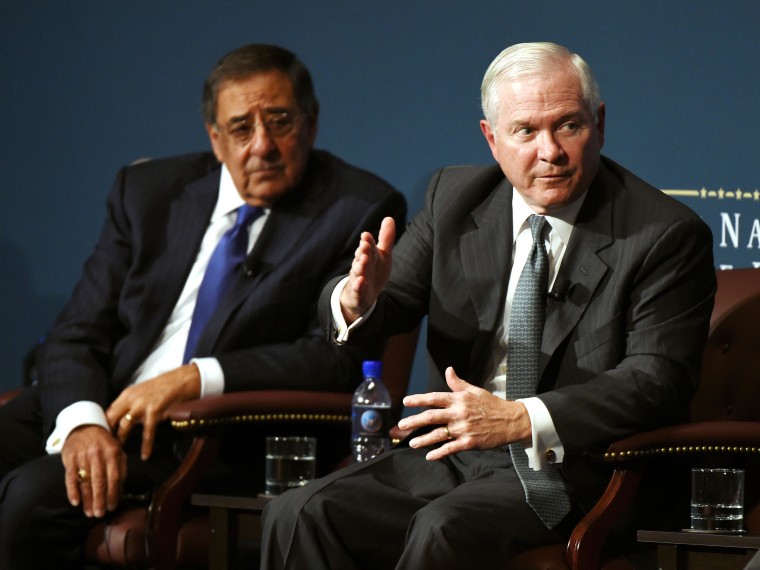 Gates said he witnessed conflict between the White House and Department of Defense over the sweep of his long service and said his biggest concern was the same, "The first president I served and the last president I served, both cases, Lyndon Johnson and Barack Obama, it was White House micromanagement of military affairs."
Panetta, who succeeded Gates in the position, criticized a growing centralized power in the White House that kept even some cabinet officials out of the loop when high level policies were considered. "You go there and by the time you get to the White House, the staff has already decided or tried to influence what the direction should be," he said. "And so rather than having a really good give-and-take you begin to get kind of sidetracked."
On Monday, Arizona Republican Sen. John McCain - who also participated in the November 15 panel -- suggested that Hagel had voiced similar concerns in a recent conversation. "I know that Chuck was frustrated with aspects of the Administration's national security policy and decision-making process," he said in a statement. "His predecessors have spoken about the excessive micro-management they faced from the White House and how that made it more difficult to do their jobs successfully. Chuck's situation was no different."
In a separate phone interview with NBC News, McCain said that, from his recent conversation with Hagel, "it was clear that he was not happy."
"I don't know if he was thrown under the bus or whether he had made it clear that he was totally dissatisfied but either way it's not a good commentary on this administration to say the least," McCain added.
White House spokesman Josh Earnest dismissed that critique as politically motivated, saying "given [McCain's] relationship with the administration, I think there might be reasons to view a readout of the phone call from Senator McCain to be less than impartial."
Earlier this month, both of Hagel's predecessors blamed the increasing size of the National Security Council staff for some of the systemic problems between Washington and the military – both in the current administration and in past ones.
"You have 25 people working on a single military problem," Gates remarked. "They are going to be doing things they shouldn't be doing to justify their existence."
Panetta said change is needed. "I think there is something that inherently, ultimately has to change because of what's happening now because of that centralization of that authority at the White House, there are too few voices being heard in terms of the ability to make decisions and that includes members of the cabinet," he said.
Both Gates and Panetta also raised questions about the Obama administration's decision to limit the role of US military personnel in the battle against ISIS. Panetta said -- beyond the training and support of Kurdish and Iraqi forces – that "if it takes additional boots on the ground, if it takes an effort to make sure our people are moving with them as they go into battle, then I think that's something we ought to pay attention to."
Gates was even more direct about the limitations of the Iraqi and Kurdish forces.
"They cannot seriously degrade ISIS without having (US) Special Forces, embedded training, trainers and advisers, and forward air spotters and forward air controllers," he said. "It simply can't be done."
- Carrie Dann contributed