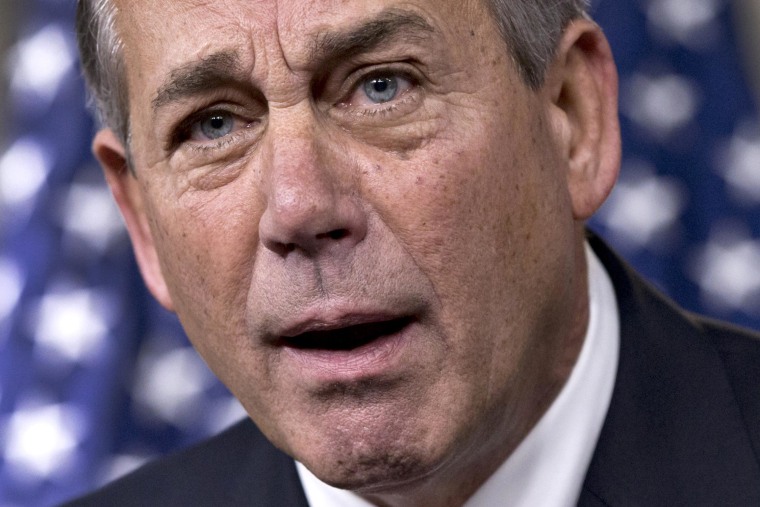 Congressman Joaquin Castro detailed his first year in Congress in a Texas Monthly piece. And in it, is this provocative detail:
In July Steve King, a tea party Republican from Iowa, compared DREAMers to drug mules with "calves the size of cantaloupes." King's comments sparked blowback, prompting Speaker Boehner to address the issue at a press conference. The speaker deemed King's comments "deeply offensive and wrong" and reassured the public that the comments did not "reflect the values of the American people, or the Republican Party."The Democratic caricature of the speaker is that he's an overly tan, overly emotional cat-herder who has lost control of his flock, but in person, he comes across as approachable and down-to-earth, and you can see how he earned the trust of his colleagues and became their leader. On a day not too long after Boehner's political body check of Steve King for his immigration comments, the speaker was milling around the aisle walkway in the middle section of the House floor where the Democratic and Republican territories meet. Another Texas Democrat and I were standing a few feet away, and as the speaker passed us we thanked him for denouncing King's offensive comments. He slowed his stride and then paused to turn toward us. "What an a--hole," he said. My thoughts exactly, Mr. Speaker.
A spokesman for Boehner's office did not deny the speaker made the remark, but could not verify it.
It's a reminder that immigration reform might not be dead this year, if only because there seems to be a willingness by Boehner to want to go ahead with it.
The House did not take up the comprehensive Senate bill that passed overwhelmingly. Boehner has said the House will only take a piecemeal approach. At the heart of the issue is the phrase "path to citizenship."
Despite undocumented immigrants being required to wait more than a decade for the chance as citizenship, pay a fine, and have a clean criminal record, House rank-and-file Republicans have balked.
Democrats want a path to citizenship, not just "legalization," included for fear of creating a permanent second-class of citizens.