WASHINGTON — Maybe the biggest political consequence so far in the prolonged fight over Supreme Court nominee Brett Kavanaugh — especially after Thursday's Senate hearing — is how it has fully engaged both Democratic and Republican partisans.
So while most polls conducted after Thursday show more Americans and voters now opposing Kavanaugh's confirmation than supporting it, GOP surveys we've seen from the red states (like North Dakota and West Virginia) find majorities in support of Kavanaugh. And that matters when looking at the 2018 Senate playing field.
Here's our updated Top 10 Senate takeovers list — based on the likelihood of the seat flipping parties. An important note: These rankings are based on where we see these races RIGHT NOW, not what we think will happen a month from now. Indeed, the Kavanaugh fight could be over this week, or there could be new damaging information that hurts GOP candidates backing his nomination.
One way to look at the rankings: Nos. 1-3 are leans to switching parties; 4-5 are true toss-ups; and 6-10 are slight leans to the incumbent.
1. North Dakota (D): Republicans have been bullish on this race for months, and Democrats admit the contest has gotten tougher for them, especially with a more engaged GOP electorate after Thursday. (Previous ranking from September: 3)
2. Nevada (R): Another week and another poll showing incumbent Sen. Dean Heller, R-Nev., slightly trailing in the low 40s. (Previous ranking: 1)
3. Arizona (R-open): You've got to give credit to Republican Martha McSally and the GOP for making this a real race, though the public polling still shows Democrat Kyrsten Sinema narrowly ahead. (Previous ranking: 2)
4. Missouri (D): Sen. Claire McCaskill, D-Mo., announced her opposition to Kavanaugh BEFORE Thursday (citing his views on campaign finance), while Republican Josh Hawley has made his support a key part of his campaign. This race remains a coin flip. (Previous ranking: 4)
5. Tennessee (R-open): Democrat Phil Bredesen vs. Republican Marsha Blackburn is the other coin flip on our list. (Previous ranking: 6)
6. Indiana (D): Despite Republican challenger Mike Braun's personal wealth, Sen. Joe Donnelly, D-Ind., and the Democrats still have the spending advantage in this state. (Previous ranking: 7)
7. Florida (D): Thanks to Andrew Gillum's emergence, Sen. Bill Nelson, D-Fla., has opened up a narrow lead over Republican Rick Scott in the public polls. But this remains a race that could flip back to 50-50 territory. (Previous ranking: 5)
8. Montana (D): Sen. Jon Tester, D-Mont., has the advantage, but Montana's Republican/conservative-leaning nature was always going to keep it close. (Previous ranking: 8)
9. Texas (R): More BetoMania over the past week, but this race was always about Ted Cruz's, R-Texas., personal vulnerabilities in the state. Democrats, notably, now have FOUR pickup opportunities in our Top 9. (Previous ranking: 10)
10. New Jersey (D): Speaking of personal vulnerabilities, say hello to Sen. Bob Menendez, D-N.J. While we don't buy that recent public poll that showed Menendez ahead by just 2 points, this race is closer than West Virginia, which falls off our Top 10 list. (Previous ranking: unranked)
Trump mocks Christine Ford at Mississippi rally
But it's also important to know that the politics surrounding Kavanaugh remain fluid. For example, we have no idea how Trump mocking Kavanaugh's accuser, Christine Blasey Ford, ultimately plays out — regarding public opinion or how Sens. Susan Collins, Lisa Murkowski and Jeff Flake ultimately vote.
NBC's Jonathan Allen: "President Donald Trump on Tuesday repeatedly mocked Christine Blasey Ford, who accused Supreme Court nominee Brett Kavanaugh of sexually assaulting her when they were teenagers, despite having said just days ago that he found her Senate testimony last week 'very credible.'"
"'I had one beer!' Trump said, characterizing Ford's testimony about her level of intoxication as a teenager when she says she was attacked at a small get-together in Montgomery County, Md., in the early 1980s."
"'How did you get home?' the president asked, taking on the role of prosecutor."
"'I don't remember,' he said in his Ford voice."
"'How did you get there?' Trump continued in his reenactment of the Senate hearing."
"'I don't remember," he replied in the Ford voice."
"Trump then mockingly asked and answered a series of questions with the responses 'I don't remember' and 'I don't know.'"
More from Allen: "One thing Ford did remember clearly — which Trump didn't mention — is that she was '100 percent' certain that it was Kavanaugh who had attacked her."
Ford's lawyer responded to Trump with this tweet, per NBC's Peter Alexander: "A vicious, vile and soulless attack on Dr. Christine Blasey Ford. Is it any wonder that she was terrified to come forward, and that other sexual assault survivors are as well? She is a remarkable profile in courage. He is a profile in cowardice."
Poll: More than half of Republicans would consider voting for a candidate accused of sexual harassment
From one of us: "As both political parties confront a new wave of sexual misconduct complaints unleashed by the #MeToo movement, more than half of Republicans say that they would still consider voting for a candidate accused of sexual harassment as long as they agreed with them on the issues. A new survey from the Public Religion Research Institute finds that six in 10 Americans (60 percent) say they would not consider supporting a candidate who had been accused of sexual harassment by multiple people, while 38 percent say they would still be open to voting for such a candidate.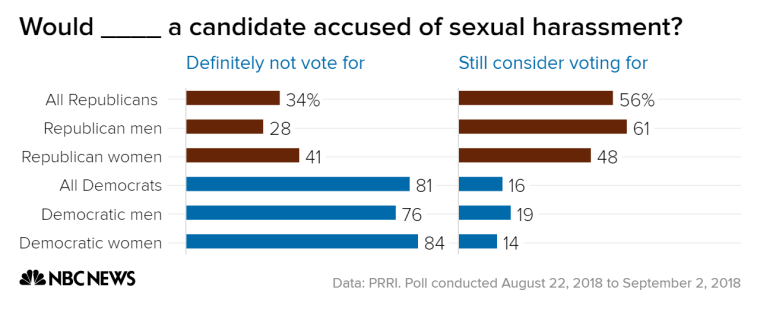 "And those who say multiple accusations of harassment are not disqualifying for political candidates are overwhelmingly more likely to be Republicans than to be Democrats. More than half — 56 percent — of Republicans overall, and 61 percent of Republican men, said would still consider voting for an accused candidate, the poll found."
New York Times bombshell: Trump participated in dubious tax schemes and 'outright fraud'
Maybe this was the reason why Trump attacked Ford: He was upset at this article, which came out just hours before the rally in Mississippi.
The New York Times: "President Trump participated in dubious tax schemes during the 1990s, including instances of outright fraud, that greatly increased the fortune he received from his parents, an investigation by The New York Times has found… The Times's investigation, based on a vast trove of confidential tax returns and financial records, reveals that Mr. Trump received the equivalent today of at least $413 million from his father's real estate empire, starting when he was a toddler and continuing to this day."
"Much of this money came to Mr. Trump because he helped his parents dodge taxes. He and his siblings set up a sham corporation to disguise millions of dollars in gifts from their parents, records and interviews show. Records indicate that Mr. Trump helped his father take improper tax deductions worth millions more. He also helped formulate a strategy to undervalue his parents' real estate holdings by hundreds of millions of dollars on tax returns, sharply reducing the tax bill when those properties were transferred to him and his siblings."
Trump's personal attorney, Charles Harder, responded with this statement: "The New York Times' allegations of fraud and tax evasion are 100 percent false, and highly defamatory. There was no fraud or tax evasion by anyone. The facts upon which the Times bases its false allegations are extremely inaccurate. All estate matters were handled by licensed attorneys, licensed CPAs and licensed real estate appraisers who followed all laws and rules strictly. All matters were filed with the IRS and New York taxing authorities. The returns and tax positions that the Times now attacks were examined in real time by the relevant taxing authorities. The taxing authorities requested a few minor adjustments, which were made, and then fully approved all of the tax filings. These matters have now been closed for more than a decade."
How health care is dominating the 2018 airwaves
Despite all of the attention on Trump, Brett Kavanaugh and the latest D.C.-focused story of the day, health care remains at the top of almost every 2018 state and national poll. And it's not a surprise why when you see all of the Democratic TV ads focused on the GOP efforts to repeal and replace Obamacare.
From yesterday alone:
And here's how Republicans are fighting back:
Kevin Yoder in KS-3: "My son Henry has cystic fibrosis. We depend on the insurance we get through our company and the quick and easy access to care it provides. I'm nervous that Sharice Davids wants to put the government in charge of our health care decisions."
Michael Bloomberg to cut Democrats a check for $20 million
First Read confirmed the Washington Post report that former New York City Mayor Bloomberg will give the main Democratic Senate Super PAC — Senate Majority PAC — $20 million for the final stretch of the 2018 campaign, according to the Super PAC.
"Mayor Bloomberg is a critical ally in our quest to win Senate races in every corner of the country. Mayor Bloomberg's contribution is another indicator that Democrats have real opportunity to take back the Senate," Senate Majority PAC President J.B. Poersch said in a statement to NBC News.