First Read is a morning briefing from Meet the Press and the NBC Political Unit on the day's most important political stories and why they matter.
NBC's Battleground Map heading into the second presidential debate
Hillary Clinton continues to hold the battleground-map edge before Sunday's second presidential debate, according to our newest map. But she no longer exceeds the 270 electoral votes needed to win the presidency. Clinton stands at 268 electoral votes, Donald Trump at 190, with 80 in the Tossup column. Last month it was Clinton 272, Trump 174. The biggest change here: We moved New Hampshire from Lean Dem to Tossup. (Yes, Clinton continues to lead in all public polls in the Granite State, but our reporting and the state's demographic profile suggest it might be a little closer.) We also moved Georgia from Tossup to Lean GOP; Indiana from Likely GOP to Lean GOP; Maine (the state) from Likely Dem to Lean Dem; and Texas from Likely GOP to Lean GOP. This is a conservative take on where the race stands before this weekend's debate. And we will come out with another map after Sunday's showdown, as well as more state polling we're likely to see.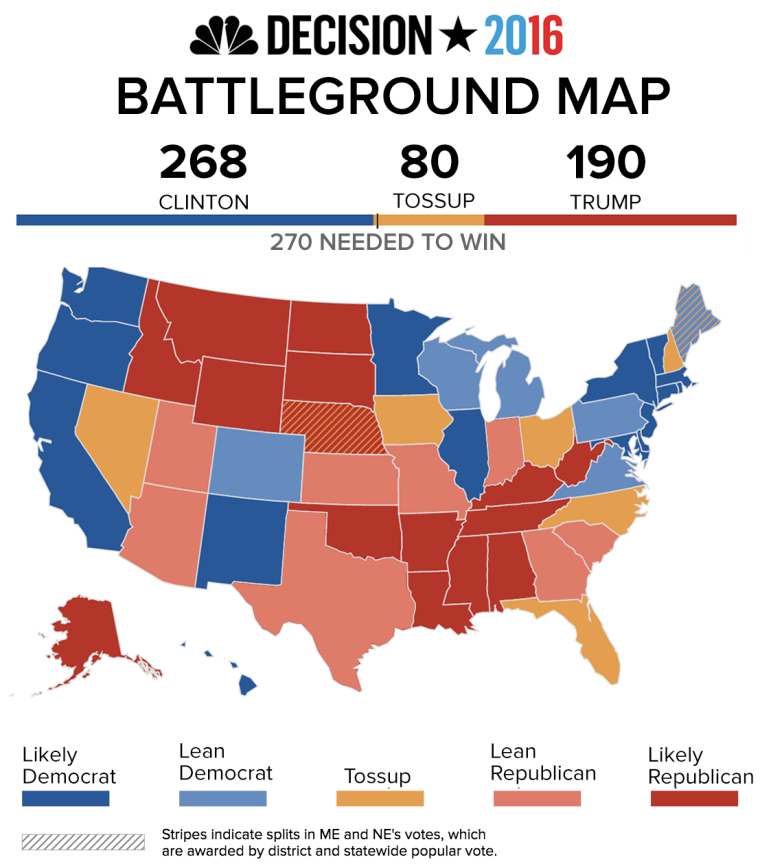 Likely Dem: CA, CT, DC, DE, HI, IL, MD, MA, NJ, NY, OR, RI, VT, WA (182 electoral votes)
Lean Dem: CO, ME (3 EVs), MI, MN, NM, PA, VA, WI (86),
Tossup: FL, IA, ME (1EV), NE (1 EV), NV, NH, NC, OH (80)
Lean GOP: AZ, GA, IN, KS, MO, SC, TX, UT (106)
Likely GOP: AL, AK, AR, ID, KY, LA, MS, MT, NE (4 EVs), ND, OK, SD, TN, WV, WY (84)
The "Bernie Bro" Factor in the North
So why are we slightly less bullish on Clinton in New Hampshire than the public polls suggest? Call it the "Bernie Bro" Factor -- millennials (especially males) who supported Bernie Sanders in the primaries, but who still haven't jumped aboard the Clinton Train. As Bloomberg's Sasha Issenberg wrote last month, "Sanders won every state that abuts Canada, except for Clinton's home state of New York. These states share more than latitude: New Hampshire, Maine, and Minnesota are among the most homogenous of the battlegrounds. In comparison, the percentage of black Americans nationwide is twice as high as it is in Wisconsin, which has the most racially mixed population of these Sanders states." And that is why Sanders has been campaigning in these states for Clinton this week -- Maine and New Hampshire (today), Michigan (yesterday), and Minnesota (this past Tuesday).
Hurricane politics: Florida's governor refuses to extend state's voter-registration deadline
"Florida Gov. Rick Scott, the chairman of the super PAC backing Donald Trump's presidential campaign, has refused to extend the Tuesday deadline for voter registration as requested by Hillary Clinton's campaign due to Hurricane Matthew," Politico says. 'Everybody has had a lot of time to register,' Scott said during a storm update Thursday night in the state's Emergency Operations Center. 'On top of that, we've got lots of opportunities to vote: Early voting, absentee voting and Election Day. So, I don't intend to make any changes.'" The story adds, "Scott's decision could end up in court, but it's not clear if a plaintiff could prevail because Florida law doesn't explicitly grant the governor the power to move voter-registration deadlines."
Democrats have already been out-registering Republicans in Florida
That said, Democrats have been walloping Republicans when it comes to voter registration in the state. "The Florida Democratic Party has submitted about 488,000 voter-registration forms it has collected for this election, while Republicans have submitted roughly 60,000, according to state reports," Politico writes. "In all, about 1.9 million voter-registration forms have been collected by nearly 700 groups statewide. Most of those groups appear Democrat-leaning or are dedicated to registering poor, young and minority voters who tend to vote for Democrats. The National Council of La Raza/Democracia USA, for instance, has registered about 49,000 people for this election — nearly all Hispanic, at least 60 percent of whom are voting for Clinton, records show."
Democrats hold almost a 5-to-1 advantage in paid staffers
Speaking of the ground game, "Democrats entered the fall campaign with an army of paid staffers close to five times the size of Republicans' according to an NBC News analysis of Federal Election Commission filings," NBC's Alex Seitz-Wald, Didi Martinez, and one us report. "At the end of August, the most recent date for which data is available, Democrats employed at least 4,200 people working to elect Hillary Clinton, with about 800 at the Clinton campaign, 400 at the Democratic National Committee, and nearly 3,000 on the payrolls of state parties in 13 battleground states, which typically employ a majority of field organizers. Republicans, meanwhile, employed about 880 people during the same period, with about 130 at the Donald Trump campaign, another 270 at the Republican National Committee, and roughly 480 at the 13 state parties."
Trump gets softball questions ahead of debate
NBC's Ali Vitali: "Donald Trump swears the small town hall his campaign held for him here wasn't debate prep. And after hearing the questions, maybe he was right. After reports emerged that Thursday night's intimate town hall event was set up as a mock session before the second presidential debate on Sunday, the GOP nominee denied it. 'This isn't practice!' Trump said. 'This has nothing to do with Sunday. We're just here because we just wanted to be here.'
On the trail
Both Hillary Clinton and Donald Trump have no campaign events… Mike Pence stumps in Ohio… Tim Kaine hits Nevada… Joe Biden holds a voter-registration event in Bristol, PA… Elizabeth Warren campaigns for Clinton in Wisconsin… Bernie Sanders stumps in Maine and New Hampshire.
Countdown to second presidential debate: 2 days
Countdown to third presidential debate: 12 days
Countdown to Election Day: 32 days