WASHINGTON — A state Supreme Court race in Wisconsin followed a familiar pattern we've seen over the past year in other contests during the Trump Era: Democrats are way overperforming from 2016 and even before that.
"Rebecca Dallet trounced Michael Screnock on Tuesday for a seat on the state Supreme Court, shrinking the court's conservative majority and giving Democrats a jolt of energy heading into the fall election," the Milwaukee Journal Sentinel writes. "It marked the first time in 23 years that a liberal candidate who wasn't an incumbent won a seat on the high court."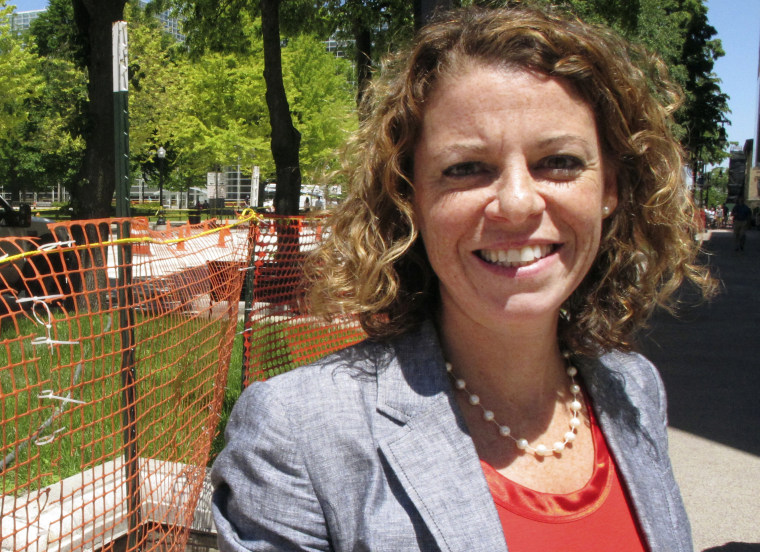 Dallet beat Screnock statewide by 12 points out of about 1 million votes cast, 56 percent to 44 percent. Remember, in 2016, Trump won Wisconsin 47 percent to 46 percent. And in 2012, Obama won it by 7 points, 53 percent to 46 percent.
And here are the results from some key counties:
Brown (Green Bay)
2012: Mitt Romney 50 percent, Barack Obama 49 percent
2016: Trump 52 percent, Clinton 41 percent
2018: Dallet 55 percent, Screnock 45 percent
Dane (Madison)
2012: Obama 71 percent, Romney 28 percent
2016: Clinton 70 percent, Trump 23 percent
2018: Dallet 81 percent, Screnock 19 percent
Eau Claire
2012: Obama 56 percent, Romney 42 percent
2016: Clinton 50 percent, Trump 42 percent
2018: Dallet 64 percent, Screnock 36 percent
Kenosha
2012: Obama 56 percent, Romney 43 percent
2016: Trump 47 percent, Clinton 47 percent
2018: Dallet 57 percent, Screnock 43 percent
Milwaukee
2012: Obama 68 percent, Romney 32 percent
2016: Clinton 66 percent, Trump 29 percent
2018: Dallet 66 percent, Screnock 34 percent
Waukesha (outside of Milwaukee)
2012: Romney 67 percent, Obama 32 percent
2016: Trump 60 percent, Clinton 33 percent
2018: Screnock 64 percent, Dallet 36 percent
Bottom line: Dallet's margins were about equal to Democrats' 2012/2016 performance in the urban areas, and they were significantly better in more rural counties. (Just as an aide, but with the teacher rebellions in Oklahoma and West Virginia, is there something going on in rural America that Team Trump is missing?)
"This is freaking code RED,"said MSNBC GOP analyst Charlie Sykes, who hails from Wisconsin.
GOP Gov. Scott Walker, who's up for re-election in 2018, tweeted:
Begun the trade war has
The Star Wars reference here is intentional – this U.S.-vs.-China battle over tariffs is straight out of the George Lucas prequels.Bloomberg News: "China said it would levy an additional 25 percent tariff on imports of 106 U.S. products including soybeans, automobiles, chemicals and aircraft, in response to proposed American duties on its high-tech goods."
CNBC adds that, as of 7:00 am ET this morning, Dow Jones futures had dropped more than 500 points due to worries about this standoff over tariffs.
We agree with the take from Bloomberg's morning "Balance of Power" newsletter: This is a standoff that both sides – Trump and China – think they can win. "Trump sees China's economy as fragile and is betting that Xi will force through reforms before risking instability, according to Scott Kennedy, a China scholar at the Washington-based Center for Strategic and International Studies. Xi, on the other hand, doesn't think Trump can endure much political pain or equity market losses, and will likely take a quick deal."
This morning, Trump tweeted:
So in other words: Yes, we're in a trade war…
WaPo: What Mueller has told Trump's team so far
Turning to the Mueller investigation, last night's Washington Post scoop contained two big pieces of news: 1) Mueller is investigating President Trump but doesn't consider him a target AT THIS TIME, and 2) Mueller is preparing a report about the president's actions while in office, including potential obstruction of justice.
"In private negotiations in early March about a possible presidential interview, Mueller described Trump as a subject of his investigation into Russia's interference in the 2016 election. Prosecutors view someone as a subject when that person has engaged in conduct that is under investigation but there is not sufficient evidence to bring charges," the Post reports. "Mueller reiterated the need to interview Trump — both to understand whether he had any corrupt intent to thwart the Russia investigation and to complete this portion of his probe, the people said."
More: "The president and some of his allies seized on the special counsel's words as an assurance that Trump's risk of criminal jeopardy is low. Other advisers, however, noted that subjects of investigations can easily become indicted targets — and expressed concern that the special prosecutor was baiting Trump into an interview that could put the president in legal peril."
Trump says no one has been tougher than he has on Russia. His outgoing national security adviser appears to disagree
At his news conference with Baltic leaders yesterday, President Trump declared, "No one has been tougher on Russia than I have."
But check out these words from outgoing National Security Adviser H.R. McMaster, who said the U.S. could be doing much more against Russia: "For too long, some nations have looked the other way in the face of these threats. Russia brazenly, and implausibly denies its actions, and we have failed to impose sufficient costs," McMaster said in a speech to the Atlantic Council, per Politico.
"The three-star Army general added that Russian President Vladimir Putin believes he is 'winning' through the county's 'hybrid warfare,' which 'combines political, economic, informational, and cyber assaults against sovereign nations.' But, he argued, the U.S. and its allies will prevail. 'We will triumph over new threats, including those posed by Russia's increased aggression around the world,' he said."
Trump to send U.S. troops to the border
NBC's Vivian Salama: "President Donald Trump said Tuesday that he will reinforce security along the U.S. border with Mexico by using American troops because 'horrible, unsafe laws' have left the country vulnerable. At a pair of White House events, Trump called on U.S. lawmakers to 'get their act together' to enforce laws that prevent people from entering the country illegally and said he would turn to the Department of Defense for help."
More: "Presidents of both parties, including George W. Bush and Barack Obama, have previously sent National Guard units to help secure the border, though it was unclear when he spoke if Trump was referring to that practice or to active duty troops when he called the idea a 'big step,' adding that 'we really haven't done that before, certainly not very much before.'"
"Later Tuesday evening, the White House released a statement that the president had received a briefing earlier in the day on the administration's border security strategy, 'which includes the mobilization of the National Guard.'"
Bill Nelson gets some ammo vs. Rick Scott
Politico's Florida Playbook flags this article: "Florida Gov. Rick Scott's administration knew in 2015 when it offered $162,000 in tax-refund incentives to Pompano Beach assault rifle maker Kalashnikov USA that the company was doing business with a Russian arms giant that was blacklisted by the U.S."