First Read is your briefing from Meet the Press and the NBC Political Unit on the day's most important political stories and why they matter.
WASHINGTON — On his first full day back at the White House after the Christmas/New Year's holiday — with nothing on his public schedule other than a lunch with his vice president and Labor secretary — President Trump fired off 16 different tweets on Tuesday.
One suggested that Hillary Clinton aide Huma Abedin, as well as former FBI Director James Comey, should go to jail.
Another took credit for zero deaths from crashes in commercial aviation (when there hasn't been a fatality on a U.S. airline since 2009).
Another congratulated Sen. Orrin Hatch, who announced his retirement.
Another yet declared he would be announcing his "MOST DISHONEST & CORRUPT MEDIA AWARDS OF THE YEAR" on Monday.
And then came Trump's mine-is-bigger-than-yours taunt aimed at North Korea — on the topic of nuclear weapons. "North Korean Leader Kim Jong Un just stated that the 'Nuclear Button is on his desk at all times.' Will someone from his depleted and food starved regime please inform him that I too have a Nuclear Button, but it is a much bigger & more powerful one than his, and my Button works!" Trump said.
Views of Trump's tweeting habit are all over the place. Some, like liberal linguist George Lakoff, see the tweets as a deliberate way to shape the news and feed his base. Others see them as a sign of unfitness for the office or even a question about his overall health. And then there's the take that Trump is simply live-tweeting what he watches on Fox News.
But here's the thing: Trump's tweets have been one of his most UNPOPULAR acts as president. Indeed, our September 2017 NBC/WSJ poll asked respondents to approve or disapprove of Trump's handling of 11 events or actions. Here were the responses, from most popular to least popular: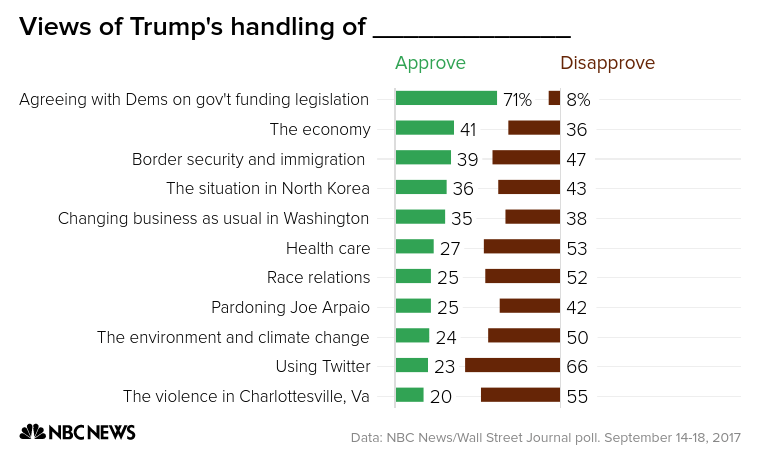 So while the tweets might allow him to frame the news, they've also contributed to him being the most unpopular modern president entering his second year in office.
And guess what: Like yesterday, Trump today has only one event on his public schedule — another lunch with his vice president and cabinet secretaries. So expect the tweets to continue.
Fusion GPS says the real witch hunt is against them — not against the president
Turning to the Russia investigation, the founders of the Fusion GPS opposition-research shop write an op-ed in the New York Times arguing that their work and the infamous Steele dossier DID NOT start the FBI's investigation into Russia's interference in the '16 election.
"We don't believe the Steele dossier was the trigger for the F.B.I.'s investigation into Russian meddling," the founders write. "As we told the Senate Judiciary Committee in August, our sources said the dossier was taken so seriously because it corroborated reports the bureau had received from other sources, including one inside the Trump camp." (Business Insider's Natasha Bertrand reports that the inside-the-Trump-camp comment here refers to George Papadopoulos.)
More from Fusion GPS: "The intelligence committees have known for months that credible allegations of collusion between the Trump camp and Russia were pouring in from independent sources during the campaign. Yet lawmakers in the thrall of the president continue to wage a cynical campaign to portray us as the unwitting victims of Kremlin disinformation."
Hatch says he won't seek re-election, paving the way for Mitt Romney to fill his seat
"Sen. Orrin Hatch, R-Utah, announced Tuesday that he will retire at the end of his term this year, ending months of speculation about the political future of the longest-serving Republican in the Senate," NBC's Alex Seitz-Wald writes. "His departure could clear the way for former GOP presidential nominee Mitt Romney, who is said to be eyeing a bid for the seat, although other Republicans are certain to jump into the fray. Democrats Jenny Wilson and Mitchell Vice have already declared their candidacies."
Hatch and Romney have had two VERY DIFFERENT opinions of President Trump. Here was Hatch before Christmas: "Mr. President, I have to say you are living up to everything I thought you would," he said after the tax legislation passed Congress. "You are one heckuva leader, and we're all benefiting from it."
But here was Romney back in 2016: "Here's what I know. Donald Trump is a phony, a fraud. His promises are as worthless as a degree from Trump University. He's playing the American public for suckers: He gets a free ride to the White House and all we get is a lousy hat."
Of course, the real question is whether Romney — if he runs and wins — would be more like a John McCain (who could buck Trump on policy votes), or if he would be more like a Bob Corker and Jeff Flake (who criticize the president on personality, but support his policies). Regardless, if you're Trump, you'd rather have Hatch in the Senate than Flake.
And as our colleague Beth Fouhy reminds us, it was less than a month ago when former Trump adviser Steve Bannon attacked Romney: "In a particularly nasty and personal attack, Bannon, the Breitbart News chairman and former presidential strategist, went after Romney's children and Mormon faith, slamming the former GOP presidential nominee for not serving in the Vietnam War and his sons for not putting on the uniform."
A little president pro tempore trivia
By the way, Hatch is president pro tempore of the U.S. Senate — being the longest-serving GOP senator. If Democrats win back in the Senate in November, that title would go to Sen. Pat Leahy, D-Vt. But after Leahy, who is the longest-serving senator who had once won election as a Democrat?
Answer: Sen. Richard Shelby of Alabama, who is now a Republican.
As far as current Senate Democrats go, seniority after Leahy is Dianne Feinstein then Patty Murray.
Senate Seniority
1 Patrick J. Leahy, D-VT — Service began Jan. 3, 1975
2 Orrin G. Hatch, R-UT — Jan. 3, 1977
3 Thad Cochran, R-MS — Dec. 27, 1978
4 Charles E. Grassley, R-IA — Jan. 3, 1981
5 Mitch McConnell, R-KY — Jan. 3, 1985
6 Richard C. Shelby, R-AL — Jan. 3, 1987
7 John McCain, R-AZ — Jan. 3, 1987
8 Dianne Feinstein, D-CA — Nov. 4, 1992
9 Patty Murray, D-WA — Jan. 3, 1993
10 James M. Inhofe, R-OK — Nov. 16, 1994
Jones, Smith to get sworn in
Finally today: "Two new Democrats will be sworn in to the U.S. Senate on Wednesday, narrowing the Republican majority and complicating efforts by Majority Leader Mitch McConnell to advance the White House's legislative agenda before the November midterm elections," the AP says.
"Doug Jones, the first Alabama Democrat elected to the Senate in a quarter century, is one of two new members who will take the oath of office on the Senate floor at noon. The other is Minnesota Lt. Gov. Tina Smith, who was appointed to replace Al Franken following the Democrat's resignation over accusations of sexual misconduct. Smith also plans to compete in the special election taking place in November to complete the final two years of Franken's term."