The nation is on edge in the wake of brutal beheadings of journalists by Islamic extremists — with more Americans saying the United States is less safe now than at any point since 9/11, a new NBC News/Wall Street Journal Poll shows.
The exclusive poll reveals that 47% of Americans believe the country is less safe now than before the Sept. 11, 2001, terrorist attacks. That's a significant increase from even a year after the twin towers fell when in September 2002 just 20% of the country said the nation was less safe. The level of fear across America also is up substantially from last year when 28% felt the same way.
In fact, just 26% of Americans now feel the nation is safer than before 9/11.
The numbers are a backdrop for the primetime speech President Obama will deliver on Wednesday night outlining his plan to combat the terrorist group ISIS, which has taken over parts of Iraq and Syria, beheaded two American journalists, distributed images of the killings in via gruesome videos, and has launched a social media campaign to extend its reach.
Read the full poll here.
"A very war-weary country … seems to have woken up to the real threat that ISIS may present," says Republican pollster Bill McInturff, who conducted this survey with Democratic pollster Peter Hart and his colleagues at Hart Research.
"The beheadings are so chilling to the American public," added Hart. "The only things I think of equal impact are the self-immolations back in Vietnam."
The new poll also found that more than six in 10 respondents believe that taking military action against the Islamic militant group ISIS is in the nation's interest.
And a whopping 94 percent of Americans say they have heard about the news of the beheaded journalists – higher than any other news event the NBC/WSJ poll has measured over the past five years.
That includes the 2011 debt-ceiling debate (77 percent), the 2012 health-care decision by the U.S. Supreme Court (78 percent), Syria's reported use of chemical weapons in 2013 (79 percent) and this year's botched execution in Oklahoma (68 percent).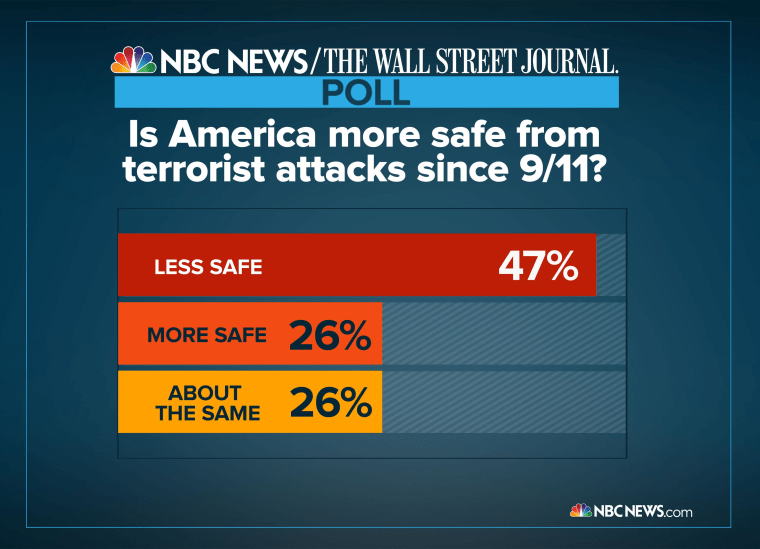 Sixty-One percent say military action against ISIS is in nation's interest
According to the poll, 61 percent of American voters believe that the United States taking military action against ISIS is in United States' interest, versus 13 percent who don't. (Another 24 percent said they don't know enough to have an opinion.)
That's a significant change when a similar question was asked last year about the U.S. taking possible action against Syria's government after its reported use of chemical weapons.
Back then, only 21 percent said action was in the nation's interest, while 33 percent said it wasn't.
"The results couldn't be more different," McInturff, the GOP pollster, says.
In addition, 40 percent of respondents say U.S. military action against ISIS should be limited only to air strikes; another 34 percent say it should include both air strikes and combat troops; and 15 percent say military action shouldn't be taken.
And while a plurality of Americans (40 percent) think that the United States should be less active in world affairs, that's a seven-point drop on this question from April (when it was 47 percent).
By comparison, 27 percent say the U.S. should be more active – an eight-point increase from April.
Approval of Obama's foreign policy sinks to all-time low
Obama's speech Wednesday comes as the NBC/WSJ poll finds that just 32 percent of voters approve of his handling of foreign policy – an all-time low on this question.
And that appears to be hurting his party. The poll shows that Republicans have an 18-point advantage (41 percent to 23 percent) on which party best deals with foreign policy. That's up from the GOP's seven-point edge (33 percent to 26 percent) a year ago.
Additionally, Republicans hold a 38-point lead (54 percent to 16 percent) on which party ensures a strong national defense – the GOP's biggest advantage in more than 10 years on this question
Yet the NBC/WSJ pollsters say that Obama's speech – followed by action against ISIS – could turn things around for the president and his party. "It might allow him to perhaps use September and October to be a more strongly perceived figure than he's been," McInturff says.
Demonstrating presidential leadership, he adds, could at a minimum strengthen strengthen himamong key Democratic groups that need to turn out for the party to have success in November.
Midterm advantage on GOP's side
And for Democrats, an Obama turnaround needs to come sooner rather than later, because Republicans currently have the advantage heading into the midterm elections.
Two-thirds of voters believe the country is headed in the wrong direction – a higher percentage than at this point in the 2006 and 2010 midterm elections. Obama's overall approval rating stands at 40 percent, tied for his all-time low in the poll. And Republicans hold a two-point advantage, 45 percent to 43 percent, on which party should control Congress.
That margin expands to 10 points – 50 percent to 40 percent – In the states holding this year's most-competitive Senate contests.
"With 56 days until Election Day, our poll provides greater insight into what is likely to happen, and the news is not good for the Democrats," says Democratic pollster Fred Yang of Hart Research.
The NBC/WSJ poll was conducted Sept. 3-7 of 1,000 registered voters (including 350 cell phone-only respondents and another 32 reached on a cell phone but who also have a landline), and it has an overall margin of error of plus-minus 3.1 percentage points.