WASHINGTON — A total of eight states hold their primaries today, including California, where the Top 2 candidates (regardless of party) advance to the general election. Here are the seven questions we have going into tonight's primaries in Alabama, California, Iowa, Mississippi, Montana, New Jersey, New Mexico and South Dakota:
1. Do Democrats get locked out of the key CA-39, CA-48 and CA-49 House races?
This is today's top storyline, given that Democrats' failure to make the general in these three districts that Hillary Clinton carried in 2016 could make their chances of winning back the House much, much harder. But success — and it's quite possible that Democrats advance in all three districts – makes things much easier for the party.
2. Do Republicans get locked out of a slot on the top of California's ticket?
That's the potential danger for Republicans under the Golden State's Top 2 system — that two Democrats would advance for governor and U.S. Senate. But recent polling suggests that Republican John Cox (whom President Trump endorsed) will make the Top 2 in the gubernatorial race, which would help drive GOP turnout for the general.
3. How do the GOP congressional incumbents fare in California?
In California's Top 2 system, it will be interesting to see the percentages that vulnerable GOP Reps. Jeff Denham (in CA-10), Steve Knight (in CA-25), Dana Rohrabacher (in CA-48), David Valadao (in CA-21), Mimi Walters (in CA-45), and even Devin Nunes (in CA-22) get. Who is above 50 percent and who is below will be fascinating to watch.
4. In Iowa, does Fred Hubbell surpass the 35 percent needed to avoid the gubernatorial nomination going to a convention?
Of course, California isn't the only state holding its primaries today. Iowa features the Democratic contest for the opportunity to take on GOP Gov. Kim Reynolds in the fall. Businessman Fred Hubbell is the clear frontrunner, especially after state Sen. Nate Boulton suspended his campaign in the wake of sexual-misconduct allegations. But Hubbell will need to clear 35 percent of the vote to avoid a nominating convention.
5. Does another member of Congress lose a competitive primary for higher office?
So far in 2018, it hasn't been easy being a member of Congress running for statewide office. Reps. Luke Messer, R-Ind., Todd Rokita, R-Ind., and Evan Jenkins, R-W.V., all lost their bids for Senate. And tonight, another member of Congress — Rep. Kristi Noem, R-S.D. — faces off against state Attorney General Marty Jackley in the GOP primary for South Dakota governor. A recent Mason-Dixon poll had Noem at 45 percent and Jackley at 44 percent.
6. Does Martha Roby's opposition to Trump cost her in Alabama?
In another interesting GOP primary today, Martha Roby, R-Ala., is getting a challenge from a crowded field (including former Dem Congressman Bobby Bright) after saying she wouldn't vote for Donald Trump in 2016.
7. And who will take on Jon Tester in Montana?
Finally, in the GOP contest to challenge Sen. Jon Tester, D-Mont., state Auditor Matthew Rosendale takes on former Yellowstone County District Judge Russell Fagg.
A reminder about California: If the races are close, we might not know the Top 2 finishers for a week or two
If you remember California's 2016 presidential primary between Hillary Clinton and Bernie Sanders, we didn't know the final tally for a couple of weeks — due to the slow counting of the absentee ballots.
As the Washington Post's Dave Weigel tweeted:
Two predictions about #CAPrimary:
1) At least two key races won't be called until next week, thx to sheer number of absentee ballots
2) There will be hot takes about "low Democratic turnout," ignoring that many Dem voters turn in absentees at the last minute/get counted late.
Democrats have greatly outspent Republicans over the airwaves in California
Heading into today's California primaries, here's a look at the top TV ad spenders in some of the marquee race races we've been watching. The totals show just how much money Democrats have spent as they battle each other in the crowded Top 2 primaries, versus very little spending from GOP candidates. For example, in the California gubernatorial primary, Democratic candidates and supporting groups have outspent Republicans by more than 15-1.
CA GOV
Families & Teachers for Antonio Villaraigosa (D): $13.3M
Newsom for CA Governor (D): $7.1M
Citizen Support for Newsom (D): $3.1M
Chiang for CA Governor (D): $3.0M
Villaraigosa for CA Governor (D): $2.3M
Cox for CA Governor (R): $1.7M
Peace Officers Research Association of California (D): $350K
Education Organizations for Gavin Newsom (D): $312K
Allen for CA Governor (R): $190K
Nurses Trust Newsom (D): $184K
Restore Our Values (R): $52K
Eastin for CA Governor (D): $12K
Total GOP spending: $1.9M
Total Dem spending: $29.6M
CA-39
DCCC (D): $1.4M
Cisneros for CA CD-39 (D): $1.3M
Thorburn for CA CD-39 (D): $558K
Kim for CA CD-39 (R): $220K
Khahn-Tran for CA CD-39 (D): $90K
Patriot Majority USA (D): $34K
Lee for CA CD-39 (D): $11K
Total GOP spending: $220K
Total Dem spending: $3.4M
CA-48
DCCC (D): $1.6M
House Majority PAC (D): $702K
Keirstead for CA CD-48 (D): $672K
DCCC/Rouda (D): $551K
American Future Fund (R): $373K
Baugh for CA CD-48 (R): $266K
Rouda for CA CD-48 (D): $239K
Patriot Majority USA (D): $173K
Siddiqui for CA CD-48 (D): $56K
New OC Future (R): $45K
Onufrei for CA CD-48 (R): $36K
Gabbard for CA CD-48 (R): $17K
Total GOP spending: $737K
Total Dem spending: $4.0M
CA-49
Kerr for CA CD-49 (D): $3.0M
Women Vote! (D): $1.6M
DCCC: $1.6m (D): $1.6M
Jacobs for CA CD-49 (D): $1.4M
American Future Fund (R): $363K
Maryott for CA CD-49 (R): $254K
Patriot Majority USA (D): $193K
Applegate for CD-49 (D): $192K
Harkey for CA CD-49 (D): $185K
Levin for CA CD-49 (D): $55K
Gaspar for CD CD-49 (R): $46K
Total GOP spending: $849K
Total Dem spending: $8.0M
Source: Advertising Analytics
Prosecutors accuse Manafort of witness tampering
"Federal prosecutors asked a judge Monday night to revoke bail for Paul Manafort, President Donald Trump's former campaign chairman, alleging that he tried to tamper with potential witnesses while on pretrial release," NBC's Tom Winter and Alex Johnson write. "If the judge agrees, Manafort would likely have to go to jail pending his trial in connection with special counsel Robert Mueller's investigation of alleged Russian interference in the 2016 presidential campaign. Attorneys for Manafort said they had no immediate comment."
"According to an FBI affidavit included with the motion, which was filed in U.S. District Court in Washington, D.C., Manafort used encrypted messaging applications in February to try to reach two unnamed business partners who could be witnesses to his alleged fraud and money laundering. One of the potential witnesses said he believed Manafort's outreach was an attempt to 'suborn perjury' or to instruct him to lie after a superseding indictment was filed in February against Manafort. The superseding indictment was filed after his co-defendant, Rick Gates, a former Trump campaign aide, pleaded guilty to conspiracy and lying to Mueller's investigators."
Trump disinvites the Super Bowl champion from a presidential battleground state. What could go wrong?
The Philly Inquirer: "President Trump on Monday abruptly rescinded an invitation to host the Eagles at the White House, citing the 'smaller delegation' that was planning to attend and again stoking a national debate by insisting that players 'proudly stand for the National Anthem, hand on heart.' The celebration was canceled fewer than 24 hours before the team was scheduled to visit."
More: "The Eagles were scheduled to be honored by Trump at 3 p.m. on the South Lawn. Fewer than 10 players planned to attend, a team source told the Inquirer and Daily News. Eagles representatives were in Washington on Monday preparing logistics. Owner Jeffrey Lurie planned to make the visit, the source said."
By the way, is Trump's anger here at Lurie? As Politico Playbook notes, the New York Times had this from earlier in the year: "The [NFL] owners were intent on finding a way to avoid Trump's continued criticism. The president's persistent jabs on Twitter had turned many fans against the league. Lurie, who called Trump's presidency 'disastrous,' cautioned against players getting drawn into the president's tactics."
As Trump tweeted last night, "The Philadelphia Eagles Football Team was invited to the White House. Unfortunately, only a small number of players decided to come, and we canceled the event. Staying in the Locker Room for the playing of our National Anthem is as disrespectful to our country as kneeling. Sorry!"
How many bills has Trump signed into law in his first 500 days as president? And how does it compare with past presidents?
One of us took a look yesterday. According to GovTrack, Trump has signed 176 bills since his inauguration. That's about on par with Barack Obama at this point in his presidency (174), and slightly behind George W. Bush (187). But both Bill Clinton and George H.W. Bush far surpassed those numbers in the pieces of legislation signed in their first 100 days, 262 and 309 bills, respectively.
But what about those post office namings and "National Country Music Day" designations? NBC News counted each piece of legislation passed under Trump and the previous four presidents and removed those that simply named, commemorated, awarded or appointed an individual, group or cause.
Under that count, Trump is also about on par with his previous two successors. Of the 176 bills he has signed into law, 132 are classified as substantive, compared to 118 for Obama and 133 for George W. Bush. But George H.W. Bush and Clinton are far ahead of all three, clocking in at 170 and 177.

Also, the non-partisan Partnership for Public Service keeps track of each administration's nominations and confirmations — and they find that Trump so far has only nominated 720 individuals and confirmed 448 to key executive branch positions, behind his predecessors. But the average length of time of Trump-appointee confirmations (86 days) has also been longer than for the nominees of his past predecessors.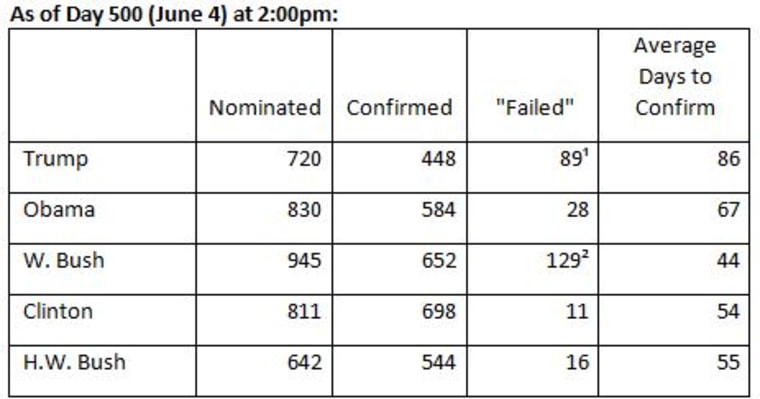 ¹On January 3, 2018, the Senate returned 64 of President Donald Trump's pending nominations, as required by congressional procedure. 55 of these nominations have been resubmitted.²On August 3, 2001, the Senate returned all of President George W. Bush's pending 117 nominations, as required by congressional procedure. 113 of these nominations were later re-submitted. The Senate passed measures that prevented this from happening to Obama, Clinton and H.W. Bush.As a reminder, these numbers exclude non-civilian and judiciary positions, as well as hold-overs. Additionally, it is important to know that the "confirmed" and "failed" are part of the nomination count, and are not a separate entity.