WASHINGTON — It's Primary Day in Illinois. Here are four storylines to watch: Another Tuesday, another day when voters are voting – today, it's the primary races Illinois. The marquee contests are the Democratic and GOP primaries for governor, where a combined $65 million (!!!) has been spent on TV and radio ads on both sides. And it's possible that two incumbents — the state's Republican governor and a Democratic congressman — could go down to defeat.
Here are the four storylines we're watching:
1. Is Gov. Bruce Rauner in trouble in his GOP primary?
Rauner received a primary challenge from Jeanne Ives, who made national headlines for running a highly controversial ad that included — among other things — a male actor dressed as a woman "thanking" Rauner for "signing legislation that lets me use the girl's bathroom." She's picked up some key conservative allies and donors (including megadonor Richard Uihlein) who accuse Rauner of siding too often with Democratic causes. And the Democratic Governors Association has even been running TV ads calling Ives "too conservative," which is reminiscent of how Missouri Democrats played in the 2012 primary that Todd Akin ultimately won.
Rauner should still be considered the favorite to win today's primary in his rocky road to re-election. But political analyst Nathan Gonzales, the editor and publisher of Inside Elections, tweeted last night: "Multiple GOP sources believe Gov. Rauner could lose #ILGov primary tomorrow night, or at least closer than expected for a challenge to a multi-millionaire incumbent governor." If Rauner loses, he'd be the first Illinois governor seeking re-election to lose a primary in 42 years.
2. Who wins the Dem primary for governor — the billionaire, the Kennedy or the former teacher?
J.B.Pritzker, a billionaire and philanthropist who has put over $60 million of his own money into the race, has long been the frontrunner for the Democratic gubernatorial nod. He's facing wealthy businessman Chris Kennedy, also from a famous family. (Yes, those Kennedys.) But his other top competitor, state senator and former teacher Dan Biss, is running as the "middle class governor," emphasizing that his competitors have "never had to struggle."
Of the two Pritzker rivals, it's Biss who got some unexpected traction by contrasting his regular-joe pedigree against both of his well-heeled Democratic foes as well as against billionaire incumbent Republican Bruce Rauner. Pritzker is still the favorite, but it's been a tough race for him — particularly with the amount of money he's already spending.
3. Does an incumbent Dem congressman go down to defeat?
Democrats have been waging one of the nastiest internal fights of the cycle in this suburban Chicago area. Conservative Democratic incumbent Dan Lipinski, who opposes abortion rights and voted against Obamacare in 2010, has faced blistering attacks from progressive Marie Newman, who's called him a "Trump Democrat." The intraparty brawl is ugly, although the winner (unlike in that Texas fight between Laura Moser and the DCCC earlier this month) is expected to cruise to victory in November. And/but: The Republican side of this race is going to keep attracting more embarrassing attention for the GOP. Why? The only Republican on the ballot is Holocaust denier and white supremacist Arthur Jones.
4. Which Democrat comes out ahead in the crowded race to face Peter Roskam in IL-6?
There are seven Democrats vying for the chance to take on Republican Rep. Roskam, who's held the seat since 2007. It's an affluent suburban district and a top target for Dems. The top Dem contenders include planning commissioner Kelly Mazeski, scientist Sean Casten and former congressional aide Carole Cheney.
The $65-million-dollar race
As mentioned above and as we wrote about last week, a whopping $65 million has been spent on TV and radio ads in Illinois' gubernatorial contest. And we can only imagine what the final total will be if it's a Rauner-vs.-Pritzker general election. Here are the numbers for the primary: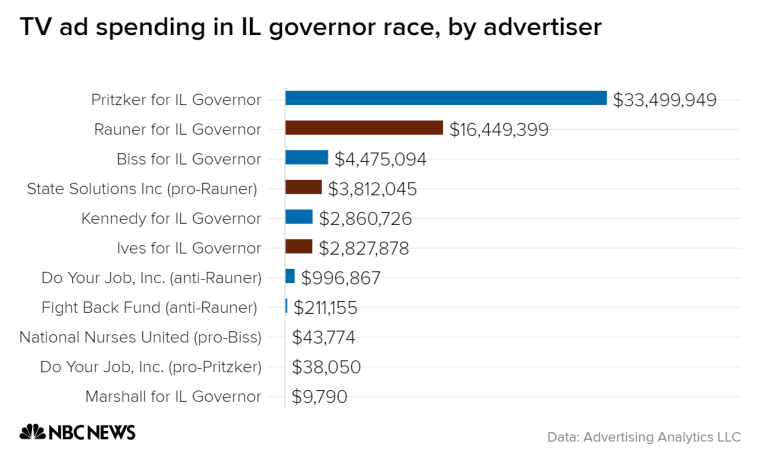 Trump shakes up his legal team
"President Trump's legal team was poised for a shake-up on Monday, according to two people briefed on the matter, as he openly discussed firing one of his lawyers, another considered resigning and a third — who pushed theories on television that Mr. Trump was framed by the F.B.I. — joined the roster," the New York Times writes. "Mr. Trump has weighed aloud in recent days to close associates whether to dismiss his lawyer Ty Cobb, who had pushed most strongly a strategy of cooperating fully with the special counsel investigation. The president reassured Mr. Cobb that he had no plans to fire him, according to a person who spoke with the president late Monday, in part to prevent a narrative that his team was in disarray after The New York Times began making inquiries."
More: "Mr. Trump's lead lawyer, John Dowd, has contemplated leaving his post because he has concluded that he has no control over the behavior of the president, the two people briefed on the matter said… In another sign of the president's more aggressive posture, on Monday he hired Joseph E. diGenova, a longtime Washington lawyer who has appeared regularly on Fox News in recent months to claim that the F.B.I. and the Justice Department had manufactured evidence against Mr. Trump to aid Hillary Clinton."
"'It's never a good idea to see legal teams change dramatically and for competent lawyers to be replaced by others,' said Roger Cossack, a longtime legal analyst. 'It shows that there is chaos and that whoever the client is — in this case the president — is unhappy and is searching for the magic bullet. And it's never a great strategy to search for the magic bullet. The president clearly wants it to end and wants to put an end to it.'"
If you wanted further evidence that Trump is relying on his gut right now, hiring diGenova is it…
If congressional Republicans won't protect Mueller now, won't it be harder to do it later?
NBC's Leigh Ann Caldwell: "Republicans on Capitol Hill mostly steered clear of lecturing the president Monday after a weekend where he attacked special counsel Robert Mueller's probe and celebrated the firing of FBI Deputy Director Andrew McCabe. Instead, they insisted that President Donald Trump, no matter how much he rants, would not take the dramatic step of ordering Mueller to be fired."
Folks, passing a resolution to protect shouldn't be hard. And if they don't want to do it, won't it be harder to pass later?
GOP loses ground in Republican-held congressional districts, per NBC/WSJ poll
Our latest NBC/WSJ poll finds Democrats with a 10-point lead in congressional preference, with Dems holding the advantage in enthusiasm and among independents, and with college-educated white women breaking heavily against the GOP. But there's another ominous sign for Republicans in our poll: They're losing ground on the congressional-preference question in GOP-held congressional districts.
Net Congressional Preference in Dem/GOP-held districts
Bottom line: Given that so much of the 2018 House battleground is in red/purple areas, the GOP being in single digits — or even — in Republican-held districts is a problem.
Rundown on the 2018 midterms
In case you missed them, here were yesterday's midterm developments that we chronicled on our "Rundown" blog: "Sex and the City" star Cynthia Nixon announced her primary challenge to Democratic Gov. Andrew Cuomo, and she campaigns today in Brooklyn at 11:00 am ET… Republican Tim Pawlenty is moving closer to (another) gubernatorial bid… And after the GOP lost their court challenges to the new Pennsylvania congressional map, Rep. Ryan Costello, R-Pa., told NBC's Kasie Hunt that he plans to file to run for re-election. But Hunt adds that Costello isn't 100% firm in his plans, so his situation remains one to watch.
As for that locked-in new congressional map in Pennsylvania, the Cook Political Report's David Wasserman writes, "Under new lines, Dems have excellent chance to pick up 3-5 seats in addition to Lamb (under old lines, 1-3). Net change: ~+2D."
Politico: GOP is worried about Don Blankenship in West Virginia
"National Republicans — on the heels of the Roy Moore and Rick Saccone debacles — worry they're staring down their latest potential midterm election fiasco: coal baron and recent federal prisoner Don Blankenship," Politico says. "With Blankenship skyrocketing in the West Virginia Republican Senate primary and blanketing the airwaves with ads assailing his fractured field of rivals as career politicians, senior party officials are wrestling with how, or even whether, to intervene. Many of them are convinced that Blankenship, who served a one-year sentence after the deadly 2010 explosion at his Upper Big Branch Mine, would be a surefire loser against Democratic Sen. Joe Manchin — and potentially become a national stain for the party."