WASHINGTON — In his opening statement before the Senate Judiciary Committee earlier this month, Supreme Court nominee Brett Kavanaugh stressed how important impartiality and non-partisanship should be for a Supreme Court justice.
"A good judge must be an umpire — a neutral and impartial arbiter who favors no litigant or policy," he said. "The Supreme Court must never be viewed as a partisan institution. The justices on the Supreme Court do not sit on opposite sides of an aisle. They do not caucus in separate rooms."
Which is why Kavanaugh appearing on Fox News yesterday to defend himself was so extraordinary.
"The platform of Fox News offered Judge Kavanaugh a prime opportunity to make his case directly to President Trump and his supporters. Not only is Mr. Trump an avid watcher, but his deputy chief of staff, Bill Shine, was formerly a co-president of the channel. The president even plugged the interview in a tweet shortly before it aired," The New York Times writes.
But how impartial can a Supreme Court nominee be when he goes on Fox News — of all possible platforms — to defend himself?
Indeed, you can argue that the entire process of this nomination — the protests, the accusations, the defenses and now the Fox News interview — makes it almost impossible for Kavanaugh to be viewed as an impartial player. And it's doubly tough for someone who, despite serving on the D.C. Circuit Court of Appeals, worked on the Ken Starr investigation in the 1990s and in the George W. Bush White House in the early 2000s.
It's that perception as a partisan warrior that has always made Kavanaugh's nomination problematic — even before these allegations against him. And it's a perception that gets reinforced when you go on Fox News.
We get why Kavanaugh and the White House did the interview. They needed clips of him denying the allegations before Thursday's Senate Judiciary Committee hearing with accuser Christine Blasey Ford. But why Fox News?
Kavanaugh: 'The truth is I've never sexually assaulted anyone'
NBC's Rebecca Shabad writes up Kavanaugh's interview on Fox: "'The truth is I've never sexually assaulted anyone, in high school or otherwise,' Kavanaugh said in an interview with Fox News, with his wife, Ashley, by his side. 'I am not questioning and have not questioned that perhaps Dr. Ford at some point in her life was sexually assaulted by someone at some place,' he added. 'But what I know is, I've never sexually assaulted anyone.'"
"Kavanaugh also said in the interview that he was a virgin 'in high school or for many years thereafter.' 'I never sexual assaulted anyone,' he said. 'I did not have sexual intercourse in high school or for many years thereafter. The girls from the schools I went to and I were friends.'"
More from the interview: "Yes, there were parties. And the drinking age was 18, and yes, the seniors were legal and had beer there. And yes, people might have had too many beers on occasion and people generally in high school — I think all of us have probably done things we look back on in high school and regret or cringe a bit, but that's not what we're talking about."
Bottom line: Kavanaugh here is painting a picture of himself as a Boy Scout — he was a virgin; if there was drinking, everyone was doing it legally.
College roommate contradicts Kavanaugh's description of his time at Yale
But what happens when associates from those days contradict that Boy Scout image?
In his Fox News interview, Kavanaugh denied the allegation from his second accuser — Deborah Ramirez — that he exposed himself to her at a party at Yale. "I never did any such thing — never did any such thing. The other people alleged to be there don't recall any such thing. If such as thing had a happened, it would've been the talk of campus. The women I knew in college and the men I knew in college said that it's unconceivable that I could've done such a thing."
But that's not what his roommate from Yale says, according to an interview with an ABC affiliate in San Francisco. "It is from this experience that I concluded that although Brett was normally reserved, he was a notably heavy drinker, even by the standards of the time, and that he became aggressive and belligerent when he was very drunk. I did not observe the specific incident in question, but I do remember Brett frequently drinking excessively and becoming incoherently drunk."
And the roommate, James Roche, added in this statement: "Based on my time with Debbie [Ramirez], I believe her to be unusually honest and straightforward and I cannot imagine her making this up. Based on my time with Brett, I believe that he and his social circle were capable of the actions that Debbie described."
NBC/Marist poll of Arizona: Sinema 48 percent, McSally 45 percent
A new NBC News/Marist poll of Arizona shows Democrat Kyrsten Sinema ahead of Republican Martha McSally by 3 points among likely voters, 48 percent to 45 percent, which is within the poll's margin of error. "Among all registered voters, it's a similar margin at 47 percent for Sinema, 44 percent for McSally," one of us writes. "That result shows that the race has tightened since June, before McSally clinched the GOP nomination. At that time, Sinema led McSally among registered voters, 49 percent to 38 percent. (NBC News did not calculate a likely voter model for its June survey.)"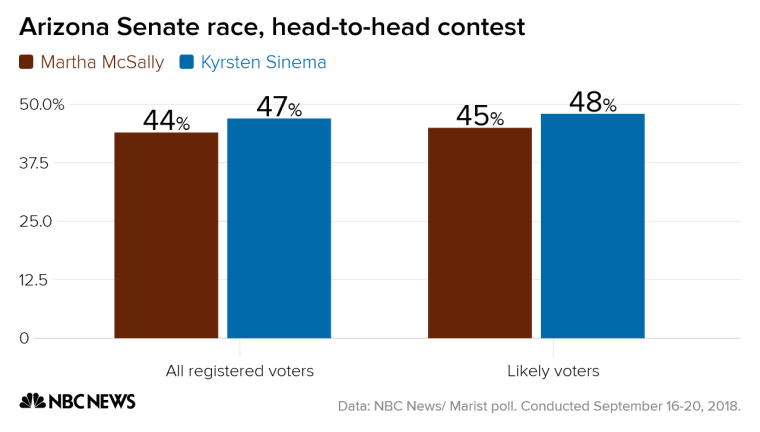 Other interesting numbers in the poll: Trump's job approval in Arizona is 44 percent among likely voters and 42 percent among registered voters; Sinema's fav/unfav among likely voters is 46 percent/33 percent (+13), while McSally's is 40 percent/42 percent (-2); and Democrats hold a 3-point lead in congressional preference in the state.
In Arizona's gubernatorial contest, incumbent Gov. Doug Ducey holds a 8-point lead over Democrat David Garcia among likely voters, 51 percent to 43 percent.
We have another NBC/Marist poll coming out later today…
Oh, and be sure not to miss the New York Times asking if Sinema has embellished her life story.