House Speaker John Boehner on Thursday dismissed passing immigration reform until "trust" is gained in President Obama, leaving the timeline for the passage of immigration reform up in the air.
But there's another -- and perhaps more significant -- reason House Republicans are balking at reform: More than 60 percent of House GOP members (143 of 232) represent congressional districts where Latinos make up less than 10 percent of the population.
In addition, Republicans don't really face serious Democratic opposition in 80 percent of the districts (71 of 89) with more than 10 percent of Latinos, meaning their biggest threat to re-election comes from an intra-party primary. As a result, more than nine in 10 of House Republicans will be nearly unfazed by any possible pro-immigration-reform backlash heading into the November election.
"[House] Republicans don't have to worry about the Latino electorate," said Sherry Bebitch Jeffe, a political analyst and senior fellow at the University of Southern California. "They don't have to listen to them very much."
By contrast, First Read has identified just 22 House Republicans in difficult re-election waters this November if Latino voters in their districts blame the GOP for not passing immigration reform.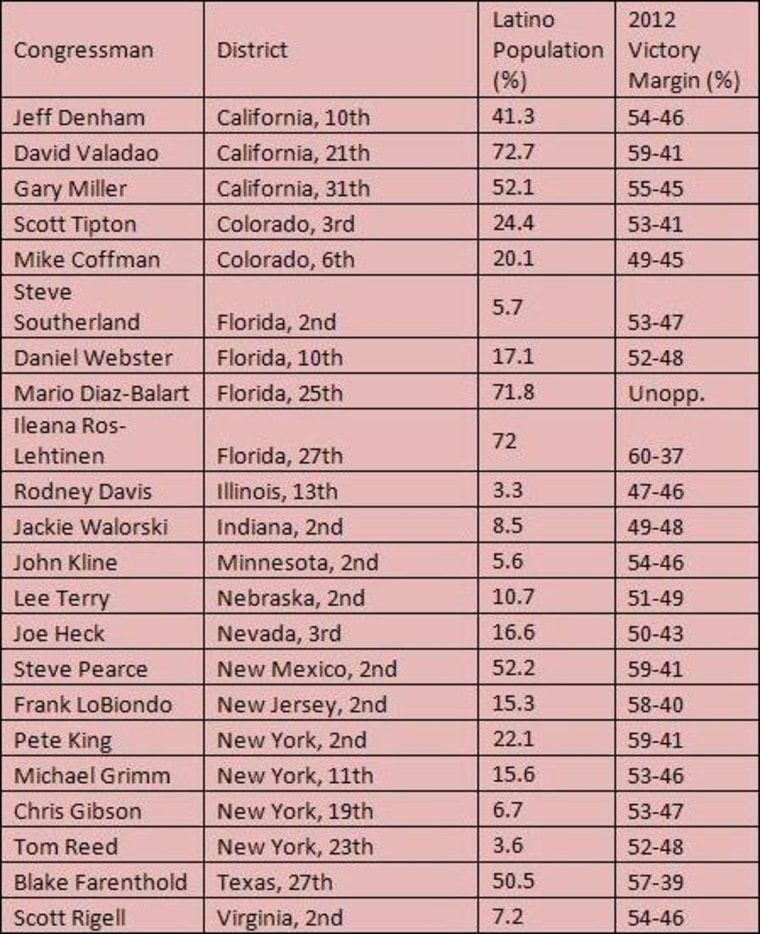 A majority of these 22 members have publicly said they are open to immigration reforms that Latinos have widely advocated for. Several, including those who rode into office as Tea Party-backed members, have flipped their positions to more immigrant-friendly policies. But after Boehner's statements, their hopes for movement on immigration measures that could attract support from the Latino community are unsettled.
Rep. Jeff Denham co-sponsored a Democrat-backed House bill in October that would open a pathway to citizenship to most of the country's 11 million undocumented immigrants. The move indicated a reversal from his previous tough-on-immigration stances, including his support of Arizona's 2010 enforcement law. Denham now represents a district that is 41 percent comprised of Latinos. Republican Reps. David Valadao (CA) and Ileana Ros-Lehtinen (FL) also co-sponsored the measure. Their districts consist of 73 percent and 72 percent Latinos, respectively.
Rep. Peter King of New York has long asserted English as the country's official language and advocated for the end of bilingual programs while formerly representing a predominantly white and mostly financially well-off district in Long Island. After redistricting in 2010, however, he now represents a much more politically competitive and diverse population, including 160,000 Latino residents who make up 22 percent of his district. Since then, King has also opened up to a citizenship proposal.
His story resembles Rep. Mike Coffman of Colorado. The third-term congressman also won by four-points in 2012 and lives in a district with a 20 percent Latino population. After first launching himself into Congress on a tough-on-immigration campaign stump, Coffman is advocatingfor the creation of path to legalization.
Rep. Blake Farenthold of Texas--a 2010 Tea Party victor--told the Houston Chronicle he also views legal status as an option for the GOP. And Rep. Steve Pearce of New Mexico, who represents a 52 percent Latino district, told the Wall Street Journal he could back a plan that grants work permits to those already in the country.
In Florida, Rep. Daniel Webster, who won in 2012 by just a four-point margin, represents a district that is 17 percent Latino and announced his support last fall for a pathway to citizenship if the border is deemed secure. Tea Party Congressman Steve Southerland of Florida told the Miami Herald he is open to citizenship opportunities as well.
The Tea Party also helped catapult Nevada's Joe Heck into office in 2010, but this winter, Heck looked to others in Congress to back Dream Act legislation, which would offer a citizenship opportunity to those brought into the country at a young age. New York's Rep. Tom Reed has backed the idea, too, and Virginia's Rep. Scott Rigell says they should be given "special consideration" in the debate.
At the same time, many of these members are holding out on fully staking their positions. Rep. John Kline is facing a primary challenger from the right, putting the incumbent in a tough bind between moving to the right to satisfy the base for the primary election and staking a moderate claim for the general election to appease the pro-immigrant voting bloc.
"If it's a tight enough race and every vote counts, Latinos could be the winning margin [in Kline's election]," said Lawrence Jacobs, a political analyst at the University of Minnesota. "You question whether Kline even really wants to do this anymore when people back in your district are unhappy with you [over either position]."
Other members who have yet to take firm positions include: Indiana's Jackie Walorski, who won by just under 4,000 votes in 2012, Scott Tipton (CO), Rodney Davis (IL), Lee Terry (NE), Frank LoBiondo (NJ) and Chris Gibson (NY).
Any proposed immigration reform measures will need 218 votes to pass the House. There are 200 sitting House Democrats--though it's unlikely Speaker John Boehner would put a bill to a vote that had such little GOP backing and relied almost solely on Democratic support.
In addition to these 22 members, Reps. Tom Cotton (AR) and Bill Cassidy (LA) are also running for competitive U.S. Senate seats with Latino populations of 6.8 percent and 4.5 percent, respectively. Georgia Reps. Paul Broun, Phil Gingrey and Jack Kingston are challenging each other for the state's open U.S. Senate seat as well, where Latinos make up 9.2 percent of the state.
House Republicans met last week at their annual retreat in Maryland where they outlined principlesto be potentially included in their House-crafted bill. Those standards included a focus on, first, enhancing border security but also outlined the need for granting legal status to undocumented adults and a path to citizenship for Dreamers.
As the voting share of Latinos grows across the country, Republicans are faced with the prospect of finding it increasingly more difficult to win Senate and presidential elections. In 2012, 71 percent of Latinos voted for President Obama, according to exit polling.
However, the drawing of House congressional districts have left few Republican House members needing to court the Latino vote for their own political futures.
Of the 24 GOP-held House seats in Texas, only one--Farenthold's--has a vested campaign interest in attracting the Latino vote. Texas is 38 percent Latino.
"In states that do their own redistricting, they have been very careful about making sure their incumbents are not vulnerable to the Hispanic vote," said Cal Jillson, political analyst and professor at Southern Methodist University in Texas.
But nearly 80 percent of Republican House members represent districts where Latinos make up less than 16.9 percent of the population, the national average. That limits the concern of immediate election repercussions for these Republicans, but does open the door to a potentially more difficult future as the share of Latino voters increases.
"Politicians by nature are myopic and narrow-focused," Jillson said. "They're looking at their last election and next election. They're not looking to 10 to 12 years when the Republicans will say, 'We're sorry for not advocating on these issues.' They won't be able to pivot on a dime and look friendly Election Day when the Hispanic vote matters."