First Read is your briefing from Meet the Press and the NBC Political Unit on the day's most important political stories and why they matter.
Momentum sputters for Senate GOP health care plan
If the effort to repeal and replace Obamacare were a football game, Republicans started Monday on the Democrats' 30-yard line. But what happened throughout the day amounted to an illegal procedure call, an incomplete pass, and a one-yard run — all setting up 3rd and 14 from the 34-yard line. First came the Congressional Budget Office score that 22 million would lose insurance over the next 10 years under the GOP Senate legislation. Then Sen. Susan Collins (R-ME) announced her opposition to the current legislation, and said she would vote against any motion to proceed on it. "I want to work w/ my GOP & Dem colleagues to fix the flaws in ACA. CBO analysis shows Senate bill won't do it. I will vote no on mtp," Collins tweeted. And according to NBC's Frank Thorp, four Republicans — Collins, Ron Johnson, Rand Paul, and Dean Heller — have all said they'd vote NO on a motion to start debate.
Of course, this isn't the first time that the health-care push has looked to be in trouble; remember when House Republicans had to pull their vote before passing revised legislation a month later? But the momentum has stalled. And Senate Majority Leader Mitch McConnell needs to pick up 14 yards to keep the drive going.
NBC's Whip Count: Six Senate Republicans oppose the current bill
To pass the Senate, Republicans can afford only two defections, assuming that no Democrats support the legislation. And according to NBC's whip count, six total GOPers oppose the current legislation:
How the CBO report on the Senate bill undercuts Trump's promises on health care
Here's NBC's Jane Timm on how yesterday's Congressional Budget Office report on the Senate health-care legislation undercuts many of the promises Trump made.
"The Senate bill would increase the number of people who are uninsured by 22 million in 2026 relative to the number under current law, slightly fewer than the increase in the number of uninsured estimated for the House-passed legislation," the CBO says of the Senate bill. "By 2026, an estimated 49 million people would be uninsured, compared with 28 million who would lack insurance that year under current law."
The CBO says the Senate bill would slash Medicaid spending by $772 billion, leaving 15 million fewer people covered under the program by 2026.
According to the CBO report on the Senate bill, a 64 year old with annual income of $26,500 would pay $6,500 in net premiums for a silver plan -- higher than the $1,700 that individual pays now. On the other hand, a 21 year old who has an annual income of $68,200 would pay $4,100 for a silver plan -- down from the $5,100 that person pays now. So poorer, older people pay higher premiums; younger, richer Americans do not.
Bottom line: If health care passes, you can see how congressional Republicans can get through the 2018 midterms; after all, Speaker Paul Ryan was never promising NOT to cut Medicaid. But you can see how Trump could potentially pay a price in 2020.
Pew study: Most of the world doesn't have confidence in Trump
During the 2016 presidential campaign, then-candidate Trump attacked Barack Obama's handling of foreign policy. "[O]ur friends are beginning to think they can't depend on us. We've had a president who dislikes our friends and bows to our enemies, something that we've never seen before in the history of our country," Trump said on April 27, 2016. But check this out: "According to a new Pew Research Center survey spanning 37 nations, a median of just 22% has confidence in Trump to do the right thing when it comes to international affairs. This stands in contrast to the final years of Barack Obama's presidency, when a median of 64% expressed confidence in Trump's predecessor to direct America's role in the world." And here's a look at individual countries, contrasting their confidence in Obama vs. confidence in Trump: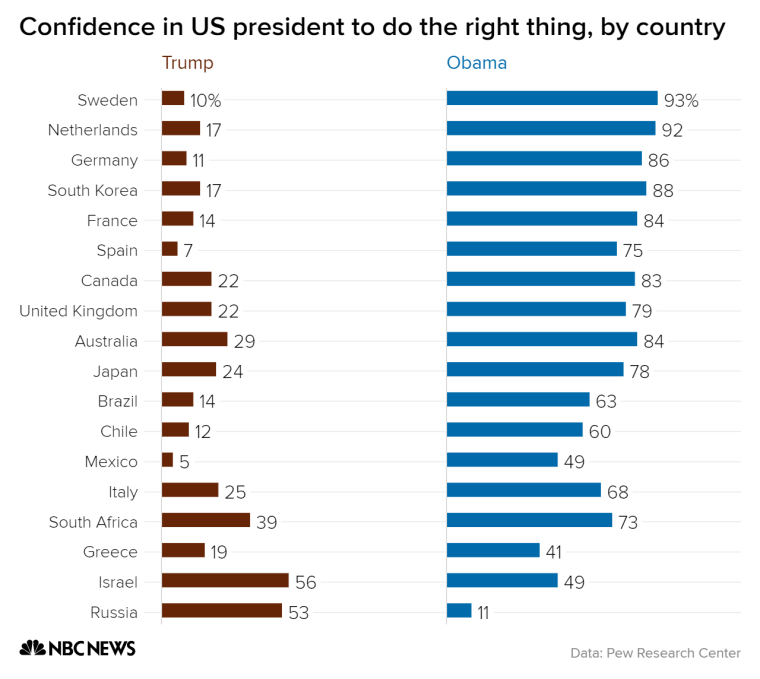 Trump White House warns that Syria will "pay a heavy price" if it launches another chemical-weapons attack
How important is it to have credibility with the rest of the world? When the White House releases this kind of news: "The White House said late Monday that President Bashar al-Assad of Syria appeared to be preparing another chemical weapons attack, and warned that he would 'pay a heavy price' if one took place," the New York Times writes. "Several military officials were caught off guard by the statement from President Trump's press secretary, but it was unclear how closely held the intelligence regarding a potential chemical attack was."
NBC's Courtney Kube has more: Multiple defense and US military officials say they were surprised by the White House statement on Syria last night. Intelligence officials were also caught off guard and could not even guess what a possible target would be. As of now there are no new U.S. military assets moving to the area. The U.S. Navy has a strike group off the coast of Syria, so they wouldn't need to move anything to conduct strikes like we saw in April.
People who live in glass houses shouldn't throw stones
This morning, President Trump tweeted, "Wow, CNN had to retract big story on 'Russia,' with 3 employees forced to resign. What about all the other phony stories they do? FAKE NEWS!" But given the misinformation, untruths, and stonewalling that has come from the White House, it's pretty galling for the president to mock a news organization that is accountable to its viewers and readers.