WASHINGTON — Ohio's open governor's race is tied, new polling from NBC News/Marist College shows, as Democrat Richard Cordray and Republican Mike DeWine jockey to replace Republican Gov. John Kasich.
The new polling shows the governor's race far more competitive than Democratic Sen. Sherrod Brown's quest for re-election — Brown holds a double-digit lead over Republican Rep. Jim Renacci.
Overall, the new numbers show advantages for Democrats in enthusiasm and on the generic ballot in a state where President Donald Trump and Republican Sen. Rob Portman won easily in 2016.
"Two years have made a big difference in the outlook of Ohio voters," Lee M. Miringoff, the director of the Marist College Institute for Public Opinion.
"Donald Trump won the state by more than eight points. But, now, a majority want more Democrats in Congress as a check on his agenda."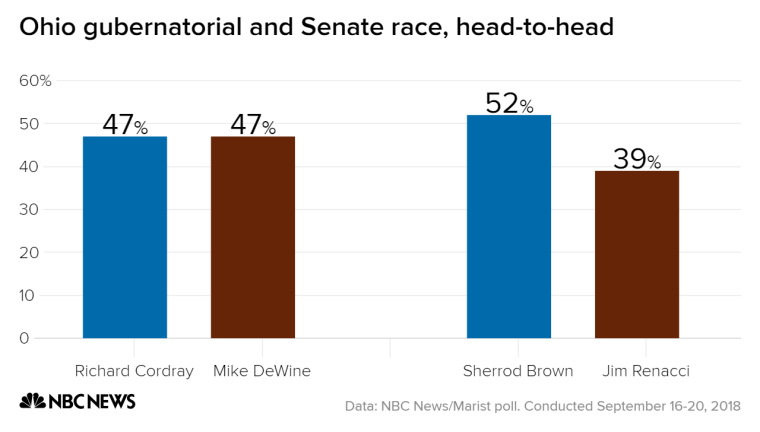 Both Cordray and DeWine get support from 47 percent of likely voters; 6 percent say they're undecided.
Among registered voters, it's the same tie at 47 percent each. That's a tightening from NBC/Marist's last poll in June, which showed DeWine up with registered voters, 46 percent to 42 percent.
When candidates from the Green Party and Libertarian Party added to ballot, Cordray and DeWine both pull 44 percent.
The two gubernatorial hopefuls have similar favorability ratings among likely voters, with Cordray having lower negatives. Forty-four percent of likely voters view him favorably, compared to 28 percent who view him unfavorably (+16) .For Dewine, he's viewed favorably by 47 percent of likely voters and negatively by 36 percent (+11). Twenty-eight percent of likely voters aren't sure how to rate Cordray, while 17 percent are unsure about DeWine.
In the Senate race, Brown holds a 13-point lead over Renacci among both likely and registered voters, 52 percent to 39 percent, unchanged from June's NBC/Marist poll.
Brown's lead comes thanks to a 29-point advantage with likely independent voters and a 49-point lead among likely moderates. Renacci trails with every demographic breakdown — income bracket, education level, race and age group — except for his 4-point advantage with likely male voters. Brown holds a 29-point lead with likely female voters.
These results sit against the backdrop of relatively stable approval numbers for Trump among all Ohio adults. Forty-three percent approve of Trump's job as president, compared to 49 percent who disapprove. In June, 40 percent approved and 48 percent disapproved of his job performance.
Trump maintains his tight grip on his party, with approval from 86 percent of Republicans. His favorability rating is above water with white evangelical Christians (64 percent), men (52 percent), voters between the ages of 45 and 59 (52 percent), and white noncollege graduates (51 percent).
His marks are lowest among African-Americans (8 percent favorability), 18 to 29 year olds (29 percent) and women (34 percent).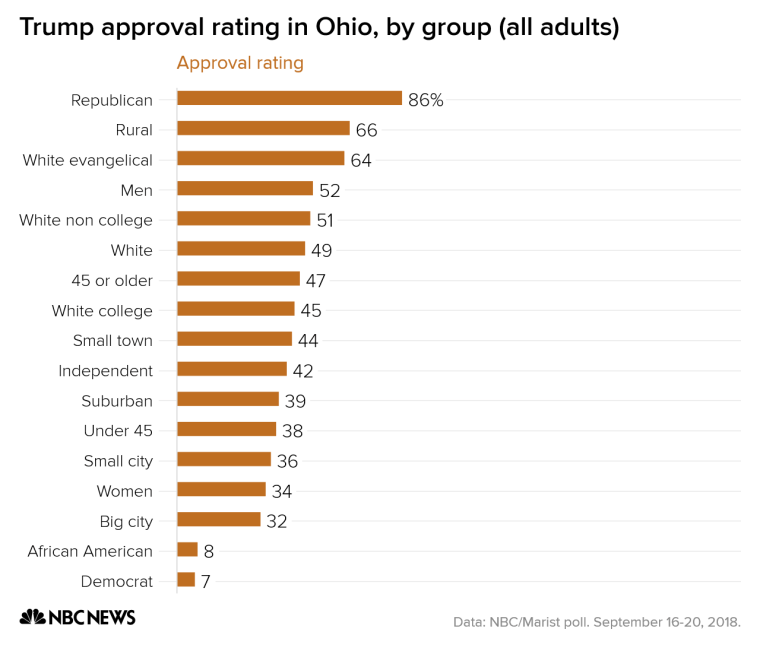 Among likely voters, 51 percent say they are more likely to vote for the Democratic candidate in their district while 43 percent choose the Republican. That's driven by a significant gender gap (51 percent of men back the Republicans while 59 percent of women back the Democrats), as well as a significant rural/urban divide. Democrats lead by a smaller margin when likely voters are asked which party they'd prefer to control Congress after November — 49 percent want Democratic control and 43 percent want Republican control.
And as for enthusiasm, 87 percent of likely Democratic voters say the upcoming election is very important, while 73 percent of Republicans share that sentiment.
The poll of 909 Ohio adults was conducted Sept. 16-20, 2018. The margin of error for all adults is plus-minus 4.0 percentage points. The margin of error for the 796 registered voters is plus-minus 4.2 percentage points. And the margin of error for the 564 likely voters is plus-minus 5.0 percentage points.