WASHINGTON — Seven-in-10 Americans view race relations in the United States as poor — nearly matching the record high, according to a new poll from NBC News and The Wall Street Journal.
In the wake of a white nationalist demonstration in Charlottesville, Virginia, in August that ended in the death of a peaceful protester, 28 percent of the public — including 24 percent of whites and 40 percent of African-Americans — say that race relations are "very bad," with another 42 percent of all respondents calling them "fairly" bad.
Just 26 percent of Americans overall call race relations "very" or "fairly" good.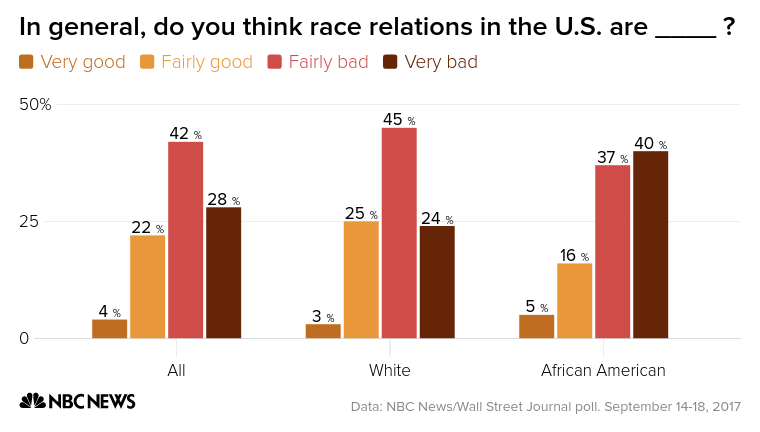 Last year, amid unrest after the deaths of several unarmed African-American men at the hands of law enforcement officers, a slightly higher share of Americans — 74 percent — called race relations either "fairly bad" or "very bad," according to an NBC/WSJ poll in July 2016.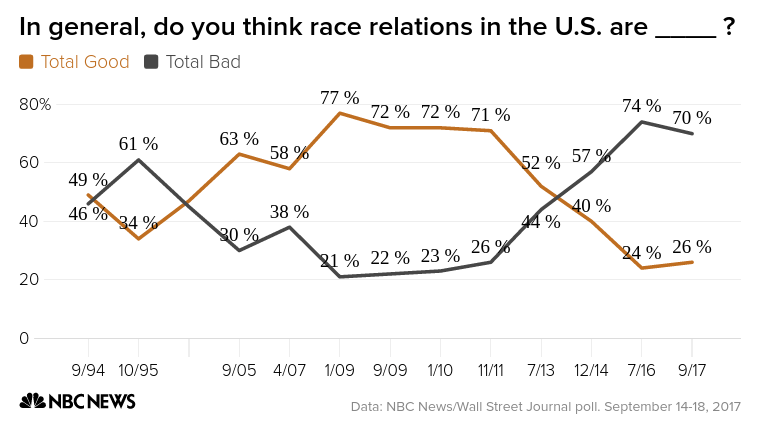 That 74 percent figure marked the lowest point in perceptions of race relations in the history of the NBC News/Wall Street Journal poll, which dates to the divisive O.J. Simpson trial and verdict in the 1990s.
The bleak outlook is a far cry from the optimism about race relations expressed after President Barack Obama's election as the nation's first black president. Shortly before Obama's inauguration in 2009, a record 77 percent of Americans offered a positive assessment of race relations, while just 21 percent disagreed.
While that confidence persisted during Obama's first term as president, it had eroded significantly to just 52 percent by July 2013, the same month that George Zimmerman was found not guilty in the fatal 2012 shooting of Trayvon Martin, an unarmed black teenager in Sanford, Fla.
Republicans and independents are less pessimistic about race relations than Democrats, although majorities of all three groups give a poor assessment of the current state of affairs. About two-thirds of both Republicans and independents call race relations bad, while eight in 10 Democrats say the same.
Men also have a slightly sunnier view; just 20 percent of women but 33 percent of men give a positive assessment of how the U.S. is grappling with race relations.
Just 25 percent of those surveyed say that they approve of President Donald Trump's handling of race relations generally, including just 50 percent of Republicans, 23 percent of independents and 5 percent of Democrats.
Asked specifically about Trump's handling of the violence in Charlottesville, just 20 percent of respondents said they approved of the president's response, in which he placed blamed "many sides" for the unrest. That approval dropped to just 3 percent among African-Americans.
The NBC/WSJ poll was conducted Sept. 14-18 of 900 adults – nearly half reached by cellphone – and it has a margin of error of plus-minus 3.3 percentage points. Among the 741 registered voters who were interviewed, the margin of error is plus-minus 3.6 percentage points.