Hillary Clinton has jumped out to a nine-point lead over Donald Trump, a new NBC News/Wall Street Journal national poll shows, nearly doubling the five-point advantage she held over her Republican foe before the political conventions.
In a head-to-head matchup, the Democratic ticket of Hillary Clinton and Tim Kaine receives the support of 47 percent of registered voters, while the Republican ticket of Donald Trump and Mike Pence gets 38 percent, the survey shows. Last month, Clinton led Trump by a margin of 46 percent to 41 percent.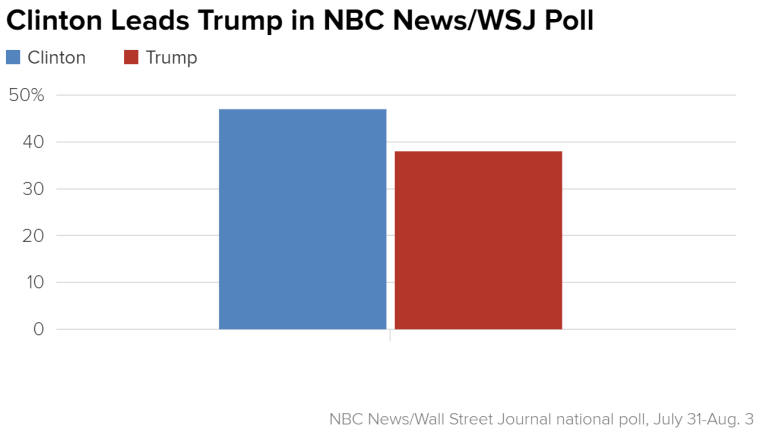 In this latest poll, Clinton enjoys a significant advantage among women (51 percent to Trump's 35 percent), African Americans (91 percent to 1 percent), all non-white voters (69 percent to 17 percent), young voters (46 percent to 34 percent), and white voters with a college degree (47 percent to 40 percent).
Trump leads among white voters (45 percent to Clinton's 40 percent), seniors (46 percent to 43 percent), independents (36 percent to 32 percent) and white voters without a college degree (49 percent to 36 percent).
The two candidates are running nearly even among men, at 43 percent for Clinton and 42 percent for Trump.
When Libertarian Party candidate Gary Johnson and Green Party candidate Jill Stein are added to the mix, Clinton still retains a nine-point advantage over Trump: Clinton is at 43 percent, Trump at 34 percent, Johnson at ten percent and Stein at five percent.
The lead for Clinton comes not only after both parties held their nominating conventions, but also after Trump was blasted by critics on both sides of the aisle for his treatment of the parents of a Muslim American soldier killed in Iraq in 2004.
A nine-point lead in August of a presidential election year represents a significant gap compared to the past two election cycles.
In 2008, Barack Obama – who ultimately beat Republican John McCain by a 53 percent to 46 percent margin in the November election – did not show such a wide polling advantage over his Republican rival until late October, according to NBC/WSJ polls. In 2012, Obama's lead over Republican foe Mitt Romney in NBC/WSJ polls never reached nine points throughout the campaign.
Clinton's popularity slightly improves
Clinton remains unpopular overall, although her favorability rating has improved modestly since last month. She is viewed positively by 37 percent of voters, while 53 percent view her negatively (for a net score of -16). That's compared to a 34 percent positive/56 percent negative rating in July (-22).
Trump is even less popular with voters and his favorability rating has remained virtually unchanged since last month. In the latest poll, 28 percent of voters give him a thumbs up, compared to 61 percent who view him negatively (-33).
Clinton has gained ground against Trump when it comes to key issues, too.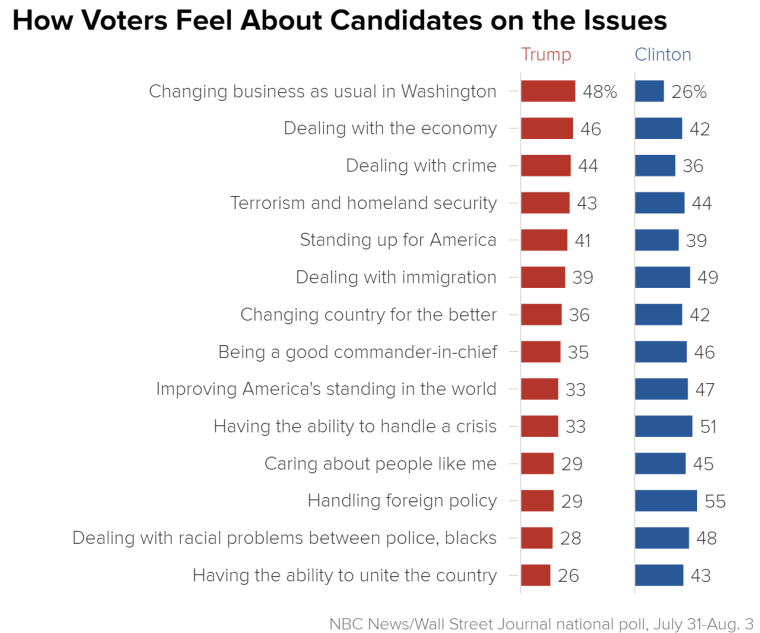 Asked which candidate would be better at dealing with economy, voters still give the advantage to Trump, with 46 percent selecting the Republican as the best candidate for economic matters and 42 percent picking Clinton. But in June, Clinton suffered a 10-point deficit to Trump on the same question, 47 percent to 37 percent.
The candidates are also now statistically tied on the question of which one would better handle terrorism and homeland security, compared to a five-point advantage for Trump in June.
Clinton has also improved her scores against Trump on dealing with immigration (49 percent for Clinton compared to 39 percent for Trump), having the ability to handle a crisis (51 percent to 33 percent) and having the ability to unite the country. (43 percent to 26 percent.)
Respondents also chose Clinton as the better candidate when it comes to "caring about people like me" (45 percent to 29 percent.)
The NBC/WSJ telephone poll of 800 registered voters – including 387 contacted via cell phone – was conducted July 31-August 3. It has a margin of error of +/-3.5 percentage points.