WASHINGTON — A majority of voters say that it is not appropriate for NFL players to kneel during the national anthem to protest racial inequality in the United States, although the country is deeply divided on the question along partisan and racial lines, a poll released Friday from NBC News and The Wall Street Journal shows.
The survey found that 54 percent of voters called kneeling during the anthem inappropriate, while 43 percent say that it is an appropriate way to bring attention to the problems that NFL players and others have cited as the reason for their protest.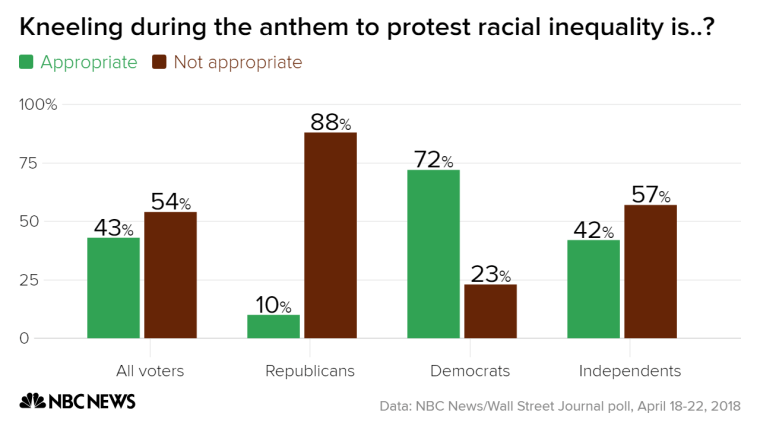 The protests are once again in the news as football season begins, and as President Donald Trump has lambasted what he calls the athletes' unpatriotic behavior during rallies and on Twitter.
Unsurprisingly, those who voted for Trump are among the most vehemently against the protests. Eighty-nine percent of Trump voters call it inappropriate, while 76 percent of Clinton voters disagree.
Among partisans, the divide is much the same. More than eight in 10 Republicans say the protests are inappropriate, while just 10 percent disagree. For Democrats, it's 72 percent appropriate, 23 percent not appropriate.
Independents also call the protests inappropriate by a margin of about 15 points, with 57 percent calling them inappropriate and 42 percent disagreeing.
Black voters are among the most supportive of the protests, with seven in 10 calling them appropriate. That's in comparison to just 38 percent of white voters who say the same. Among Hispanics, it's 51 percent not appropriate, 47 percent appropriate.
Relative sympathy for the kneeling NFL players' cause is also highest among those who follow the league very closely. In that group, 46 percent say the protest is appropriate, with 51 percent disagreeing. But among those who don't follow it at all, almost six-in-10 (57 percent) give the protests a thumbs-down.
The NBC News/Wall Street Journal poll was conducted Aug. 18-22, 2018. The margin of error for 900 respondents is +/- 3.27 percent.