President Donald Trump's job approval is up to 43 percent in the latest NBC News/Wall Street Journal poll, but Republicans are seeing their 2018 prospects worsen. The poll shows people favor Democratic control of Congress by 10 points – 50 percent to 40 percent – up 6 points from last month, with the GOP losing support among key voter groups.
The numbers, combined with results in this week's special election in Pennsylvania's 18th congressional district, suggest a very rocky midterm season may await Republicans this fall.
Not all voter groups are the same. The GOP relies on big support from some segments of the electorate to push them over the top and this latest poll shows declines in support among them.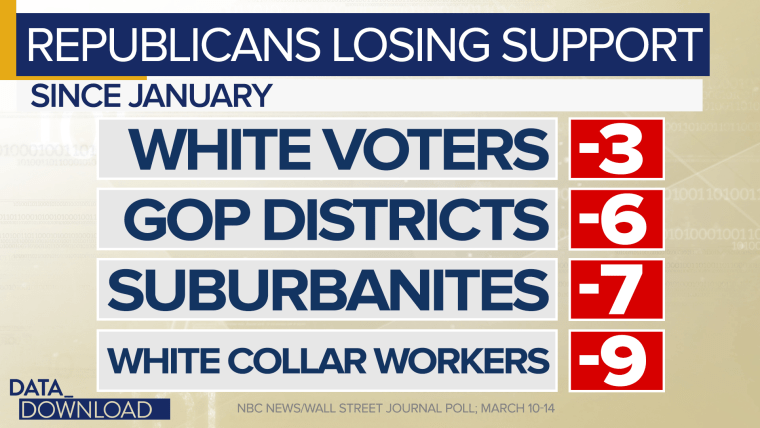 Among white voters, support for Republican control of Congress dipped 3 points to 47 percent. With suburban voters, the drop was a steeper 7 points to 43. Among white-collar workers, there was a 9-point slide, to 38 percent. There was a huge 13-point decline among 18- to 34-year-old voters to 29 percent. And, perhaps most troubling for Republicans, among voters in GOP-held districts, there was a 6-point drop in those favoring Republican control of Congress, to 46 percent.
Those changes look particularly concerning for Republicans when you compare them to results from past elections. In the 2014 midterms, for instance, Republicans won white voters by a large margin, 60 percent to 38 percent. And that year, the GOP won the vote out of the suburbs, 52 percent to 43 percent.
Of course, one poll does not mean anything for certain about the electorate this fall. November is still many months off. But this set of data carry a little more weight because it comes on the heels of Tuesday's special election in Pennsylvania's 18th congressional district. In that race, Democrat Conor Lamb pulled off a major upset in a district President Trump won by 20 points in 2016.
As we noted last week, there were demographic reasons for the GOP to be worried about the 18th. Those worries turned out to be warranted and these new poll numbers suggest those concerns could apply elsewhere.
There are 97 districts currently held by Republicans that Trump won by less than he won Pennsylvania 18, and many of them hold lots of voters that the latest poll indicates are problematic for the GOP.
Of those 97 districts, 96 are more diverse than Pennsylvania 18, 90 are younger on average and 44 are more suburban/urban. Add it all up and those numbers look especially troubling to the GOP in some of the nation's biggest metro areas.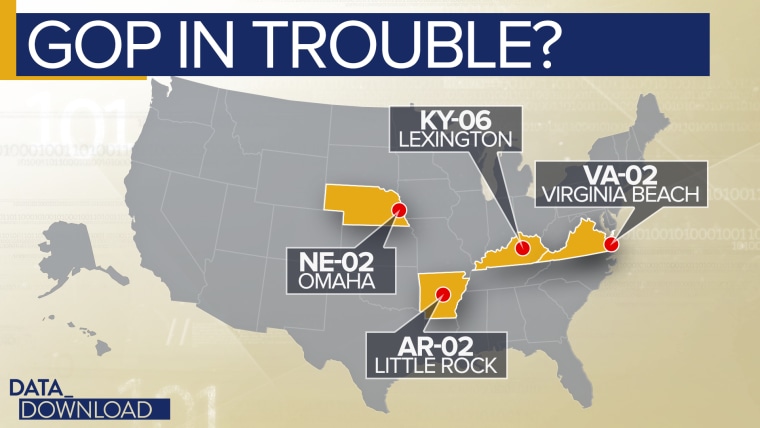 On the danger list: Republican districts that were already seen as competitive in suburban/urban areas around Atlanta, Detroit, Cleveland, the Twin Cities, New York City, even Omaha, Nebraska. They are all places with voter populations that don't look very different from Pennsylvania 18, in greater Pittsburgh.
In essence, the Democrats' big upset in last week's special election might have felt like a shocker, but the numbers in the latest NBC/WSJ poll suggest Pennsylvania 18 may be less of an outlier than it is glimpse of the major challenges ahead for the GOP this fall.