WASHINGTON — One year after Donald Trump's shocking election upset, many Americans who live in the key counties that propelled him to victory remain unconvinced that the country is better off now that he's in the White House, a new poll from NBC News and The Wall Street Journal shows.
The poll, which sampled residents of 438 counties that either flipped from voting Democratic in the 2012 presidential election to Republican in 2016, or saw a significant surge for Trump last year, found that a third — 32 percent — believe the country is better off now than it was before Trump became president.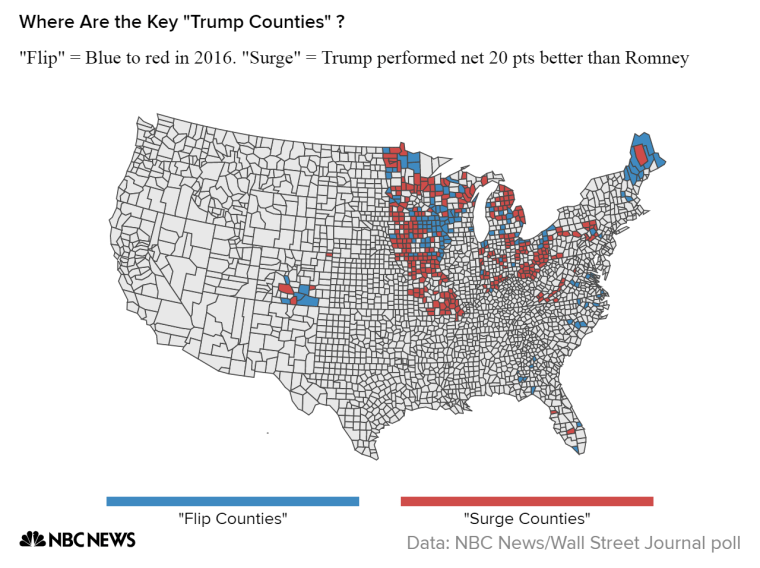 But a plurality — 41 percent — say the country is worse off now than it was when Trump became commander in chief. An additional 26 percent say the state of the nation has remained about the same.
And overall, slightly more than half — 53 percent — say they do not think Trump has a clear agenda on how to address the major issues facing the country.
These respondents view Trump more positively than Americans at large, with 48 percent giving him a positive job approval rating and 50 percent rating him negatively. That's compared to 38 percent who approved of Trump's job performance and 58 percent who disapproved in a national NBC News/Wall Street Journal poll last month.
(It's worth noting that the "Trump counties" sample is whiter, more rural, less educated and older than the nation as a whole. Trump won these counties by a margin of 57 percent to 37 percent in 2016.)

Still, Trump's standing within these key areas appears to be softening. A similar "Trump counties" poll in July found that 50 percent approved of Trump's job performance, while 46 percent disapproved. Those specifically residing in "surge" counties, where Trump performed a net 20 points higher in 2016 than Mitt Romney did in 2012, rated him positively by a wide 56-to-40 margin in July. Now, Trump's job approval rating in those same "surge" counties is almost even, with 49 percent approving and 50 percent disapproving.
These Americans also view two Democratic politicians in a more favorable light than the current president. Former President Barack Obama gets a 48 percent positive/37 percent negative rating in "Trump counties," while one-time presidential candidate Bernie Sanders receives a 42 percent positive/31 percent negative rating.
But the Democratic Party's 2016 standard-bearer, Hillary Clinton, remains dismally unpopular within these same counties. Just 23 percent have a positive view of her, while 60 percent have a negative one. That's even worse than in the same poll in July, when 27 percent viewed her positively and 54 percent viewed her negatively.
Among those polled in the key counties — which are in Colorado, Florida, Georgia, Indiana, Iowa, Maine, Michigan, Minnesota, Missouri, New Hampshire, North Carolina, Ohio, Pennsylvania, Virginia and Wisconsin — Trump receives his highest marks for improving the economy (56 percent satisfied, 41 percent dissatisfied), keeping America safe (55 percent satisfied, 43 percent dissatisfied) and dealing with immigration and border security (49 percent satisfied, 49 percent dissatisfied.)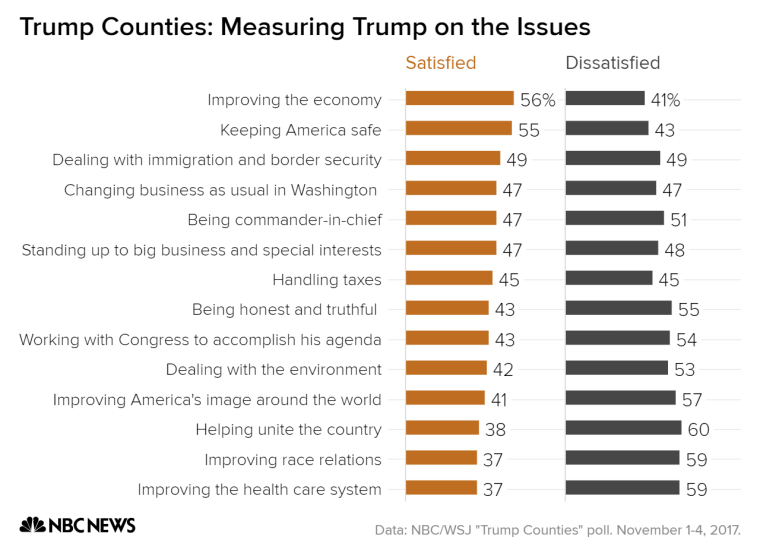 Those priorities were reflected in the responses to the poll's open-ended questions about Trump's presidency.
"The economy is going in the right direction. Immigration is finally starting to get under control. ISIS, we're getting a handle on them," said one female respondent from a flip county in Florida who believes the country is better off with Trump in office. "He is doing everything right."
"First of all he's someone who's doing what he said he was going to do and I appreciate that," said a male respondent from a rural surge county in Indiana. "But at least the economy is going and he doesn't put up with all this nonsense of foreigners coming into the country."
Forty-four percent of respondents said that they believe the economy has improved and that Trump deserves credit for it, while an additional 25 percent say the economy has improved but that Trump isn't responsible for the change.
But the president gets particularly poor marks from these "Trump county" voters when it comes to improving America's image around the world (41 percent satisfied, 57 percent dissatisfied), helping to unite the country (38 percent satisfied, 60 percent dissatisfied), improving race relations (37 percent satisfied, 59 percent dissatisfied) and improving the health care system (37 percent satisfied, 59 percent dissatisfied).
"I feel that he is tearing us apart and trying to bring more divide between the blacks and whites and Hispanics — and trying to make the rich richer and the poor poorer," said one man from an Ohio surge county.
"He needs to shut his mouth and he needs to sit and think before he speaks," said a woman from another surge county in the Midwest. "The economy I am not worried about. I am more worried about the world crisis and his starting a third world war."
The poll of "Trump counties" was conducted from Nov. 1-4, 2017. The overall margin of error for 800 respondents is +/- 3.46 percent. The margin of error for only respondents in flip counties is +/- 4.6 percent. The margin of error for only respondents in surge counties is +/- 5.27 percent.