WASHINGTON — So in the new NBC/WSJ poll, how do you reconcile President Trump's job approval rating ticking up to 44 percent among registered voters (up from 40 percent in April) — with Democrats expanding their lead in congressional preference to 10 points?
Our answer: Trump's support is deeper with key Trump/GOP groups, but it's not broader, especially when it comes to support for his own party.
For instance, Trump's job rating inched up among Trump voters, Republicans, rural voters and whites. But on the generic ballot, groups that have been opposed to Trump — white women, whites with college degrees and African Americans — have become more pro-Democrat.
In other words, Trump's base loves him more than ever. But that base love isn't translating to better midterm prospects for the GOP.
Two other important points from our poll: One, intensity is still on the Democrats' side. Sixty-three percent of Democrats register as either a "9" or "10" on a 10-point scale of interest in the midterms, while just 47 percent of Republicans signal the same level of interest. And 42 percent of voters STRONGLY disapprove of Trump's job, compared with 26 percent who STRONGLY approve.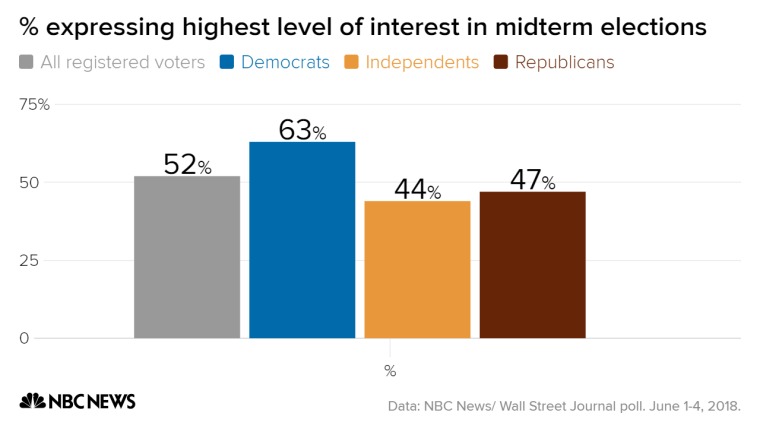 And two, the NBC/WSJ numbers on Trump and congressional have been incredibly steady. Trump's job rating has swayed from 38 percent to 44 percent during the course of his presidency – a range of just 6 points. And over the past year, the Dem lead in congressional preference has fluctuated between D+6 and D+11 – a range of 5 points.
By the way, the Dem lead in congressional preference isn't just concentrated in blue areas. According to the poll, Democrats hold a 6-point lead (48 percent to 42 percent) in the combined states with Tossup and Lean Senate races per the Cook Political Report, and another 6-point lead (50 percent to 44 percent) in the combined Tossup and Lean congressional districts.
White college-educated women are driving the Democrats
Check out these numbers: In the merged NBC/WSJ polling of 2017, white women with college degrees preferred a Dem-controlled Congress by 17 points (55 percent to 38 percent). In the merged NBC/WSJ polling from January to April, it was 26 points (60 percent to 34 percent). And in this latest poll, the margin is now 30 points (60 percent to 30 percent).
By contrast, men without college degrees have become more GOP – from R+26 in 2017 (58 percent to 32 percent) to R+37 now (64 percent to 27 percent).
Trump's approval is now in the same place as Obama's and Reagan's. But there's one big difference
Here's Trump ranked with other presidents at about 18 months into their time in office (the pre-Clinton data is from Gallup; Clinton and beyond is from NBC/WSJ):
George W. Bush (June 2002): 69 percent
George H.W. Bush (June 1990): 69 percent
JFK (June 1962): 68 percent
LBJ (June 1965): 67 percent
Dwight Eisenhower (June 1954): 63 percent
Harry Truman (Sept. 1946): 55 percent
Richard Nixon (June 1970): 54 percent
Bill Clinton (June 1994): 52 percent
Barack Obama (June 2010): 45 percent
Ronald Reagan (June 1982): 44 percent
Donald Trump (June 2018): 44 percent
Gerald Ford (Dec. 1975): 43 percent
Jimmy Carter (June 1978): 42 percent
So Trump is now pretty much in the same place as Reagan and Obama. But the difference is that Trump is where he started his presidency — he never really had a honeymoon.
Being a check on Trump is the most popular candidate quality. The most unpopular is supporting Trump's agenda and Nancy Pelosi
By a whopping 25-point margin, voters say they're more likely to back a congressional candidate who promises to serve as a check on President Donald Trump.
By a similar margin, they say they're less likely to vote for someone who has supported the president on most issues.
And by a 45 percent-to-21 percent margin, voters say they're less likely to support a candidate who wants Nancy Pelosi as speaker. Here are all the numbers:

Health care is top issue in the new poll
Asked about their top issues for November, 38 percent of voters answered with health care (as their first or second choice) — followed by the economy and jobs at 37 percent, guns at 25 percent, taxes and spending at 24 percent and immigration at 23 percent.
And here's a cool look at congressional preference by the most important factor in vote: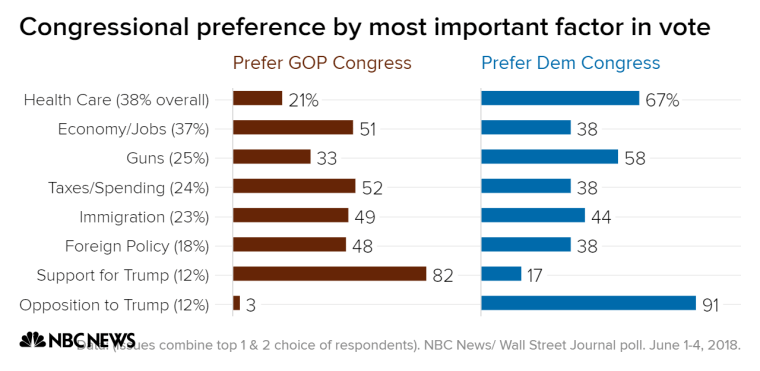 It's surprising to us that immigration is almost a tie, while Dems have the lead on guns.
The public is showing more patience on the Russia story than Washington is
Finally, 37 percent of voters say that — based on what they've seen, read or heard — Trump's 2016 presidential campaign *did* collude or work secretly with Russia, while 34 percent disagree; 28 percent didn't know enough to say.
Those findings are essentially unchanged from the December 2017 NBC/WSJ poll. And we emphasize that 28 percent who don't know enough to say — that's a big chunk of the electorate.
Additionally, a combined 53 percent of voters say they either had "some" or a "great deal" of confidence in special counsel Robert Mueller conducting a fair and impartial investigation, versus a combined 40 percent who have little to no confidence.
And 46 percent believe that Mueller's investigation should continue, while 36 percent think it should be ended.