WASHINGTON — The good news for President Trump in the latest NBC News/Wall Street Journal poll — half of which was conducted before and the day of the Helsinki presser with Putin, half of which was conducted afterward — is that his standing with the GOP base is stronger than ever.
Eighty-eight percent of Republican voters in the poll approve of Trump's job — the highest of his presidency — and 29 percent of all voters strongly approve of his performance, which is another high for him. "The more Trump gets criticized by the media, the more his base seems to rally behind him," says Democratic pollster Fred Yang, who co-conducted the NBC/WSJ poll with the Republican team from Public Opinion Strategies.
Trump's approval rating in the poll is 45 percent among all registered voters (up 1 point from June), while 52 percent disapprove, including 44 percent who do so strongly.
The bad news for the president is that his standing — plus the GOP's — is now worse with independents than it was a month ago. Just 36 percent of independents approve of Trump's job (down 7 points from June). What's more, independents prefer a Democratic-controlled Congress by more than 20 points, 48 percent to 26 percent. In June, the Dem lead among indies was just 7 points, 39 percent to 32 percent.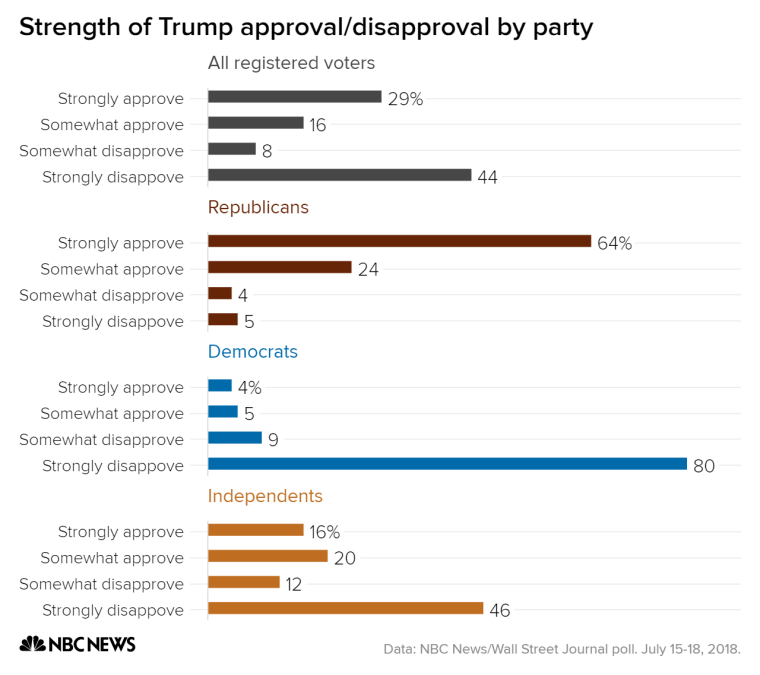 Overall, Democrats hold a 6-point lead in congressional preference, 49 percent to 43 percent. That's down from their 10-point advantage last month, 50 percent to 40 percent, though the movement is well within the poll's margin of error. Democrats continue to enjoy an enthusiasm advantage heading into the midterms: 65 percent of Democratic voters have a high level of interest in the upcoming elections — registering either a "9" or "10" on a 10-point scale — compared with 49 percent of GOP voters.
So less than four months until the midterm elections, two things are going on, according to this poll: Trump's hold on the GOP base is getting stronger, while his relationship with independents and the middle of the electorate is getting weaker.
Which development is ultimately more important could very well decide the outcome of the midterms.
Public gives Trump thumbs down on Russia, thumbs up on the economy
After an eventful and tumultuous news environment over the past month, the NBC/WSJ poll also shows which Trump actions and issues were popular — and which ones weren't: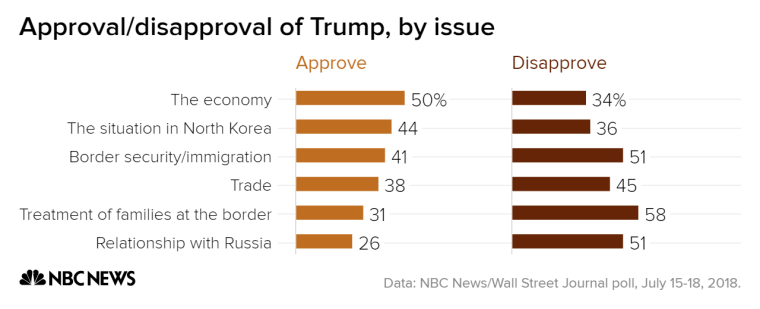 Move over "Fire and Fury" regarding North Korea. Say hello to Trump's all-caps threat to Iran
Had it not been for President Trump's earlier bellicose rhetoric aimed at North Korea — later followed by his praise of Kim Jong-Un, even when North Korea doesn't seem to be halting its nuclear ambitions — this Trump tweet at 11:24 pm ET last night might be bigger news.
"To Iranian President Rouhani: NEVER, EVER THREATEN THE UNITED STATES AGAIN OR YOU WILL SUFFER CONSEQUENCES THE LIKES OF WHICH FEW THROUGHOUT HISTORY HAVE EVER SUFFERED BEFORE. WE ARE NO LONGER A COUNTRY THAT WILL STAND FOR YOUR DEMENTED WORDS OF VIOLENCE & DEATH. BE CAUTIOUS!" (It was apparently prompted by Rouhani saying: "America should know that peace with Iran is the mother of all peace, and war with Iran is the mother of all wars.")
It also might be bigger news if Trump this morning was a little less occupied with the Russia investigation than with Iran.
"So we now find out that it was indeed the unverified and Fake Dirty Dossier, that was paid for by Crooked Hillary Clinton and the DNC, that was knowingly & falsely submitted to FISA and which was responsible for starting the totally conflicted and discredited Mueller Witch Hunt!" he tweeted at 6:30 am ET. (Um, what started the Russia investigation was one of Trump's campaign advisers telling a foreign diplomat that Russia had dirt on Hillary Clinton, and what started the Mueller probe was Trump firing the FBI director.)
Trump added at 6:52 am ET: "'It was classified to cover up misconduct by the FBI and the Justice Department in misleading the Court by using this Dossier in a dishonest way to gain a warrant to target the Trump Team. This is a Clinton Campaign document. It was a fraud and a hoax designed to target Trump...."
Oh, and NBC's Mike Memoli reminds of this Trump tweet from 2011, when the previous president was in perilous political situation: "In order to get elected, @BarackObama will start a war with Iran." And Bloomberg's Sahil Kapur finds more examples, including this one from 2012: "Now that Obama's poll numbers are in tailspin — watch for him to launch a strike in Libya or Iran. He is desperate." So…
NYT: Release of the FISA documents on Carter Page shows that the earlier Trump/Nunes/GOP claims were "misleading or false"
"When President Trump declassified a memo by House Republicans in February that portrayed the surveillance of a former campaign adviser as scandalous, his motivation was clear: to give congressional allies and conservative commentators another avenue to paint the Justice Department's investigation into Russian election interference as tainted from the start," the New York Times writes.
"But this past weekend, Mr. Trump's unprecedented decision, which he made over the objections of law enforcement and intelligence officials, had a consequence that revealed his gambit's shaky foundation. The government released the court documents in which the F.B.I. made its case for conducting the surveillance — records that plainly demonstrated that key elements of Republicans' claims about the bureau's actions were misleading or false."
More: "In his tweets, Mr. Trump left unmentioned the nature of the concerns the F.B.I. raised about [Carter] Page in the court applications. The documents said that the bureau 'believes Page has been the subject of targeted recruitment by the Russian government,' that he had 'established relationships with Russian government officials, including Russian intelligence officers,' and that he had been 'collaborating and conspiring with the Russian government.'"
Kavanaugh: The Supreme Court's Watergate-tapes decision might have been wrongly decided
We've written about how the Mueller probe could complicate Brett Kavanaugh's confirmation to the Supreme Court — because of his previous argument that a sitting president shouldn't be distracted by civil lawsuits or criminal investigation (despite Kavanaugh's work on the Starr Report).
Well, this news from over the weekend could make things even trickier for Kavanaugh on this front. "Supreme Court nominee Brett Kavanaugh suggested several years ago that the unanimous high court ruling in 1974 that forced President Richard Nixon to turn over the Watergate tapes, leading to the end of his presidency, may have been wrongly decided," the AP says.
"'But maybe Nixon was wrongly decided — heresy though it is to say so. Nixon took away the power of the president to control information in the executive branch by holding that the courts had power and jurisdiction to order the president to disclose information in response to a subpoena sought by a subordinate executive branch official. That was a huge step with implications to this day that most people do not appreciate sufficiently...Maybe the tension of the time led to an erroneous decision,' Kavanaugh said in a transcript of the discussion that was published in the January-February 1999 issue of the Washington Lawyer.
"At another point in the discussion, Kavanaugh said the court might have been wise to stay out of the tapes dispute. 'Should U.S. v. Nixon be overruled on the ground that the case was a nonjusticiable intrabranch dispute? Maybe so,' he said."
Did a pro-Trump tabloid company cross the line in 2016?
The New York Times: "Federal authorities examining the work President Trump's former lawyer did to squelch embarrassing stories before the 2016 election have come to believe that an important ally in that effort, the tabloid company American Media Inc., at times acted more as a political supporter than as a news organization, according to people briefed on the investigation. That determination has kept the publisher in the middle of an inquiry that could create legal and political challenges for the president as prosecutors investigate whether the lawyer, Michael D. Cohen, violated campaign finance law."
"It could also spell trouble for the company, which publishes The National Enquirer, raising thorny questions about when coverage that is favorable to a candidate strays into overt political activity, and when First Amendment protections should apply."