WASHINGTON — The 2018 midterm terrain looks a lot different now than it did at the start of the campaigns. Races that many expected to be close, aren't. Candidates that were assumed to be safe now find themselves in fights. And the Democrats have been the biggest beneficiaries of the changes.
A look at the numbers shows how the field has tilted in the last year-and-a-half.
Start with the most basic measure, the number of House seats that are thought to be competitive. Back in May of 2017, when the Cook Political Report did its first ratings, it looked as if the Democrats and Republicans were starting on relatively even ground, but the numbers look very different today.
Back in May, there were 12 seats held by the Republicans that looked competitive and there were 11 held by Democrats — those were seats that were ranked as "lean" toward their party or were considered even more in danger.
As of mid-September, there are 66 GOP-held seats that look competitive and only four Democratic seats in that category.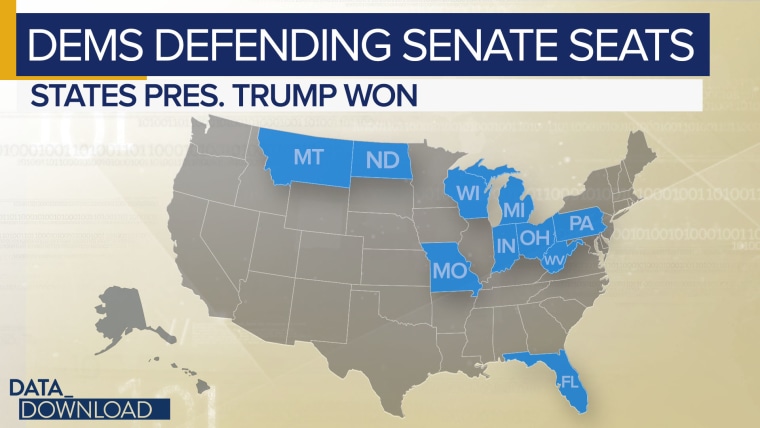 There are a lot of factors behind those numbers. Republicans have seen a lot of departures in the House, including Speaker Paul Ryan's exit, and seats are harder to defend without an incumbent. And the party of a sitting president tends to lose seats in that president's first midterm.
The size of the shift here is truly remarkable and the changed landscape goes beyond the House.
Consider the upcoming Senate elections. Going into the 2018 cycle, Democrats were concerned not only because they had so many seats to defend — 26 compared to the GOP's nine — but because they had to defend seats in many "Trump states" that Donald Trump won in 2016. In fact, the Democrats had to defend seats in the "blue" states that the president flipped to win the White House: Michigan, Ohio, Pennsylvania and Wisconsin.
But, as of mid-September, the poll numbers in those places look surprisingly solid for Democrats.
In Michigan Democratic incumbent Sen. Debbie Stabenow leads by 18 percentage points against her Republican challenger in the latest Real Clear Politics polling average. In Ohio, Democrat Sherrod Brown leads by 15 points. In Pennsylvania, Democratic Sen. Bob Casey leads by 14 points. And in Wisconsin, Democratic Sen. Tammy Baldwin leads by 8. These races simply don't look very close.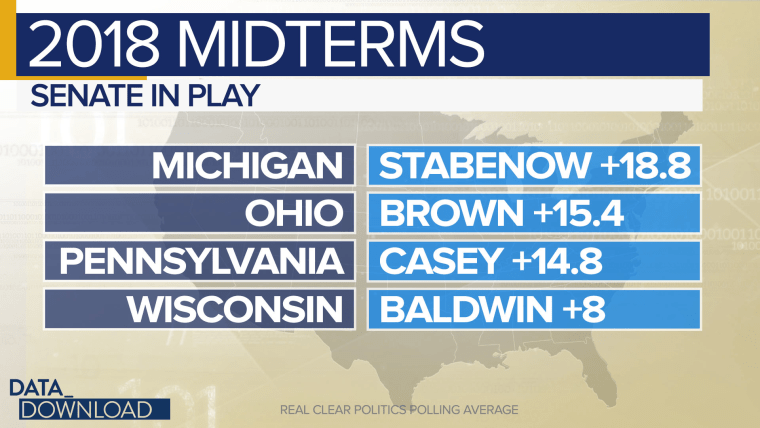 And even in the states that were thought to be more troubling for Democrats, such as Indiana and North Dakota, Democratic incumbents seem to be holding their own, with polls showing races in the low single digits.
Meanwhile, Republicans now find themselves looking at close Senate races in states where they never expected a real contest.
Since June of 2017, the Arizona Senate race has gone from "lean Republican" in the Cook ratings to "tossup." Polling there shows GOP nominee Martha McSally is essentially tied in her race, leading by a scant 0.3 percentage points in the Real Clear Politics polling average in that race.
In that time the Tennessee Senate race has gone from being rated "solid Republican" to being rated a "tossup" as well. Currently, Republican nominee Marsha Blackburn is also basically tied in her race, trailing by 0.3 points in the polling average.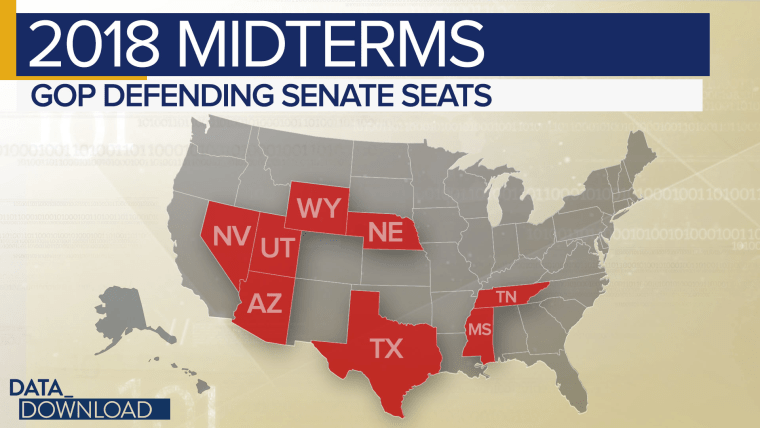 And in Texas, Republican Sen. Ted Cruz has seen his race go from being rated "solid Republican" to "lean Republican." The Real Clear Politics average shows that Cruz holds a slim 3.2-point lead in the polls there.
Again, some of these changes may be about incumbents retiring, as is the case in Tennessee and Arizona. But in Texas, Cruz is a high-profile Republican incumbent who was also a presidential candidate in 2016. And regardless of retirement, Tennessee is not normally thought of as a battleground in statewide elections — Trump won it by 26 points in 2016.
None of this means that these GOP Senate seats are going to go Democratic, or that control of the House is certain to slip from Republican hands. But these numbers should serve as a reminder of the fluidity of the American electorate and as a caution against reading too much into any one campaign.
The last presidential race was a shock to the system that changed our understanding of the American electorate, but midterms are always different and the numbers suggest that may be true again this fall.
Trump isn't on the ballot this fall, at least not directly. Candidates matter. Issues matter. And 2016 feels like a long time ago in politics today.