First Read is your briefing from Meet the Press and the NBC Political Unit on the day's most important political stories and why they matter.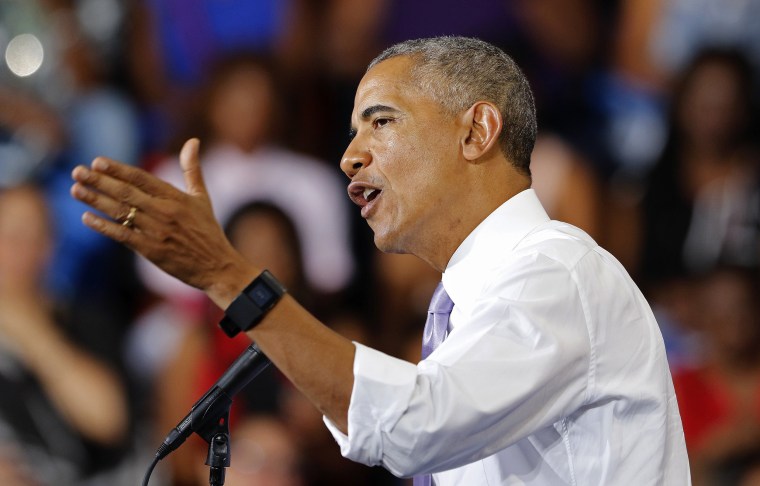 WASHINGTON — In his first public campaign appearances since leaving office, Barack Obama today stumps for two Democratic gubernatorial candidates: Phil Murphy in New Jersey and Ralph Northam in Virginia.
And it will be interesting to see which issues Obama raises — health care (probably), Iran (probably not), Gold Star families (unlikely) — because whatever he says will probably get attention from the current Oval Office occupant.
As the New York Times writes, Obama's trips today to Newark and Richmond are about firing up African-American voters. "Mr. Obama's appearances on behalf of Virginia's lieutenant governor, Ralph S. Northam, in Richmond and the financier Philip D. Murphy in Newark — two white candidates in predominantly black cities — come as Democrats struggle to inspire African-Americans to vote this year. While Mr. Murphy appears comfortably in the lead in New Jersey, the race in Virginia is close."
Obama's event in New Jersey begins at 3:30 pm ET (with him taking the stage after that), while the Virginia campaign stop begins at 7:30 pm ET (with Obama likely hitting the stage in the 8:00 pm ET hour).
In Virginia, Democrats enjoy nearly every advantage
Beyond the polls, there are several reasons why Democrat Ralph Northam is the favorite in the November 7 gubernatorial race in Virginia:
Trump: The current president's job-approval rating in the state is in the 30s, and remember that Trump lost this state to Hillary Clinton by 5 points on his best day of the general election.
History: With just one exception (in 2013 when Terry McAuliffe defeated Ken Cuccinelli), the party that controls the White House has lost every gubernatorial election in Virginia going back to the 1970s.
GOP's poor performance in Virginia: Since 2005, Democrats are 9-1 in major statewide elections in Virginia (for president, Senate, governor).
Cash: Northam is outraising Republican opponent Ed Gillespie, which is stunning given Gillespie's background as a former RNC chair and lobbyist.
The advertising war: And Northam is also outspending Gillespie on the TV airwaves, while party spending is about even (see below for more on that).
But Gillespie does have one important advantage in this race, and if he pulls off the upset, it will be the reason why: Democrats in Virginia don't turn out as well in non-presidential years.
Going back to 2006, exit polls show that Democrats have enjoyed, on average, a nearly 7-point advantage in party ID in presidential years, while party ID has been close to even in non-presidential elections:
2006: R+3
2008: D+6
2009: R+4
2012: D+7
2013: D+5
2014: Even
2016: D+7
And what explains the big difference in the recent polls of Virginia's gubernatorial race? Party ID, of course. The Monmouth poll that had Gillespie up, 48 percent to 47 percent, had an R+2 sample. The Quinnipiac poll that had Northam up 14 points, 53 percent to 39 percent, was D+10. And last night's Fox poll that had Northam ahead by 7 points was D+3.
The good news for Democrats is that turnout in the June primaries certainly suggested that Democrats were more motivated than Republicans – more than 540,000 voters participated in the Dem primary, versus 365,000 in the GOP race.
If turnout is close to that on November 7, then Democrats will win up and down the ballot. But if it resembles what it was in 2006, 2009, or 2014, then Gillespie is in position to pull off the upset.
Trump disavows bipartisan deal to fix Obamacare
Yesterday, we asked whether Trump and the GOP would take the bipartisan deal to fix Obamacare. Well, the answer – right now – appears to be a no.
NBC's Benjy Sarlin: "President Donald Trump disavowed a bipartisan health care agreement on Wednesday, delivering it a likely fatal blow only a day after he praised its approach and said he had personally encouraged its negotiation… It was a confusing shift from Tuesday when Trump, while criticizing the CSR payments, praised the emerging agreement as a "short-term deal" that would calm insurance markets until Republicans could pass a full Obamacare replacement later on."
Our take: Much like with the DACA program, it's hard to see how the GOP-controlled Congress passes any health-care deal unless the Trump White House is 100 percent behind it. And it's clear that Trump isn't 100 percent behind this at all.
Trump's decision to make an issue of calling Gold Star families backfires
Seventy-two hours later, President Trump's decision to make an issue out of calling the families of U.S. soldiers killed in combat — "If you look at President Obama and other presidents, most of them didn't make calls," he said Monday — has backfired. Badly.
The Washington Post: "The mother of a soldier killed in an ambush in Africa said Wednesday that President Trump 'did disrespect my son' with remarks in a condolence telephone call. Sgt. La David T. Johnson's mother, Cowanda Jones-Johnson, told The Washington Post that she was present during the call from the White House on Tuesday to Johnson's widow, Myeshia Johnson. She also stood by an account of the call from Rep. Frederica S. Wilson (D-Fla.) that Trump told Myeshia Johnson that her husband 'must have known what he signed up for.'"
A separate Washington Post piece: "President Trump, in a personal phone call to a grieving military father, offered him $25,000 and said he would direct his staff to establish an online fundraiser for the family, but neither happened, the father said... The Washington Post contacted the White House about Baldridge's account on Wednesday morning. Officials declined to discuss the events in detail. But in a statement Wednesday afternoon, White House spokeswoman Lindsay Walters said: 'The check has been sent. It's disgusting that the media is taking something that should be recognized as a generous and sincere gesture, made privately by the President, and using it to advance the media's biased agenda.'"
NYT: Tiberi to become latest House Republican to retire
"In a sign of mounting frustration among Republicans in Washington, Representative Pat Tiberi of Ohio, a senior lawmaker with close ties to his party's leaders, is expected to resign and take up an executive post with a business group in his home state, according to three Republicans briefed on his plans," the Times says.
"An abrupt departure by Mr. Tiberi, who is an influential member of the House Ways and Means Committee, would signal a deepening level of discontent among mainstream Republicans in Congress. Despite holding Congress and the White House, Republicans have so far failed to achieve longstanding policy goals like overhauling the tax code and repealing the Affordable Care Act."
NBC|SurveyMonkey poll: 54 percent view North Korea as the most immediate threat to the U.S.
"A majority of Americans, both Republicans and Democrats, view North Korea as the most immediate threat to the United States, according to a new NBC News|SurveyMonkey poll. The majority opinion represents a shift since July, when 41 percent of Americans said North Korea was the greatest immediate threat and 28 percent cited ISIS."
Longtime DNC officials lose their posts in DNC shakeup
"A shake-up is underway at the Democratic National Committee as several key longtime officials have lost their posts, exposing a still-raw rift in the party and igniting anger among those in its progressive wing who see retaliation for their opposition to DNC Chairman Tom Perez," NBC's Alex Seitz-Wald reports.
"Those who have been pushed out include:
Ray Buckley, the New Hampshire Democratic chairman and longtime DNC official who ran against Perez for chair before backing Rep. Keith Ellison, D-Minn., lost his spots on the Executive Committee and DNC Rules Committee;
James Zogby, the president of the Arab American Institute and prominent Sanders backer, is no longer co-chair of the Resolutions Committee and is off the Executive Committee, a spot he has held since 2001;
Alice Germond, the party's longtime former secretary and a vocal Ellison backer, who was removed from her at-large appointment to the DNC; and
Barbra Casbar Siperstein, the first transgender member of the DNC who supported Ellison and Buckley, was tossed from the Executive Committee."
But for longtime DNC watchers, folks like Buckley, Zogby, and Germond are hardly diehard Sanders/Ellison backers. So it's less about ideology here.
Northam is narrowly outspending Gillespie in Virginia's advertising war
There's plenty of national attention on the gubernatorial race in Virginia, but the TV ad spending itself is mostly coming from the campaigns rather than top-dollar outside groups.
According to ad data provided to NBC News by Advertising Analytics, a total of $24.8 million has been booked on Virginia airwaves for the race. And there's relative parity in that spending; Democratic groups have spent a total of $11.9 million, while Republicans have spent about $13 million.
But the lion's share – 87 percent – of the ad cash is coming directly from Northam and Gillespie. Northam's campaign has put $11.3 million into the race, while Gillespie's has spent $10.4 million. The two major issue groups helping Gillespie out are Americans for Prosperity ($1.4 million) and the NRA ($1.1 million.) Northam got an assist of about $560,000 from the Virginia Education Association.