Influential figures in both the conservative and moderate wings of the Republican Party have abandoned Florida Sen. Marco Rubio in the early stages of the 2016 campaign, making his path to the GOP nomination much more complicated than it seemed two years ago, when he was hailed as the future of his party.
A number of one-time Rubio fundraisers, including Washington lobbyist and longtime Rubio adviser Dirk Van Dongen, have said they will back Jeb Bush instead of the Florida senator. National conservative groups and activists, the base of Rubio's support in his 2010 upset Senate victory in Florida, have broken with the senator because of his embrace of immigration reform and are for now considering other candidates, particularly Wisconsin Gov. Scott Walker and Sen. Ted Cruz of Texas.
Many in the Republican Party have also reached a consensus since 2013 that could prevent them from backing Rubio now; they say the failures of the current administration can be traced to the inexperience of President Barack Obama, who was elected as a young first-term senator who had never before held an executive position in government. The 43-year-old Rubio is now facing a pool of opponents that includes several two-term governors, including the 62-year-old Bush.
"My own personal view is I don't think Rubio is ready," said Alex Vogel, who was a top fundraiser for Mitt Romney in 2012, but has not yet committed to a candidate in this cycle. "I don't think he's ready, and Jeb does create a serious problem."
Rubio is also struggling to gain support among blocs in the GOP where he previously seemed poised for strength, like with more moderate Republicans. Rubio worked in 2013 with a bi-partisan group, which included Republican senators Lindsey Graham and John McCain, to co-write the immigration bill that creates a pathway to citizenship for undocumented workers. The Florida senator served as the de-facto spokesman for the bill to conservatives like Rush Limbaugh, who view Graham and McCain as too liberal.
But his colleagues have not returned the favor. Graham has publicly suggested Rubio is too inexperienced to run for president, and he is launching his own longshot campaign, with McCain's encouragement.
Many prominent Hispanic activists and donors, such as Florida lawyer and Rubio mentor Al Cardenas, are also publicly praising Bush, in a sign elite Latinos are -- at least for now -- not rallying around the idea of Rubio as the first Latino president.
Most influential Republicans still view Rubio very favorably, unlike candidates like Cruz, New Jersey Gov. Chris Christie or Sen. Rand Paul of Kentucky, who now have some vocal critics. But it's not clear many in the GOP right now regard Rubio as their first choice.
If he formally entered the race, he would have to hope that either rank and file voters embrace him even if the party elites do not, or that other candidates flounder, particularly Bush.
Rubio has said he is open to running either for president or for reelection to the Senate in 2016, but has not yet announced his decision as he is meeting with party activists around the country.
Rubio aides acknowledge the senator would be an underdog but are making comparisons to 2010, when he won the Senate race against then-Florida Gov. Charlie Crist. Then, as now, much of the Florida Republican political establishment rallied behind Rubio's opponent.
"Anyone who looks at Marco Rubio's history will see that he makes decisions based on what he believes is best for the country, not what the political establishment tells him to do," said Alex Conant, Rubio's spokesman.
But some Republicans, particularly Bush supporters, are giving public, unsubtle nudges to Rubio to concentrate solely on winning a second term for his seat in Florida, a state where Obama won twice. For these Republicans, Rubio would be both clearing the field for Bush and also helping the GOP hold onto control of the Senate.
"It's not to say that we are not in support of Marco Rubio. I think very highly of Marco. I appreciate him as our United States senator. I would like to see him continue to be of service in that capacity," said Deno Hicks, a Florida lobbyist who was a leading fundraiser for Mitt Romney in 2012 and now is backing Bush.
Like for Christie and for Romney when the latter was considering a 2016 campaign, Bush's entrance has been a huge problem for Rubio. All four men have most of their appeal among more moderate Republicans who would support ideas like more liberal immigration laws.
Rubio's challenge from Bush goes beyond just fundraising and Florida connections. Part of the Florida senator's appeal to Republicans looking for an electable candidate is that Rubio is Cuban-American and could connect with America's growing Latino population. But Bush, unlike Christie or Romney, can make a personal appeal to the Latino community as well: his wife Columba is Mexican-American and their children are bi-racial.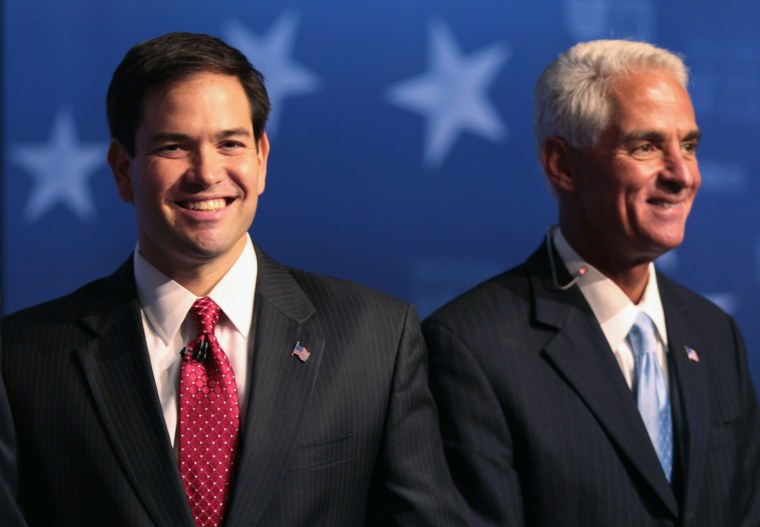 "Jeb knows this community, he speaks fluent Spanish, he has a lot of appeal," said Hector Barreto, a former George W.Bush administration appointee who is now president of the Hispanic Business Roundtable. Barreto praised Rubio as well, and said he was not likely to endorse either candidate until much later in the cycle.
The corner of the GOP that seems most impressed with Rubio is the party's intellectuals. The New York Times' David Brooks, National Review's Ramesh Ponnuru, and the Weekly Standard's Stephen Hayes have all publicly praised Rubio as one of the party's most thoughtful figures. Brooks called Rubio "the most intellectually creative of the presidential contenders" in a recent column; Hayes said the senator was "the most talented communicator in politics today."
The problem is that the writers and policy experts in the GOP may like Rubio, but they want to write about and comment on all of the candidates, so they are almost certain not to endorse him. And their words have limited impact among the set of donors, elected officials and voters the candidate must also court.
"He has the ability to take a public policy position and immediately translate it into stories about people. It's a rare gift," said Pete Wehner, a White House policy adviser in George W. Bush's administration who is now part of a group of conservatives trying to map out a governing agenda if a GOP president is elected in 2016.
But Wehner, who said he won't be endorsing a 2016 candidate, added that Jeb Bush is also "extremely wonk-friendly."
Rubio's challenges are now building on one another. Political donors closely track the behavior of other donors. The wave of donors headed to back Bush will make it harder for even those inclined towards Rubio to actually get behind him.
"Can he raise the money?" asked one 2012 Romney fundraiser who said he is considering supporting Rubio but wary of supporting a candidate who can't win.
Conant, the Rubio spokesman, acknowledged Bush could raise a large amount, but said the senator would be competitive.
Republicans say that Rubio could win, but the path is complicated.
To woo voters in early primary states like Iowa and South Carolina, Rubio needs conservatives who didn't like the immigration bill to embrace him again. Or he needs moderate Republican voters to become wary of Bush.
"With Governor Christie's presidential prospects fading and Bush's light footprint in Iowa, Rubio may be wise to throw his hat into the ring," former Iowa Republican Party political director Craig Robinson wrote on his influential blog, in a recent post titled "There's Room for Rubio in the GOP Presidential Field."
Rubio had just visited the state as part of his book tour.
"It may be a difficult go in the early months of the campaign, but more than any other candidate, it easy to see how he could take off nationally just like he did in his Florida campaign in 2010," Robinson continued.