In the year 2014, the United States of America wrestled with grave policy challenges, while a noble and serious public banded together to confront the global challenges that will define us for generations to come.
And then, there was this stuff.
As the year draws to a close, we took a look back at the silliest, dumbest, most head-scratching political moments of 2014. Like the candy corn of news, these stories had no nutritional value (they didn't prompt rational and intelligent debate or affect major U.S. policy); they made us feel gross and a little ashamed if we overindulged in them; and, even in moderation, they ultimately proved to be pretty forgettable.
With no further ado: 2014 – our Dumb Year in Politics.
The Tan Suit
On August 28, we learned that the nation has feelings about beige menswear. A lot of feelings. President Barack Obama held a press conference sporting that old summer classic and favorite of normcore dads everywhere– a tan suit. Twitter, because it's Twitter, erupted with ridicule and even some actual outrage at Obama's sartorial audacity, with Rep. Peter King of New York appearing to suggest that Obama's attire sent a frivolous message about ISIS, or something. The White House — recklessly or courageously, depending on your view of such things — stood by the president's decision the following day, with press secretary Josh Earnest declaring that "the president stands squarely behind his decision he made yesterday to wear his summer suit."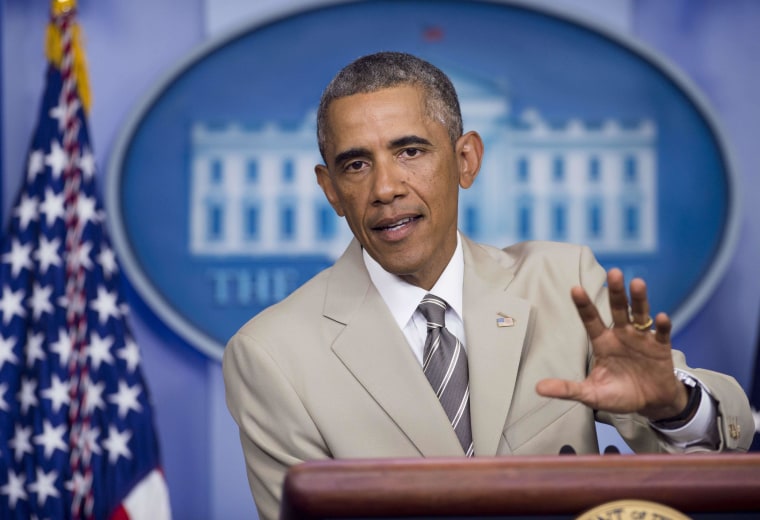 Charlie Crist and His Fan: A Love Story
There's the Mona Lisa. Citizen Kane. The 1985 Chicago Bears. Free Bird. And now, there's this, the pinnacle of political debate hijinks, a moment so exquisite in its awkwardness that it will inspire men and women yet unborn to wonder, decades from now, "Wait, what?" For those who somehow expunged this news item from their memory due to excessive cringing: On October 15, Republican-turned-Independent-turned-Democrat Charlie Crist and opponent Gov. Rick Scott became so embroiled in a last-second argument about whether Crist could bring a small electric fan onto the stage that it almost derailed the whole (live! televised!) debate. A smiling Crist stood on stage alone for over five minutes as dazed moderators announced that Scott had refused to participate over the presence of the electronic device. (The incumbent Republican governor eventually made his way to the podium.) Sure, there were subsequent days of argument about whether or not the fan was in the debate contract, and whether or not Scott's apparent petulance was actually due to staff error. But those subtleties will likely be lost to history as this infamous night is passed down, generation to generation, as Ye Old Tale of #FanGate.
A Campaign Epidemic
The Ebola outbreak that has killed thousands of West Africans is, obviously, no laughing matter. (In fact, here's a link to how you can help the nations still battling this horrible disease.) But what earns the label of preposterous this year is the straight-up misinformation about Ebola, peddled by politicians and fueled by a midterm frenzy, that dropped abruptly out of the news cycle after Election Day. Despite the fact that there were just four laboratory-confirmed cases of the disease in the United States, rumors of easy infection became deafening enough that exaggerations earned the dubious distinction of Politifact's Lie of the Year. The madness was crystallized in late October, when nurse Kaci Hickox — who became nationally known as "the Ebola nurse" despite not having contracted Ebola or shown symptoms — defied a quarantine order by going for a bike ride with her boyfriend, with representatives of the nation's media outlets chasing desperately behind. The best quote of L'Affaire Hickox, of course, was Gov. Chris Christie's proclamation that, while in quarantine, the nurse had access to "takeout food from the best restaurants in Newark." Yum!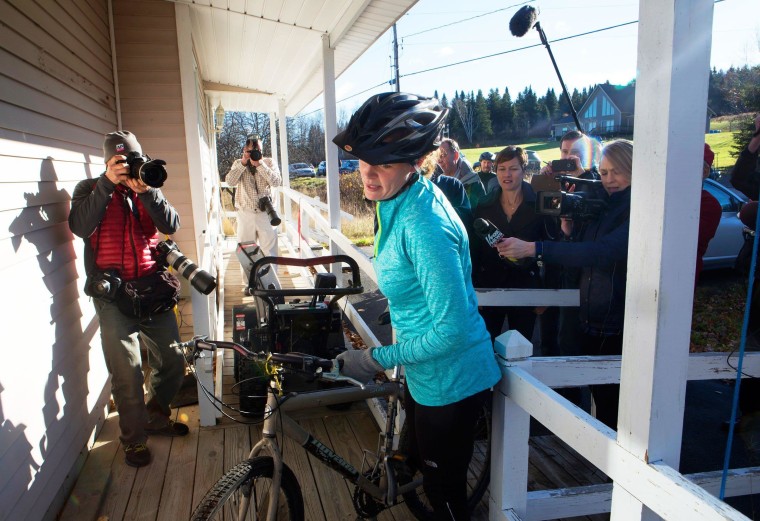 David Ortiz Takes Selfie, Kills Fun Forever
Perhaps history will show that 2014 was the year that everything we thought was fun and real and spontaneous was, well, not. Pluto is not actually a planet again, that teenager didn't really make $72 million on the stock market, and a bird did not in fact poop on Vladimir Putin. And when a beloved, larger-than-life baseball slugger grinningly snapped a selfie with the leader of the free world at the White House, it turned into (sigh) a marketing ploy for Samsung. The company ended up in a dull exchange of corporate legalese with the White House after Red Sox star David Ortiz snapped the photo with his Galaxy Note 3, as Samsung not-so-subtly let consumers know. White House senior advisor Dan Pfieffer admonished that "whenever someone tries to use the president's likeness to promote a product, that's a problem." Fun, we hardly knew ye.
The Great Hillary Grandbaby Speculation of 2014
On Friday, September 26, at 7:03pm, a human being was born on Earth. This event happens roughly 360 THOUSAND times every day. But on that particular day, the baby in question happened to be the granddaughter of Hillary Rodham Clinton, and thus subject to a particularly ludicrous sub-genre of public speculation. Media outlets tried to guess what the new parents would name the baby to maximize her political impact, poring through lists of the most popular names in key primary states. Pundits mused on how the birth of her grandchild could affect the former Secretary of State's deepest and most private motivations to run for president. The icing on the cake came when a news story quoted ASTROLOGERS on what the baby's future might hold. (Hint: she'll probably have money and power! How mystic!) Don't get us wrong: Babies are cool. And Clinton's been talking about being a grandmother on the campaign trail, so it's clear that her new title is part of her political identity. But come on, folks.
Area Man Threatens on Camera to Kill a Person, Gets Re-elected to Congress
The voters of America really love a good redemption story. And the voters of Staten Island really, really hate Brooklyn, apparently. So GOP Rep. Michael Grimm, despite facing a 20-count indictment, could still return to Congress next year after winning 55 percent of the vote against Democrat Domenic Recchia. (He's currently preparing to plead guilty to one of those charges.) Grimm's indictment wasn't what won him national fame; his biggest moment was actually being caught on camera telling a reporter who asked him about the charges that he would "throw you off this [expletive] balcony" and "break you in half. Like a boy." LIKE A BOY. One would imagine that such a candid moment could launch a rival to an easy victory, but one would be wrong. Recchia, who hailed from Staten Island rival borough Brooklyn, wasn't exactly a slam-dunk candidate himself. The second best quote coming out of this story came from the New York Daily News, which declared in its reluctant endorsement of Grimm that "In Domenic Recchia, the Democrats have fielded a candidate so dumb, ill-informed, evasive and inarticulate that voting for a thuggish Republican who could wind up in a prison jumpsuit starts to make rational sense."
An "Attractive and Effective" White House Moat
The American people were understandably dumbfounded this September when an intruder not only jumped the White House fence unimpeded but made it into the building itself. But have no fear, because Congress was on the case! That included this great entry in the Congressional Record from Rep. Steve Cohen, D-Tenn, who queried the following at a hearing: "Would a, uh, a moat. Water. Six feet around, be kind of attractive and effective?" To be fair, Cohen later clarified by saying that he had been wrong about WHAT THE DEFINITION OF "MOAT" IS. What he REALLY meant, he told NBC News, would be a deep pool or trough installed behind the fence line alone Pennsylvania Avenue, perhaps with a fountain. "It could be beautiful," he said, wistfully. A congressman can dream, can't he?
Facebook Fowlness.
The White House annual turkey pardon is designed to be the most reliably newsless thing the president does all year. But this time, the light-hearted tradition was marred by an eruption over a Republican aide's Facebook screed about the behavior of the president's teenage daughters, who looked as bored as most teenagers would be if their father had to publicly absolve sedated poultry. "Rise to the occasion. Act like being in the White House matters to you," wrote Elizabeth Lauten, a communications director for Rep. Stephen Fincher. "Dress like you deserve respect, not a spot at a bar." After an outraged social media pile-on, Lauten apologized and resigned. Here's what we learned from this episode, class. 1) The presidential kids are still almost universally considered off limits. Period. Especially if the behavior in question is nothing worse than questionable posture. 2) If you don't have something nice to say, don't say it on the internet on one of the slowest news weeks of the year.
Idaho Public Television Gave Us 2014's Best Thing of the Year.
Sometimes, the news gods give us mere mortals something we surely don't deserve. Unless you were casually watching Idaho Public Television on a Wednesday night in May, you didn't get to see the wonderfulness that was the Idaho Gubernatorial Primary Debate unfold live, but — thanks to the internet — its brilliance lives on. "You have your choice, folks," declared perennial candidate Harley Brown, in sum. "A cowboy, a curmudgeon, a biker, or a normal guy." That was one of the more lucid comments during the rollicking hour-long debate, which featured the incumbent governor (the "cowboy,") a legitimate challenger (the "normal guy,") and two other candidates whose politically incorrect antics pulverized any shred of serious political discourse that could have possibly been exchanged. That included racist jokes, the phrase "proverbial turd," and something particularly fever-dreamy about wormwood and nuclear fallout. We, for one, think America is pining for more politicians with the candor to reveal their emotional time spent "livin in Fat Jack's cellar" due to an ex-wife's restraining order.
Shine on, you crazy diamonds. Shine on.