Political newcomer David Perdue is headed to a July runoff against Rep. Jack Kingston to determine which Georgia Republican will be the party's nominee for Senate in the fall.
In unofficial returns late Tuesday, Perdue captured more than 30 percent of the vote, while Rep. Jack Kingston won nearly 26 percent, according to the AP.
Former secretary of state Karen Handel is expected to finish third.
Two Tea Party-affiliated challengers, Reps. Paul Broun and Phil Gingrey, trailed behind – prompting sighs of relief from establishment Republicans who had once feared a win by one of the two often-controversial conservative firebrands.
With no candidate reaching the required 50 percent threshold, Perdue and Kingston will compete in the state's July 22nd runoff election. The winner will face Democrat Michelle Nunn in the fall.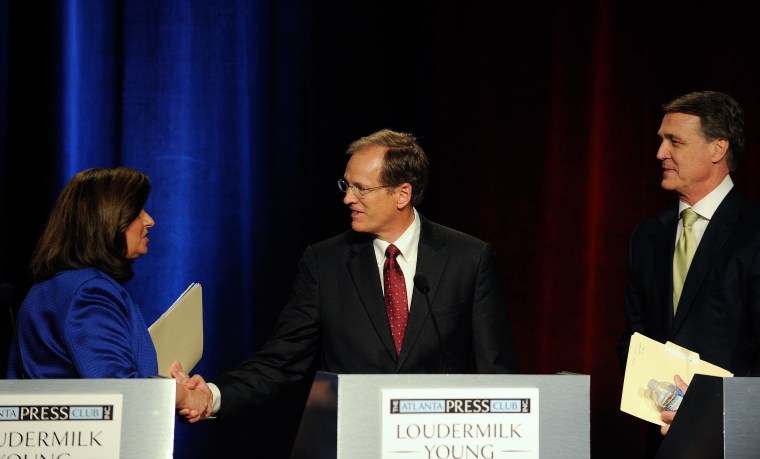 Perdue, a business executive who has touted his successes turning around troubled businesses Dollar General and Reebok, ran as a fiscal hawk and Washington outsider. The multimillionaire, who contributed nearly $3 million to his own campaign, had an early advertising advantage, airing TV spots that pictured his opponents as crying infants. He also benefitted from a familiar name; he is the cousin of former state Gov. Sonny Perdue.
Early in the primary race, Perdue tried to brand Kingston, who has served in Congress since being elected in 1992, as a career politician whose votes contributed to a crippling national debt.
"I really believe the decision in this race is going to be very simple...If you like what's going on in Washington, you'll have a very polished politician to vote for," Perdue said at his victory speech. "But if you're as outraged as I am about the size and scope of this government, the amount of money they take from our pocket unnecessarily and the childish, inexcusable behavior we see in Washington today, then I hope you'll give this outsider from middle Georgia a chance in this runoff."
But his efforts to discredit Handel, the former secretary of state and a onetime gubernatorial candidate, backfired after he remarked that she was merely the "high school graduate in this race" – a comment that observers on both sides of the aisle called insensitive and elitist.
The Handel campaign responded aggressively, contrasting her difficult childhood in an abusive home to Perdue's wealth and business successes.
Handel – who famously resigned as an executive with the Susan G. Komen charity over its ties to Planned Parenthood -- won additional momentum with endorsements from national conservative icons Sarah Palin and Rick Santorum.