Governor Rick Perry – the longest-serving governor in Texas history and a former GOP presidential candidate – will not run for re-election in 2014, he announced Monday.
"I remain excited about the future and the challenges ahead," he said, "but the time has come to pass on the mantle of leadership." 
Perry, who has not ruled out another presidential run, added that he will "pray and reflect and work to determine my own future path," during a San Antonio event with supporters billed last week as an announcement of "exciting future plans." 
The Texas governor pledged to continue his work in Texas for the remainder of his term, focusing on his work at the helm of "a strong pro-life, pro-family, pro-freedom state." 
"I will spend the next 18 months working to create more jobs, opportunity and innovation. I will actively lead this great state," he said to applause. 
Perry's announcement comes almost 18 months after he ended his bid for the 2012 GOP presidential nomination, a campaign marred by the Texas governor's much-ridiculed gaffes.
But since his previous presidential ambitions died out with a whisper in January of last year, Perry has worked to rebuild his national profile, pushing his home state's pro-business agenda in a recent East Coast tour while leading a high-profile fight against legislators at home who support abortion rights. 
The Texan, who underwent major back surgery just weeks before announcing his presidential run at a conservative confab in August 2012, has since attributed his rocky political performance to lingering health problems after the procedure. He's also indicated regret at getting into the 2012 race much later than his competitors, leaving him little room for error in the early state jostling.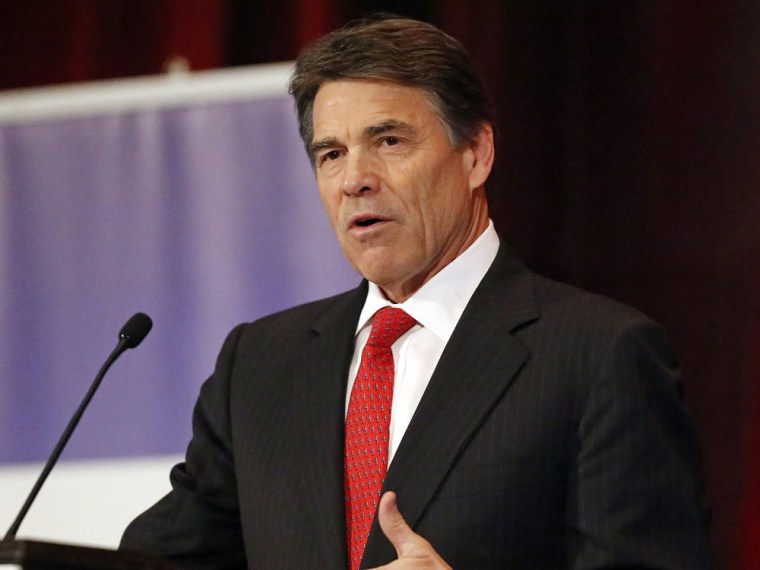 While his infamous inability to recall the three federal agencies he proposed to axe during a November primary debate was the most memorable of Perry's mistakes, earlier mediocre debate performances and campaign infighting had taken the sheen off his once promising candidacy weeks before his "oops" moment.
Appearing on Fox News Sunday last weekend, Perry indicated that another presidential run was "an option out there" but declined to talk further about his political future. 
On Monday, Perry said he would continue to concentrate on his home state as he completes his term. 
"Any future considerations I will announce in due time, and I will arrive at that decision appropriately.," he said. "But my focus will remain on Texas."