NEW YORK — As Democratic pollster Peter Hart put it, maybe the best way to view our final national NBC News/WSJ poll of the 2018 election cycle is as a kaleidoscope.
"It is a political kaleidoscope," said Hart, whose firm conducted this survey with Republican pollster Bill McInturff. "You turn the poll one way, and it looks [good for Democrats]." But if you turn it another way, he adds, "you can see how the GOP squeaks through."
Consider:
Democrats lead nationally among likely voters by a larger margin (7 points) than among registered voters (6 points), suggesting they have the voting intensity on their side. But that 7-point margin among likely voters is down from 9 points in October;
President Trump's job rating — 46 percent among likely voters — is in the danger zone for a sitting president facing his first midterm, but it's also higher than it was earlier in his presidency;
59 percent of registered voters say they want significant change in the direction Trump has been leading the country, but 68 percent say they're satisfied with the state of the economy;
And Democrats have more enthusiasm (85 percent say they have a high level of interest in the midterms), but Republicans have nearly caught up here (82 percent).
So one set of numbers suggest that Democrats are in store for a big night; the other set of numbers indicate that it could be a better-than-expected performance for Republicans.
All things considered — when you look at Democratic advantages with independents, with women and more enthusiastic Latino and millennial voters — you probably have to give Democrats the advantage heading into tomorrow night's election, says McInturff, the GOP pollster.
"It has closed. It is a more competitive race," he said. "But for Republicans, it feels slightly short of where you'd want to be for a national election."
We'll find out tomorrow night.
NBC/Marist polls show tight races in Florida and Missouri
Speaking of turning the political kaleidoscope, our final NBC/Marist polls of Florida and Missouri paint a rosier Senate outlook for Democrats than the conventional wisdom and map suggests.
One of us on the slight lead for Dems in Florida: "At the top of the ticket, Democrat Andrew Gillum is up among likely voters against Republican Ron DeSantis, 50 percent to 46 percent, within the poll's margin of error. That's a similar margin to the five-point lead NBC News and Marist found in September, when Gillum led 48 percent to 43 percent... The margin is identical for Democrats in the closely watched Senate contest between incumbent Democrat Sen. Bill Nelson and outgoing GOP Gov. Rick Scott. Nelson leads Scott 50 percent to 46 percent among likely voters. Among the larger pool of all registered voters, Nelson leads 50 percent to 45 percent."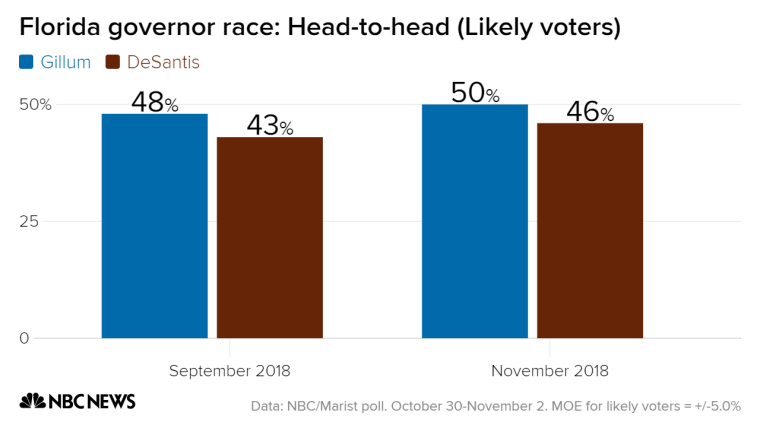 And another of us on the margin-of-error contest in Missouri: "McCaskill, the state's incumbent senator, gets support from 50 percent of likely voters in a head-to-head matchup, while Hawley, the state's attorney general, gets 47 percent. Just 3 percent of likely voters say they're undecided. In September's NBC/Marist poll of the state, McCaskill and Hawley were tied at 47 percent each. When the ballot expands to include the Libertarian and Green Party candidates, McCaskill's lead remains at 3 points, 47 percent to 44 percent. The results are all within the poll's margin of error of plus-minus 5.2 percentage points. Other recent polls of Missouri show the race tied."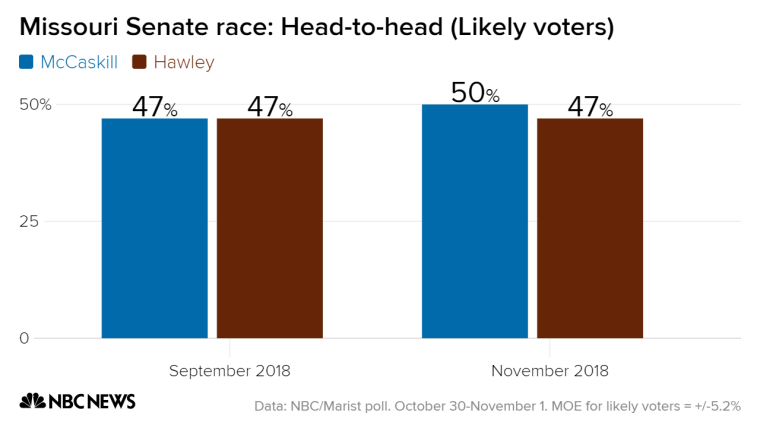 Two different polls and two different likely-voter models
So our two NBC polls paint two slightly different pictures here at the end — the national NBC/WSJ shows a closer horserace than a month ago (though the difference is within the margin of error), and the state NBC/Marist polls of Florida and Missouri have Democrats ahead (though within the margin of error)
So how do you explain the contradiction — outside of the margin of error?
Well, the polls are different, with different likely-voter models. The national NBC/WSJ poll is taken from a voter-file list, and likely voters are determined by past participation and/or current interest. The Marist polls, meanwhile, are taken from random-digit-dialing, and likely voters are determined by a probability model
By and large, the NBC/WSJ poll is a more cautious poll, while Marist might be capturing more new voters. Which better shows the current direction and momentum? We don't know, but we're glad we have these (different) products, because there's no perfect way to do this, especially in an environment where turnout will be unprecedented.
More from the NBC/Marist poll of Florida
Rick Scott popularity dips: Our NBC/Marist poll of Florida also finds this: "Gillum's favorability stands at 48 percent favorable/40 percent unfavorable among likely voters. For his GOP rival, DeSantis, 43 percent of likely voters have a favorable impression of him, while 45 percent disagree."
"Nelson, who has served in the Senate since 2000, gets a favorable rating from 45 percent of likely voters, with 42 percent giving him a thumbs down. That's compared with rival Scott's 42 percent favorable/50 percent unfavorability. That net negative rating of -8 percent for Scott is a drop from a net positive rating of +1 percent in September."
It's worth asking: If the dip in Scott's popularity is real, is it because he's embraced being with Trump in the final days? Remember, he had been keeping his distance for most of this 2018 season…
If Scott loses, we will look back on the last 10 days and ask: Why did he forego all the effort to distance himself from Trump and party to campaign with Trump twice in the last 10 days?
Will 2018 be 2016 all over again? Or will it be more like Virginia and the special elections of 2017-2018?
Despite a rough overall political environment for the GOP, we still have detected quiet confidence from Republican strategists and pollsters. And if you experienced 2016, it's hard not be confident that 2018 could be 2016 all over again — or close to it.
But also don't forget what happened in Virginia and Alabama in 2017, or the special elections of 2017-2018.
Trump hits three rallies on last day of campaigning
President Trump holds rallies today in Cleveland, Ohio at 2:45 pm ET, in Fort Wayne, Ind., at 6:05 pm ET, and in Cape Girardeau, Mo. at 10:00 pm ET
Without evidence, Kemp accuses Georgia Democrats of attempted hacking
"Georgia Secretary of State Brian Kemp, the Republican candidate for governor, said Sunday that he was investigating the state Democratic Party for an attempted hack of the voter registration system — a claim met with a swift response from Democrats charging him with a shameless "political stunt" two days before Election Day," per NBC News.
"Kemp, who is in a neck-and-neck race with Stacey Abrams, alleged that the state Democratic Party made a 'failed attempt to hack the state's voter registration system' and announced that his office was opening an investigation into the party. Kemp said his office alerted the Department of Homeland Security and the FBI, but he offered no evidence to back up his allegation."
It's one of the inherent conflicts of interest when a sitting secretary of state — heading up elections in a state — runs for higher office in that same state…