Four in ten Americans now support the impeachment of President Donald Trump — a ten point jump in the last six months — according to a new poll from the Public Religion Research Institute (PRRI).
The survey found that 40 percent of Americans — including nearly three-quarters of Democrats but just seven percent of Republicans — back impeaching the president and removing him from office. That's compared to 30 percent who said the same in February.
Trump's overall favorability rating in the poll stands at 38 percent favorable, 56 percent unfavorable.
The PRRI survey was conducted August 2-8, before last weekend's white nationalist rally in Charlottesville, Va. Trump's statement that "both sides" deserve blame for the resulting violence has prompted criticism from Republicans and Democrats alike.
The jump in support for impeachment since Trump's first month in office is attributable to increased opposition to the president from Democrats and independents. Since February, the share of Democrats saying they support impeachment jumped from 58 percent to 72 percent, while the share of independents advocating for Trump's removal from office increased from 27 percent to 38 percent. But the share of Republicans who agree has remained virtually unchanged in the single digits.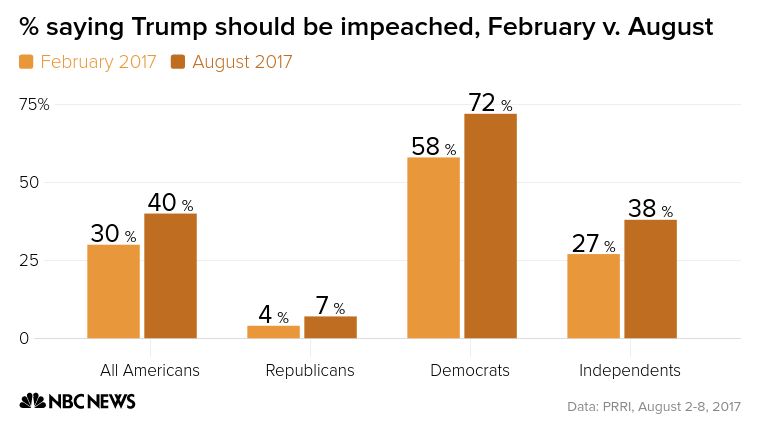 There is a significant gender divide in support for impeachment as well.
While men say that Trump should not be impeached by a 2-1 margin, 60 percent to 32 percent, women are equally divided on the question, with 47 percent supporting impeachment and 45 percent opposing it.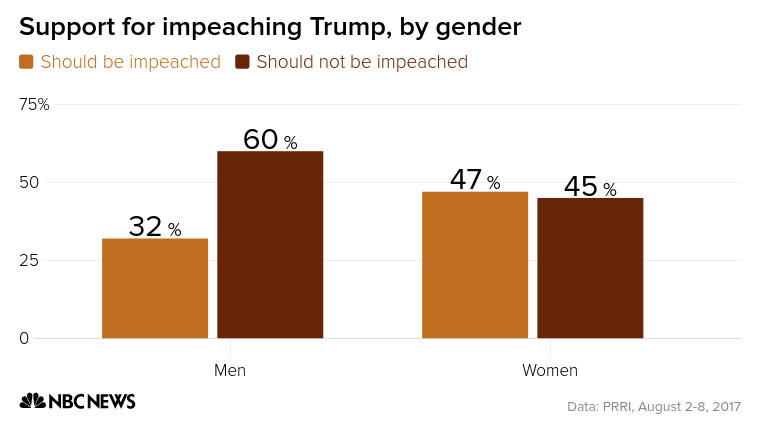 The survey also found that about half of Americans — 48 percent — say there is clear evidence that Russia interfered in the 2016 election in order to help Donald Trump, while 43 percent disagree.
The poll of 2,024 Americans was conducted August 2-8, 2017 with a margin of error of +/- 2.7 percentage points.