WASHINGTON — Republican Marsha Blackburn is now narrowly edging Democrat Phil Bredesen in Tennessee's closely-watched Senate race despite Bredesen's higher favorability with likely voters, a new NBC News/Marist poll finds. But both Blackburn and Bredesen have seen decreased popularity since the bruising campaign — including more than $50 million spent on television ads — kicked into gear.
The poll shows Blackburn with the support of 51 percent of likely voters, compared with 46 percent support for Bredesen. Among all registered voters, her advantage narrows to 49 percent to 46 percent.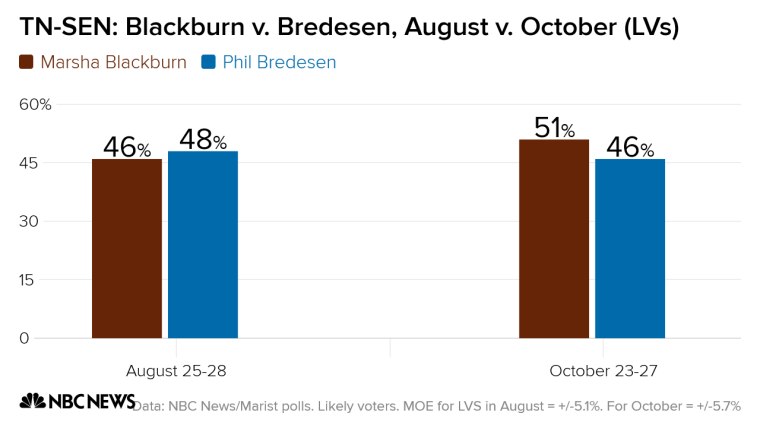 Blackburn's standing has improved since a previous NBC/Marist poll of Tennessee released in early September, when Bredesen led 48 percent to 46 percent among likely voters. That poll was conducted Aug. 25-28.
The shift in Blackburn's favor may be a dose of political reality for Bredesen in Tennessee, where President Donald Trump won by 26 points in 2016. The poll's sample shows that 43 percent of likely voters identify as Republicans, while just 27 percent identify as Democrats.
In a head-to-head race, Blackburn leads with Trump supporters (88 percent to 9 percent), white evangelicals (72 percent to 25 percent), non-college graduates (56 percent to 41 percent), white voters (59 percent to 38 percent) and men (57 percent to 38 percent).
Bredesen is ahead with African-Americans (85 percent to 11 percent), independents (59 percent to 35 percent), college graduates (53 percent to 45 percent) and women (52 percent to 46 percent),
Blackburn's narrow lead comes even as her personal favorability ratings lag behind Bredesen, who was a popular governor of the state when he served from 2003-2011.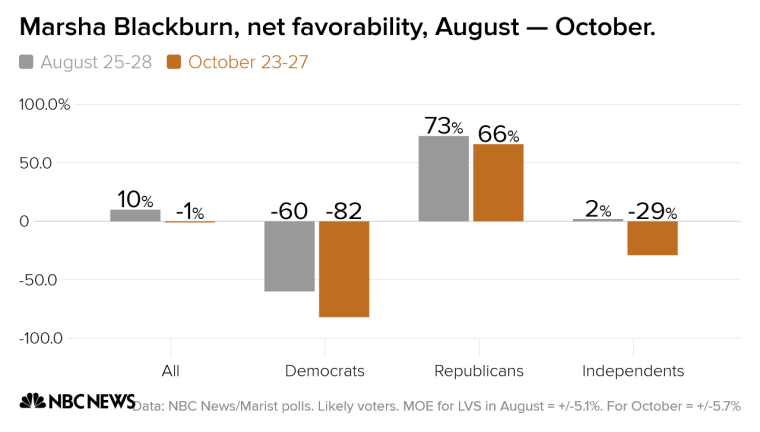 Among likely voters, 45 percent have a favorable impression of Blackburn, while 46 percent have an unfavorable one. That's down from a 46 percent favorable/36 percent unfavorable rating two months ago. Blackburn has seen her popularity drop among Democrats, Republicans and independents.
Like Blackburn, Bredesen's favorability has also taken a hit in the closing two months of the election, but he remains significantly more popular than his GOP opponent. Fifty-two percent of likely voters have a favorable impression of him, while 39 percent disagree. That's a net +13 percent, down from a net +39 percent rating in the previous poll.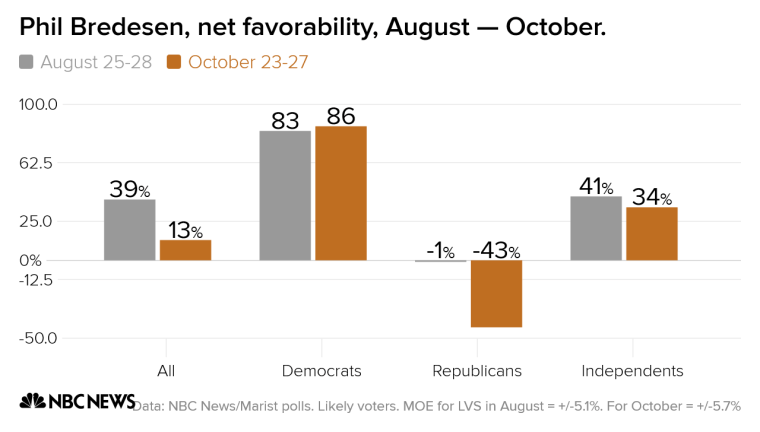 Bredesen announced in early October that he supported the confirmation of now-Supreme Court Justice Brett Kavanaugh, breaking with the majority of his party. But despite some speculation that he would alienate Tennessee Democrats by backing the president's nominee, that move does not appear to have hurt Bredesen significantly with his base; his approval rating with Democrats slightly increased from a net +83 percent positive rating two months ago to a net +86 percent positive rating now.
Instead, the decrease in Bredesen's popularity since the previous poll appears to have come almost entirely from Republicans, who gave him a 39 percent favorable/40 percent favorable rating (net -1 percent) two months ago but now rate him as just 24 percent favorable/67 percent unfavorable (net -43 percent)
While the Senate race remains close, the gubernatorial contest is unlikely to see much Election Night drama.
Republican Bill Lee leads Democrat Karl Dean in the governor's race by 57 percent to 40 percent among likely voters. That 17-point margin for Lee is even greater than his 13-point advantage in late August.
Trump sees boost in approval; Republicans lead on congressional preference by 15 points
President Donald Trump's approval rating has improved significantly since the last NBC/Marist poll. More than half — 56 percent — of Tennessee likely voters give Trump a thumbs up, while 39 percent disagree. That's compared with a more narrow 47 percent approve/43 percent disapprove rating for the president about two months ago.
Republicans have also seen a slight uptick in voters' preference for a GOP-controlled Congress. In late August, 50 percent of likely voters said they would prefer a Congress controlled by the GOP after the election, while 38 percent chose Democrats. Now, the Republican lead on the generic ballot question has increased to 54 percent for Republicans, compared with 39 percent for Democrats.
Voters in Tennessee also favor candidates who supported the nomination of Supreme Court Justice Brett Kavanaugh, the poll finds. About four-in-10 — 42 percent — say they are more likely to back a candidate who supported his confirmation, while 27 percent say they are more likely to back a candidate who opposed it.
The poll was conducted Oct. 23-27. The margin of error for all adults is plus or minus 4 percentage points. The margin of error for 471 likely voters is plus or minus 5.7 percentage points.