WASHINGTON — In the billionaire-versus-multimillionaire contest for Illinois governor, Democratic challenger J.B. Pritzker leads incumbent Republican Gov. Bruce Rauner by 16 points, according to a new NBC News/Marist poll.
Pritzker gets support from 46 percent of registered voters in the state, while Rauner gets 30 percent. Libertarian nominee Kash Jackson is at 6 percent in the poll, while fellow third-party candidate Sam McCann is at 4 percent.
Thirteen percent say they're undecided for the election on November 6.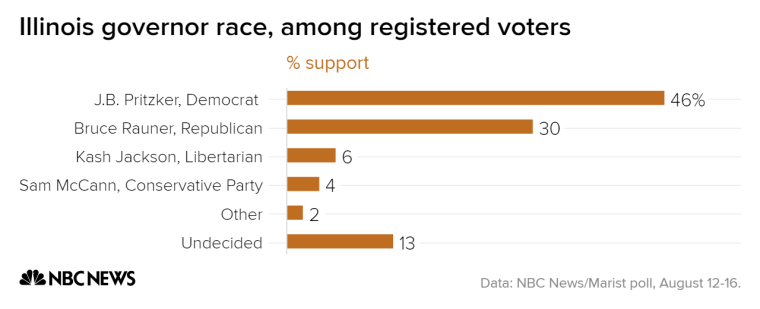 By a 2-to-1 margin, Illinois adults have a negative opinion of Rauner — who made his fortune as an investor — with 52 percent viewing him unfavorably, versus 26 percent who see him in a favorable light.
By comparison, Pritzker — whose family owns the Hyatt hotel chain — is slightly above water, with 38 percent viewing him favorably, versus 35 percent unfavorably.
The Rauner-Pritzker race is on track to be the most expensive gubernatorial race in American history; nearly $90 million in TV and radio ads have already been spent in the race, according to ad-spending data from Advertising Analytics.
Trump casts a long shadow over Illinois' contests in November
Additionally, the poll finds President Donald Trump's job-approval rating at 31 percent among all Illinois adults; 56 percent disapprove of his job.
With the state hosting at least four competitive U.S. House races this November, the poll also shows Democrats enjoying a 14-point advantage in congressional preference, with 49 percent of voters preferring a Democratic-controlled Congress, versus 35 percent wanting Republicans in charge.

Inside those numbers, Democrats lead among women (54 percent to 30 percent) and men (44 percent to 39 percent); among voters in populous Cook County (59 percent to 23 percent); among independents (43 percent to 32 percent); and among whites with college degrees (54 percent to 34 percent).
Republicans, meanwhile, are ahead among voters in the counties bordering Cook County (45 percent to 40 percent) and among whites without college degrees (49 percent to 32 percent).
And 57 percent of voters say their choice for Congress in November will be a message for more Democrats to "check and balance" Trump, while 32 percent say it will be a message for more Republicans to help pass the president's agenda.
"President Trump is casting a long shadow over this November's elections in Illinois," said Lee Miringoff, director of the Marist College Institute for Public Opinion, which conducted the poll.
Economy, health care are top midterm issues in the state
Asked which issues they believe will be the most important factor in deciding their vote, 27 percent of Illinois voters said the economy and jobs; 19 percent said health care; 14 percent said immigration; and 11 percent said federal taxes and spending.
Among Democratic respondents, health care is the top issue (at 25 percent) — followed by economy/jobs (at 21 percent) and immigration (at 13 percent).
Among Republicans, economy/jobs is the No. 1 issue (at 33 percent) — followed by taxes/spending (at 14 percent) and health care and immigration (at 11 percent each).
And asked about their opinions of raising tariffs and barriers for foreign imports, 42 percent said they increase the cost of consumer goods and hurt the U.S. economy, while 23 percent said they protect American jobs and help the economy.
But there's a partisan divide: 60 percent of Democratic respondents say raising tariffs hurts the economy, versus just 19 percent of Republicans who agree. Independents are opposed to increased tariffs by a 41 percent-to-23 percent margin.
The NBC/Marist poll of Illinois was conducted August 12-16 of 831 adults (which has a margin of error of plus-minus 4.2 percentage points) and 734 registered voters (plus-minus 4.4 percentage points). Respondents were reached by both cell phone and landline phones.