Democrats hold single-digit leads in the key Senate contests of Colorado and Michigan, as well as in Colorado's gubernatorial race, according to new NBC News/Marist polls of these two states.
But with less than four months to go until Election Day, Republicans are narrowly ahead in the race for Michigan governor.
In Colorado's Senate contest, incumbent Sen. Mark Udall, D-Colo., leads GOP challenger Cory Gardner by seven points among registered voters, 48 to 41 percent; another 10 percent are undecided.
Full Colorado poll results (.pdf)
In the state's race for governor, sitting Gov. John Hickenlooper holds a six-point edge over Republican opponent Bob Beauprez, 49 to 43 percent, with 7 percent undecided.
Meanwhile, in Michigan's Senate contest, Rep. Gary Peters, D-Mich., is ahead of Republican Terri Lynn Land by six points among registered, 43 to 37 percent.
Full Michigan poll results (.pdf)
"The early edge goes to the Democrats" in these Senate match ups, says Lee Miringoff, the director of the Marist College Institute for Public Opinion. "But these are not states they can put into their win column just yet."
Both seats are currently held by Democrats. A Republican win in either state would put the GOP one step closer to retaking a majority in the Senate.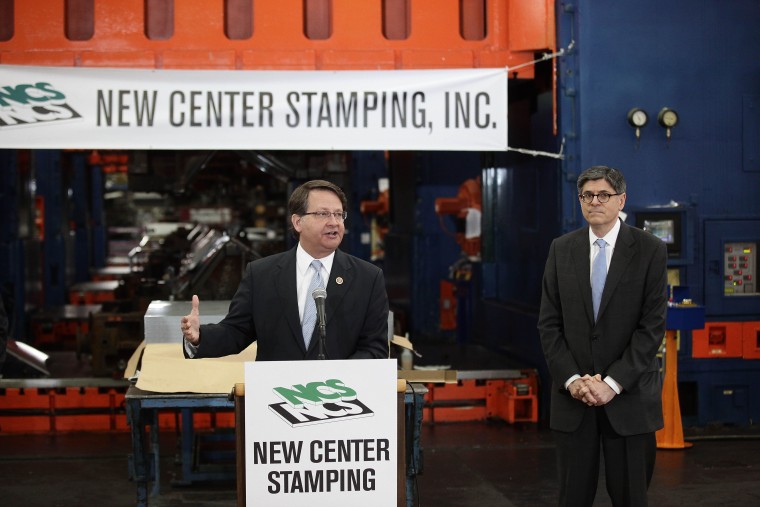 And in the Wolverine State's gubernatorial race, incumbent Republican Gov. Rick Snyder holds on to a two-point over Democratic nominee Mark Schauer, 46 to 44 percent, although that's within the survey's margin of error.
"The Republican governor is holding his own so far," Miringoff adds.
Helping Democrats: the gender gap, Latinos and independents
A gender gap is helping the Democratic candidates in these two states. In Colorado, Udall is up by 12 points among female voters (50 percent to 38 percent), but he's running neck and neck with Gardner among men. And in Michigan, Peters is ahead by 13 points with women (46 to 33 percent).
Among Latinos – who make up 16 percent of registered voters in the Colorado poll – Udall has a 31-point lead over Gardner, 58 to 27 percent.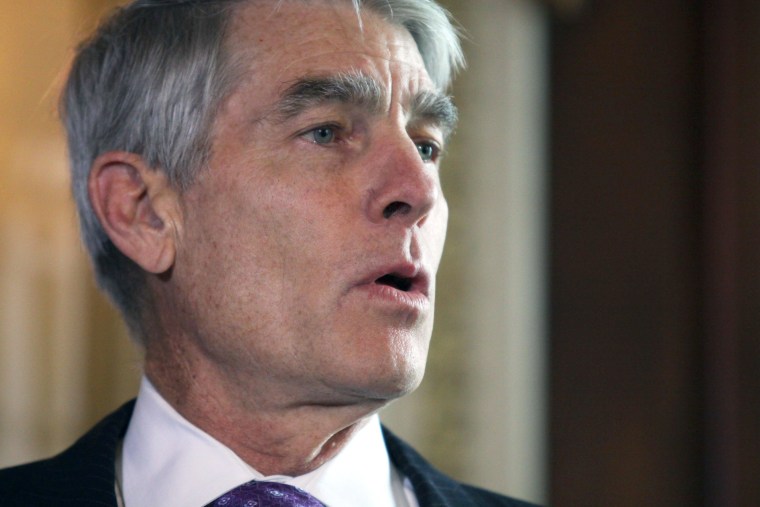 And also in Colorado, both Udall (by 50 to 34 percent) and Hickenlooper (by 52 to 35 percent) have the advantage with independent voters.
By contrast, in Michigan, Gov. Snyder holds a 14-point edge among independents -- which explains his narrow lead in this Democratic-leaning state.
"Democrats' strength is women, and Republicans' strength is health care"
Snyder's job-approval rating among Michigan voters is 49 percent, while Hickenlooper's in Colorado is 54 percent.
Helping Republicans: disapproval of the health-care law, Obama
Yet what's helping Republicans in these two states is a negative attitude about the 2010 health care law.
In Colorado, 52 percent of voters view the law as a bad idea – including 46 percent who hold that position strongly. That's compared with just 37 percent who believe the law is a good idea.
Michigan voters think similarly – 50 percent see it as a bad idea, 32 percent a good idea.
"Democrats' strength is women, and Republicans' strength is health care," says Marist pollster Barbara Carvalho.
President Obama also is unpopular in these two states he carried in both the 2008 and 2012 presidential races: In both, just 40 percent of registered voters approve of his job.
However, just 19 percent of Michigan voters and 21 percent of Colorado voters approve of the job congressional Republicans are doing.
Divides on immigration, global warming
Registered voters in both states are divided about a move to reduce greenhouse gases, even if it means higher utility bills for consumers. Forty-five percent of Michigan voters said they approve of such a proposal, versus 47 percent who said they disapprove. Coloradoans were slightly more in favor of the proposal to reduce global warming; half of voters said they approve of the move, compared to 40 percent who said they disapprove.
The poll showed a wider divide between the two states on the issue of immigration. In Colorado, where Latinos made up 16 percent of registered voters, 56 percent said they favor giving undocumented immigrants a pathway to citizenship, while 40 percent oppose that measure. But in Michigan, where Latinos only make up three percent of registered voters, only 47 percent back offering the opportunity for citizenship, while 46 percent do not.
In Colorado, where Hickenlooper has taken heat for appearing to change his opinion on a controversial gun control measure, voters are deadlocked on the issue of rules involving the sale of firearms.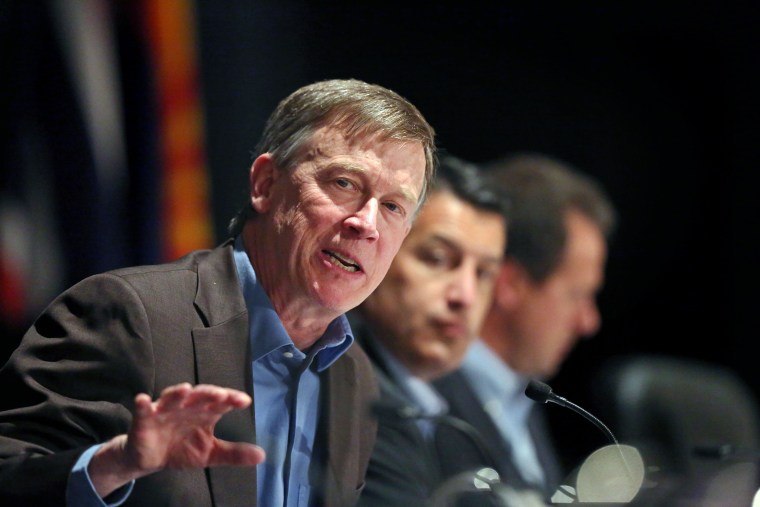 Among registered voters, 40 percent say they would be more likely to vote for a candidate who believes the sale of firearms should be less strict, while 52 percent say the opposite.
"In Colorado, on the gun control issue, there was a sentiment not to do much of anything. People don't want to support someone who wants to limit [the laws], they don't want someone who wants to weaken the restrictions," said pollster Lee Miringoff. "It's very polarized."
Opposition to the loosening of gun regulations is largely fueled by female voters, who say they are less likely to support a pro-gun rights candidate by 20 percentage points, while men are about equally divided on the question.
But no equivalent gender gap exists on the issues of contraception and abortion, also controversies that are animating the state's Senate race.
Only 16 percent of Coloradoan voters said they would be more likely to vote for a candidate who supports restrictions on the use of contraception, and just 25 percent said the same of a candidate who would restrict access to abortion.