Democrats hold a 17-point advantage on which party does a better job dealing with health care, while Republicans enjoy a 7-point edge on the economy, according to the latest NBC News/Wall Street Journal poll.
Asked which party does the better job on health care, 43 percent of Americans say the Democrats, while 26 percent say Republicans.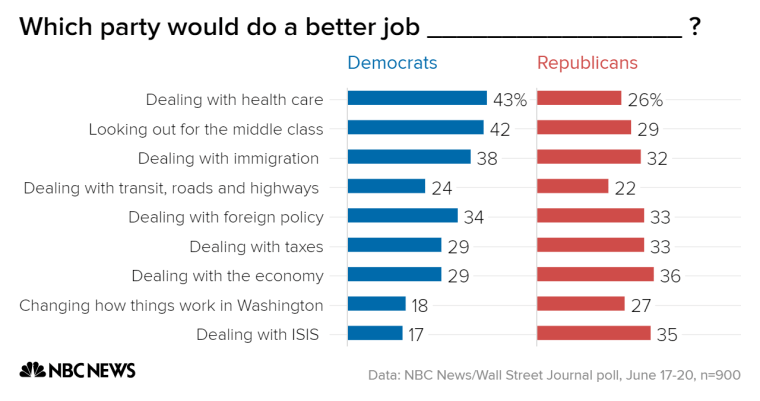 That's up from the 7-point edge (39 percent to 32 percent) Democrats held on this question in 2014.
On looking out for the middle class, 42 percent answer that Democrats do the better job, versus 29 percent for Republicans.
And on immigration, 38 percent of respondents prefer Democrats, while 32 percent pick Republicans.
Meanwhile, Republicans hold the advantage on taxes (33 percent to 29 percent), the economy (36 percent to 29 percent) and changing how things work in Washington (27 percent to 18 percent).
"If you look at the parties and you say, 'OK, Republicans are the party of the economy and change in Washington, and they have overwhelming margins on dealing with ISIS,' that's a problem for Democrats," says pollster Bill McInturff, the Republican half of the NBC/WSJ poll.
The biggest GOP edge comes on dealing with ISIS in Iraq and Syria, with 35 percent preferring the Republicans and 17 percent backing the Democrats.
The parties are essentially tied on infrastructure (24 percent think Democrats are better, 22 percent believe Republicans are) and foreign policy (34 percent prefer Democrats, 33 percent back the GOP).
The NBC/WSJ poll was conducted June 17-20 of 900 adults – including more than 400 via cell phone – and it has an overall margin of error of plus-minus 3.3 percentage points.