By a whopping 25-point margin, voters say they're more likely to back a congressional candidate who promises to serve as a check on President Donald Trump, according to a new national poll from NBC News and the Wall Street Journal.
And by a similar margin, they say they're less likely to vote for someone who has supported the president on most issues.
At the same time, six-in-10 are satisfied with the U.S. economy, and a plurality of voters give Trump credit for the economic improvement.
Despite that economic optimism, however, the poll shows that Democrats enjoy a 10-point advantage on congressional preference, with 50 percent of registered voters wanting a Democratic-controlled Congress, versus 40 percent who want a GOP-controlled one.
Democrats held a 7-point edge on this question back in April, 47 percent to 40 percent.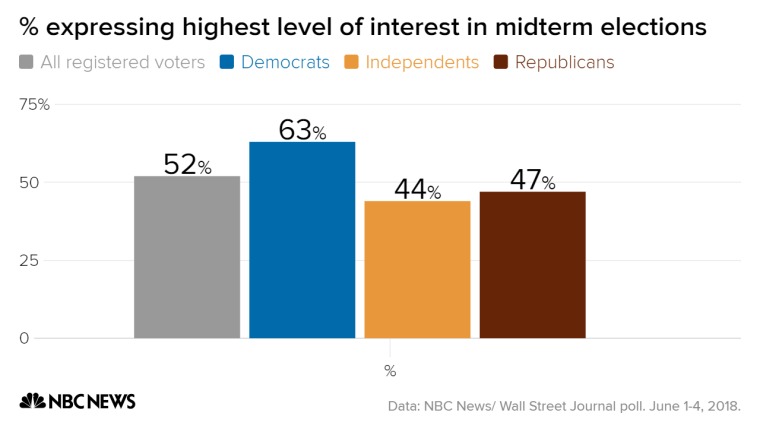 What's more, Democrats are more enthusiastic about the upcoming midterms, with 63 percent of them registering either a "9" or "10" on a 10-point scale of interest, while just 47 percent of Republicans signal the same level of enthusiasm.
And 48 percent of voters indicate they're more likely to support a congressional candidate who promises to provide a check on President Trump, compared with 23 percent who say they're less likely to support such a candidate.
By contrast, a majority — 53 percent — say they're less likely to vote for a candidate who supports the president on most issues.

The margins are even more pronounced among voters living in competitive states and congressional districts, with more than 50 percent of them signaling their support for a candidate who serves as a check on Trump.
"The polling data points to a repudiation of Donald Trump and to the benefit of Democrats," says Democratic pollster Fred Yang, who conducted the survey with Republican pollster Bill McInturff. "I think this is becoming a traditional midterm where the party controlling the White House is going to lose seats."
Trump's approval ticks up to 44 percent
But the same poll also finds Trump's job-approval rating rising to 44 percent among registered voters — up from 40 percent among voters (and 39 percent among all adults) in April.
Still, that 44 percent matches the approval rating for Ronald Reagan (in June 1982) and Barack Obama (in June 2010) before both presidents saw their parties lose a significant number of House seats in the midterms.
And in terms of intensity, 42 percent of voters say they "strongly disapprove" of Trump's job, versus 26 percent who "strongly approve."
In addition, a combined 63 percent of voters say they're either "very" or "somewhat" satisfied with the economy, according to the NBC/WSJ poll, while a plurality of respondents — 44 percent — give Trump credit for the economic improvement. (Twenty-seven percent say he doesn't deserve much credit for the improvement, and another 25 percent say the economy hasn't really improved.)

And while voters aren't bullish on candidates supporting Trump's agenda, they're also sour on House Minority Leader Nancy Pelosi: 45 percent say they're less likely to support a candidate who wants Pelosi as speaker, versus 21 percent who are more likely to back such a candidate.
"She continues to be a serious drag and a net-negative" for Democrats, says McInturff, the GOP pollster.
Health care is top midterm issue
Asked about their top issues for November, 22 percent of voters said health care was their first choice — followed by the economy and jobs at 19 percent, guns at 13 percent, taxes and spending at 11 percent and immigration at 10 percent.
The top responses among Democrats were health care (32 percent) and guns (17 percent), while the top answers among Republicans were the economy and jobs (26 percent) and taxes/spending (15 percent).
Mixed opinions on impeachment
Asked about the possibility of impeaching President Trump, 25 percent said their vote would be a signal of opposition for impeaching him, and 22 percent said it would be a signal of support for impeachment.
Thirty-three percent said their vote wouldn't be a signal either way about impeachment, and another 20 percent said they were unsure.
Unchanged attitudes about the Russia probe
Finally, 37 percent of voters say that — based on what they've seen, read or heard — Trump's 2016 presidential campaign did collude or work secretly with Russia, while 34 percent disagree; 28 percent didn't know enough to say.
Those findings are essentially unchanged from the December 2017 NBC/WSJ poll.
Additionally, a combined 53 percent of voters say they either had "some" or a "great deal" of confidence in special counsel Robert Mueller conducting a fair and impartial investigation, versus a combined 40 percent who have little to no confidence.
And 46 percent believe that Mueller's investigation should continue, while 36 percent think it should be ended.
The live-caller NBC/WSJ poll was conducted June 1-4 among 900 registered voters — about half contacted via cell phone — and the overall margin of error in the poll is plus-minus 3.3 percentage points.