There was a time when Republicans and Democrats could agree about at least one thing when it comes to journalism: The media's criticism of the nation's leaders helps to keep the politically powerful in line.
Now, no more.
While a new survey released Wednesday by the Pew Research Center shows that a majority of all Americans support the idea of the media functioning as a watchdog, there's a sharp — and sudden —divide in how both parties view the role of journalists.
Nearly nine-in-ten Democrats — 89 percent — told pollsters that criticism from news organizations "keeps political leaders from doing things that shouldn't be done." Only 42 percent of Republicans say the same, with the majority of Republican adults — 56 percent — saying that such criticism "keeps political leaders from doing their job."
The nearly 50-point gap is even more striking because it has developed within the last year.
As recently as February 2016, an almost identical percentage of Republicans and Democrats embraced the media's watchdog role, with 77 percent of Republicans and 74 percent of Democrats saying the media functions to "keep political leaders from doing things that shouldn't be done."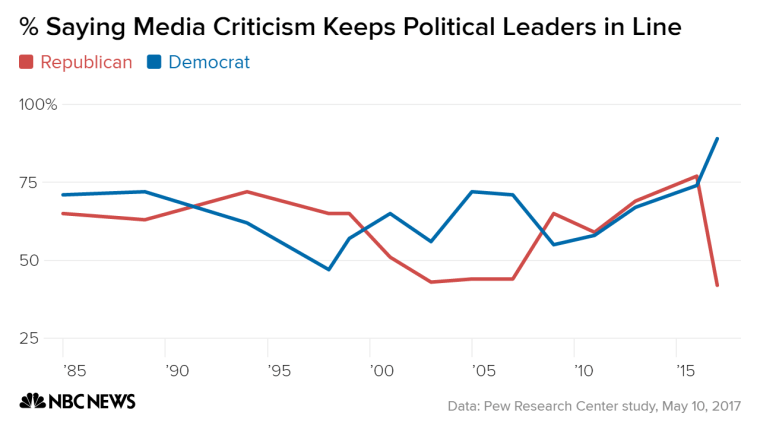 The new survey comes as President Donald Trump assails the "fake news" almost daily, regularly dismissing negative coverage as false and lambasting individual journalists by name.
The notion of a watchful media "keeping political leaders from doing their job" is also a frequent refrain among Trump aides.
In the wake of Trump's stunning dismissal of FBI Director James Comey, for example, Trump aide Kellyanne Conway suggested Wednesday that journalists' questions about the president's decision are "inappropriate."
"You want to question the timing of when he fires, when he hires," Conway told CNN. "It's inappropriate. He'll do it when he wants to."
It's not entirely unusual for the party out of power to advocate for more active muckraking. The Pew Research Center has asked the same question about the media's role since 1985, finding that the party that is shut out of the White House tends to be more enthusiastic about journalists holding political leaders accountable.
But previous differences in views of the news media's watchdog role pale in comparison to the 47-point chasm between Republicans and Democrats today. (Pew notes that the surveys in 2016 and 2017 were conducted online, while previous polls were done by phone, but the 2017 gap remains a record even if modal effects are taken into account.)
A partisan gap has also grown when it comes to the media's job approval ratings, although that change has been far less drastic.
And, regardless of party, most Americans say that national journalists are doing a lousy job.
Last year, only 28 percent of Democrats and 24 percent of Republicans said that the national media does "very well" at keeping them informed. In the latest poll, Republican job approval of the media has ticked down to 18 percent, while Democrats' has ticked up to 33 percent.