WASHINGTON — Just days before the Super Bowl, 48 percent of Americans say they'd encourage a child who wanted to play football to play a different sport due to concerns about concussions — up 8 points since the same question was asked four years ago, according to the latest national NBC News/Wall Street Journal poll.
That includes 46 percent of parents with a child in the household (up 9 points since 2014), 53 percent of mothers (up 13 points) and 39 percent of fathers (up 6 points).
Overall, 49 percent of Americans disagree, saying they wouldn't encourage a child to play another sport due to concerns about concussions.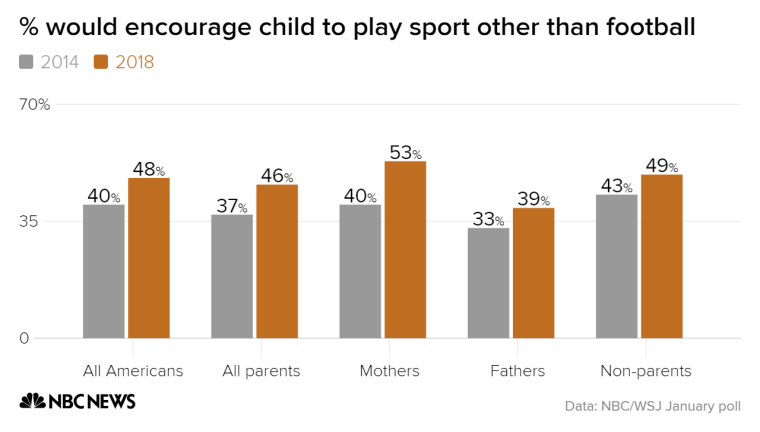 In addition, the NBC/WSJ poll found that 33 percent of Americans believe the National Football League has taken meaningful action to reduce and prevent concussions — down from 41 percent in 2014. (Twenty-eight percent said the NFL had not taken meaningful action, up 8 points since 2014.)
The poll — which was taken after findings of brain disease in deceased NFL football players, as well as after some players began protesting during the national anthem — shows a decline in those who say they closely follow professional football.
According to the survey, 49 percent say they follow the NFL closely, down 9 points since 2014.
By contrast, 51 percent say they don't follow it closely, which is up 9 points from four years ago.
The biggest declines in close followers have come from demographic groups making up key parts of President Donald Trump's political base; Trump has criticized NFL players for taking a knee in protest at racial inequality before games.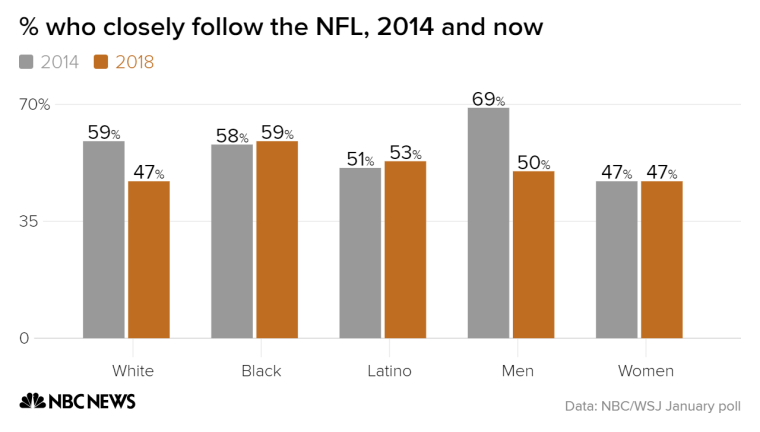 Those demographic groups include men ages 18-49 (a drop of 24 points), men without college degrees (-23 points) and white men (-22 points).
By contrast, there has been almost no change among African-Americans (59 percent of whom say they closely follow pro football, versus 58 percent in 2014); Latinos (53 percent are close followers now, versus 51 percent four years ago); or women (47 percent now, same as in 2014).
The NBC/WSJ poll was conducted Jan. 13-17 with 900 adults — including nearly half reached by cellphone — and has an overall margin of error of plus-minus 3.3 percentage points.