WASHINGTON — In the latest NBC News/Wall Street Journal, special counsel Robert Mueller is viewed positively by 28 percent of Americans, versus 19 percent who view him negatively (+9) — which is essentially unchanged from Mueller's 28 percent positive, 21 percent negative score (+7) in January's poll.
By comparison, Ken Starr's fav/unfav in the Sept. 1998 NBC/WSJ poll — as the Starr Report was being released in the Monica Lewinsky investigation — was 25 percent positive, 49 percent negative (-24).
Inside the numbers of the current NBC/WSJ poll, Mueller remains popular with Democrats and above water with independents — but not surprisingly, he's unpopular with Republicans.
June 2017 NBC/WSJ poll
Among Democrats: 35 percent positive, 9 percent negative (+24)
Among independents: 22 percent positive, 12 percent negative (+10)
Among Republicans: 15 percent positive, 14 percent negative (+1)
December 2017 NBC/WSJ poll
Democrats: 39 percent positive, 14 percent negative (+25)
Independents: 37 percent positive, 23 percent negative (+14)
Republicans: 13 percent positive, 31 percent negative (-18)
January 2018 NBC/WSJ poll
Democrats: 44 percent positive, 9 percent negative (+35)
Independents: 23 percent positive, 10 percent negative (+13)
Republicans: 11 percent positive, 21 percent negative (-10)
March 2018 NBC/WSJ poll
Democrats: 47 percent positive, 9 percent negative (+38)
Independents: 23 percent positive, 21 percent negative (+2)
Republicans: 11 percent positive, 33 percent negative (-22)
So over time, Mueller has gotten more popular with Democrats, less popular with Republicans, and it will be interesting to see if March's dip with independents continues.
A reminder of the most popular — and least popular — figures and institutions in the most recent NBC/WSJ poll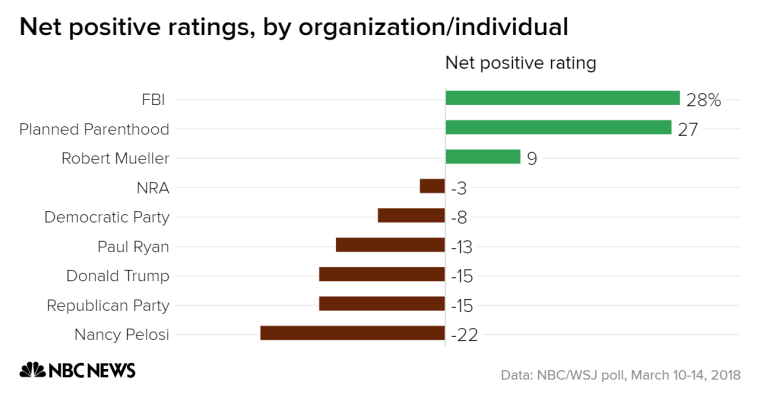 Here's what in and out of Congress' massive spending bill
"A bipartisan agreement on a $1.3 trillion spending package was reached Wednesday after a days-long impasse over issues involving border security, an infrastructure project and gun-related provisions. The deal would keep the government funded through September and prevent a government shutdown — if it's passed and signed into law by the Friday night deadline," NBC's Rebecca Shabad writes. "The bill includes a compromise on one of the president's top priorities: a new border wall. Instead of allocating all of the wall funds Trump had sought, it was slated to provide roughly $1.6 billion for physical barriers and technology along the U.S.-Mexico border. The amount only included $641 million for 33 miles of new border fencing in the Rio Grande Valley, not a concrete wall."
"The measure would provide a backdoor for construction to begin on the Gateway Project, a new rail tunnel connecting New York and New Jersey, by making some of the federal funding that supporters wanted available through money appropriated for Amtrak and other accounts… The deal would not cut funding for Planned Parenthood and there are no provisions that defund so-called sanctuary cities, said the Democratic source. The bill also provides for more than $300 million above the Trump administration's request for the FBI's efforts to fight terrorism, violent crime, election fraud and cybercrime, including Russian cyber-attacks in 2018."
WaPo: Trump missed his best chance to get funding for his border wall
"In the $1.3 trillion spending bill, Trump will secure about $1.6 billion in funding for barriers along the border, which White House press secretary Sarah Huckabee Sanders touted as a win but is nonetheless far short of the $25 billion the administration had sought," per the Washington Post. "Democrats were prepared to give Trump the funding he wanted despite their stiff opposition to a wall, but Trump wasn't willing to compromise more on the fate of dreamers, leaving it unlikely either issue will be addressed anytime soon."
Last night, Trump tweeted: "Democrats refused to take care of DACA. Would have been so easy, but they just didn't care. I had to fight for Military and start of Wall."
Saccone concedes in PA-18
Well, it's now official in Pennsylvania. Yesterday, Republican Rick Saccone conceded to Democrat Conor Lamb in the PA-18 race. "This afternoon, I spoke to Mr. Lamb, conceding the race in the Pennsylvania 18th Congressional District and congratulating him on his victory," Saccone said in a statement, per NBC's Alex Moe. "While there are less than 800 votes separating us, the people of the 18th District deserve to have a voice representing them in Congress."
Given Saccone's concession, it's now time to re-up this March 11 tweet from President Trump: "The Republicans are 5-0 in recent Congressional races, a point which the Fake News Media continuously fails to mention. I backed and campaigned for all of the winners. They give me credit for one. Hopefully, Rick Saccone will be another big win on Tuesday."
Actually, he's now 0-3 for candidates he's backed and campaigned for in the last three contests — Luther Strange in the AL SEN runoff, Roy Moore in the AL SEN general and Saccone in PA-18.
Rundown on the 2018 midterms
In case you missed them, here were yesterday's midterm developments that we chronicled on our "Rundown" blog: The AP called the Democratic primary in IL-6 for scientist Sean Casten, who narrowly defeated Kelly Mazeski… Mississippi Gov. Phil Bryant's pick of Cindy Hyde-Smith to fill retiring Sen. Thad Cochran's seat has made things a little messy for the GOP… And Illinois' gubernatorial primary – the Dem and GOP contests – was the most expensive non-presidential primary in history, according to Advertising Analytics.