The free-for-all special Senate election in Mississippi has a strong chance of heading to a Nov. 27 runoff, where the appointed incumbent, Cindy Hyde-Smith, a Republican, would have the early advantage, according to a new NBC News/Marist poll of the state.
In the Nov. 6 "jungle primary" — where multiple candidates, regardless of party, are competing — Hyde-Smith gets support from 38 percent of likely voters, Democrat Mike Espy gets 29 percent, Republican Chris McDaniel gets 15 percent and Democrat Tobey Bartee gets 2 percent.
Fifteen percent say they're undecided.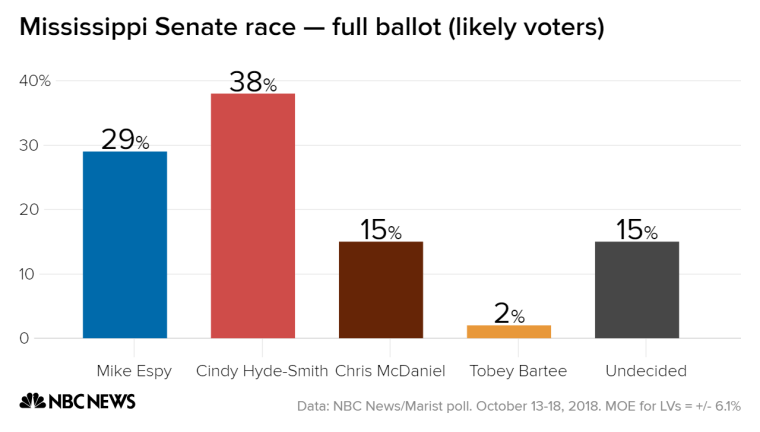 If no candidate surpasses 50 percent of the vote, the top two candidates advance to a runoff three weeks later in an election that could decide control of the Senate if either party is short of a majority after the midterms.
In a hypothetical Nov. 27 runoff, Hyde-Smith leads Espy, a former congressman who was Bill Clinton's agriculture secretary, by 14 points among likely voters, 50 percent to 36 percent, the NBC/Marist poll finds; 13 percent are undecided.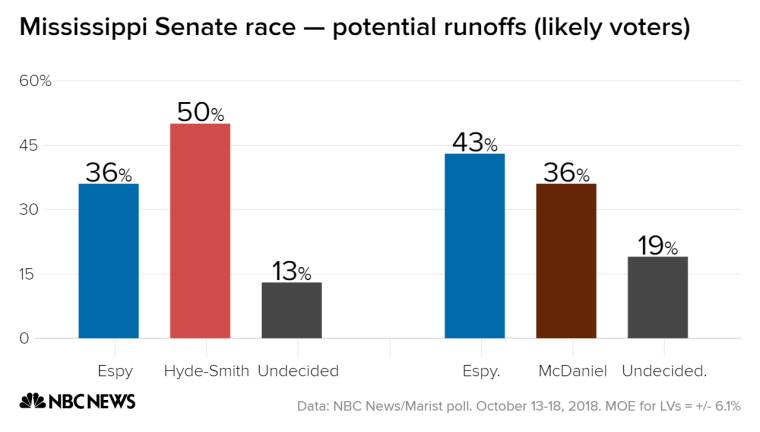 But if the two candidates are Espy and McDaniel, who unsuccessfully challenged former GOP Sen. Thad Cochran in 2014, Espy is ahead by 7 points, 43 percent to 36 percent; 19 percent are undecided.
In March, Mississippi Gov. Phil Bryant appointed Hyde-Smith to fill the Senate seat vacated by Cochran, whose retirement spurred this special election to serve the rest of his term. President Donald Trump endorsed Hyde-Smith in August, and he campaigned for her earlier this month.
Mississippi's other Senate race in November — where there is no jungle primary — is clearer cut, with the Republican incumbent, Roger Wicker, leading Democratic challenger David Baria by nearly 30 points among likely voters, 60 percent to 32 percent.
Trump's approval rating in Mississippi is 60 percent
The NBC/Marist poll shows that Mississippi remains a reliably Republican state, with 60 percent of likely voters approving of President Donald Trump's job performance, versus 35 percent who disapprove.
Trump beat Hillary Clinton in the state by 18 points in 2016.
What's more, Republicans lead in congressional preference in Mississippi by 20 points among likely voters, with 56 percent saying they prefer the GOP to remain in charge of Congress, while 36 percent want Democrats in control.
By a 16-point margin, 54 percent to 38 percent, Mississippi voters say their vote in 2018 will be a message for more Republicans to help pass Trump's agenda, instead of a message for more Democrats to serve as a "check and balance" on the president.
And by nearly 2-to-1, likely voters say they're more likely to vote for a candidate who supported Trump's Supreme Court pick Brett Kavanaugh (46 percent) than one who opposed him (24 percent).
That's in sharp contrast to the recent NBC/Marist polls of Arizona, Minnesota and Nevada, where pluralities of voters in those states said they'd be more supportive of candidates who opposed Kavanaugh.
The NBC/Marist poll of Mississippi was conducted Oct. 13-18 of 973 residents of Mississippi, and it had a margin of error of plus or minus 4.4 percentage points overall; 4.7 points for the 885 registered voters polled; and 6.1 points for the 511 likely voters.