WASHINGTON — An advantage in intensity — against President Donald Trump and for voting in November — is fueling Democrats ahead of the midterm elections that take place more than six months from now, according to a new national NBC News/Wall Street Journal poll.
But the poll doesn't show "knockout numbers" for Democrats, which gives Republicans a chance of retaining control of Congress, says Republican pollster Bill McInturff of Public Opinion Strategies, who conducted this survey with Democratic pollster Peter Hart and his team at Hart Research Associates.
"You don't see knockout numbers here in April. You see problematic numbers [for Republicans]," he said.
In the poll, Democrats enjoy a 7-point advantage in congressional preference, with 47 percent of voters wanting a Democratic-controlled Congress, and with 40 percent preferring a GOP-controlled Congress.
That's down from the Democrats' 10-point edge in March, 50 percent to 40 percent, although the change is well within the poll's margin of error.
In past wave cycles for Democrats — in 2006 and 2008 — the NBC/WSJ poll typically found Democrats with a solid double-digit lead in congressional preference.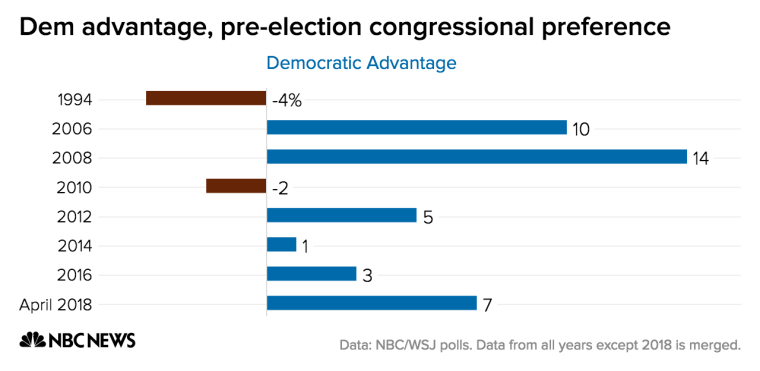 But the current poll shows Democrats with a significant advantage in enthusiasm, with 66 percent of Democrats expressing a high level of interest (either a "9" or "10" on a 10-point scale) in November's elections, versus 49 percent for Republicans.
That's a reversal from the merged NBC/WSJ polling data in 2010 — a wave year for Republicans — when 66 percent of Republicans expressed a high level of interest, compared with 49 percent for Democrats.
And among these high-interest voters in this new poll, Democrats lead Republicans in congressional preference by 21 points, 57 percent to 36 percent.
"That enthusiasm is a very powerful signal of a Democratic edge," McInturff said, but he cautioned that high-interest voters "are a fraction of all overall voters." (Not every voter is a "9" or "10.")
The NBC/WSJ poll also finds Trump's job-approval rating among all adults at 39 percent — down four points from last month. Fifty-seven percent say they disapprove of the president's job performance.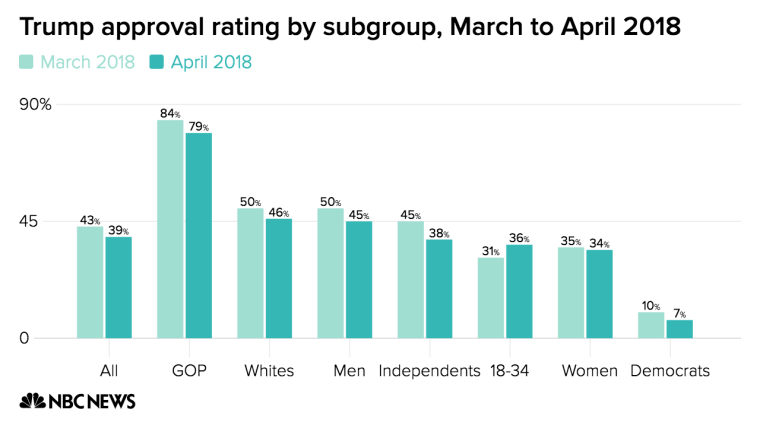 Looking inside those numbers, Trump's job rating stands at 79 percent among Republicans (down from 84 percent last month), 46 percent among whites (down 4 points), 45 percent among men (down 5 points), 38 percent among independents (down 7 points), 36 percent among those ages 18-34 (up 5 points), 34 percent among women (down 1 point) and 7 percent among Democrats (down 3 points).
There's also a significant difference in intensity: 44 percent of Americans say they "strongly disapprove" of Trump's job, versus 22 percent who "strongly approve, which is essentially unchanged from March.
"2018 is shaping up as a referendum on President Donald Trump," said Hart, the Democratic pollster.
Indeed, 40 percent of voters in the poll said their 2018 vote in November would be a message that more Democrats are needed to check and balance Trump and congressional Republicans. That's compared with 28 percent who said their vote would be a message that more Republicans are needed to help Trump and the GOP pass their agenda.
Twenty-nine percent of voters said their 2018 vote would be a different message than the other two options.
Meanwhile, a plurality of Americans — 37 percent — say that the indictments and guilty pleas arising from special counsel Robert Mueller's Russia investigation suggest potential wrongdoing by Trump himself.
Twenty-five percent of respondents say the guilty pleas and indictments suggest wrongdoing by just those individuals.
And 36 percent — including four-in-10 Republicans and nearly half of independents — don't know enough to say either way, suggesting that a large portion of the country hasn't made up its mind on the Russia investigation.
The NBC/WSJ poll was conducted April 8-11 of 900 adults — including nearly half by cell phone — and it has an overall margin of error of plus-or-minus 3.3 percentage points. The margin of error for the 720 registered voters in the poll is plus-or-minus 3.7 percentage points.