WASHINGTON — Fueled by advantages among Latinos, independents and women, Democrat Kyrsten Sinema holds a 6-point lead over Republican Martha McSally in Arizona's key Senate contest, according to a new NBC News/Marist poll of the state.
Sinema, a Democratic congresswoman, gets support from 50 percent of likely voters, while McSally, a GOP congresswoman, gets 44 percent. A combined 6 percent are undecided or prefer someone else.
In September's NBC/Marist poll, Sinema's lead over McSally was 3 points in this head-to-head contest, 48 percent to 45 percent.
When the ballot expands to include the Green Party's Angela Green, Sinema's edge is cut to 3 points, 47 percent to 44 percent — essentially unchanged from Sinema's 2-point advantage in September, 45 percent to 43 percent.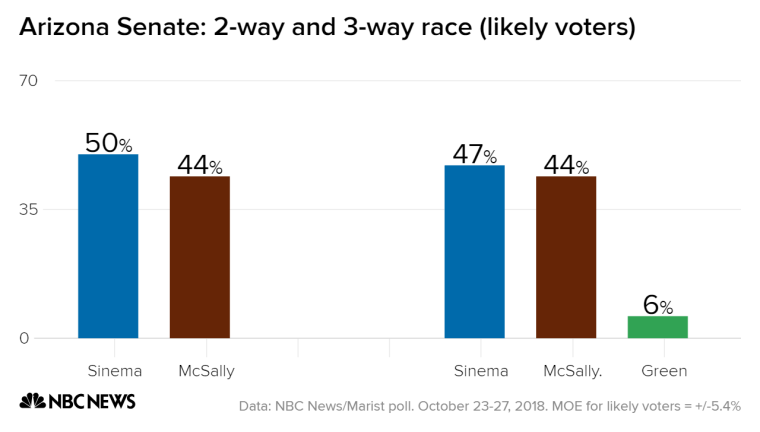 Forty-four percent of these voters say they have already cast their ballots, and Sinema receives support from 51 percent of them to McSally's 47 percent.
Sinema's leads — in both the head-to-head matchup and the three-way ballot — fall inside the poll's margin of error.
"Arizona may play a pivotal role in determining the makeup of the next Senate," says Lee Miringoff, director of the Marist College Institute for Public Opinion, which conducted this survey. "Right now, the contest is very competitive."
In the head-to-head contest, Sinema holds the advantage with Latinos (69 percent to 22 percent), Independents (58 percent to 32 percent) and women (54 percent to 41 percent).
McSally, meanwhile, leads among whites (51 percent to 45 percent) and men (48 percent to 47 percent).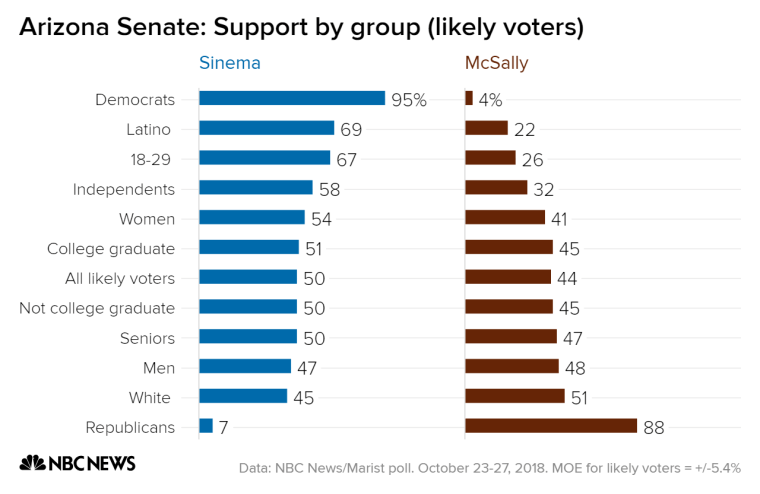 The NBC/Marist poll — conducted October 23-27 — comes after a vicious back-and-forth between the candidates, with McSally and Republicans seizing on Sinema's past comments criticizing politics in Arizona, and with Sinema and Democrats charging McSally of "lying" on health care and other matters.
Forty-eight percent of likely voters say they have a positive view of Sinema, while 42 percent see her in an unfavorable light (+6), though that's down from +13 in September.
That's compared with McSally's 43 percent positive/45 percent negative rating (-2), which is largely unchanged from last month.
Republicans are ahead in gubernatorial matchup
While Republicans trail in Arizona's Senate contest, they lead by double digits in the state's gubernatorial race.
Incumbent Republican Gov. Doug Ducey gets support from 55 percent of likely voters, while Democratic challenger David Garcia gets 42 percent — up from Ducey's 8-point lead in September.
When the ballot is expanded to include the Green Party's Angel Torres, Ducey's advantage is 14 points, 54 percent to 40 percent.
Trump's job rating in Arizona: 44 percent
The NBC/Marist poll also finds 44 percent of likely Arizona voters approving of President Donald Trump's job performance, and 49 percent disapproving — essentially unchanged from September.
Among registered voters, 43 percent approve and 48 percent disapprove.
Despite the poll showing Republicans with a 7-point edge in party identification, Democrats hold a 1-point lead in congressional preference in the state, with 47 percent of likely voters preferring a Democratic-controlled Congress and 46 percent wanting Republicans in charge. (independents prefer Democrats by 14 points here, 50 percent to 36 percent.)
And asked about Supreme Court Justice Brett Kavanaugh, 35 percent of likely voters say they are more likely to back a candidate who supported Kavanaugh (like McSally did), while 37 percent say they are more likely to vote for a candidate opposing Kavanaugh (like Sinema did).
The live-caller NBC/Marist poll was conducted Oct. 23-27 among 910 Arizona adults (with a margin of error of plus or minus 4.1 percentage points), 793 registered voters (plus or minus 4.4 percentage points) and 506 likely voters (plus or minus 5.4 percentage points).