Donald Trump has extended his support in the 2016 presidential race among Republican primary voters to a record 40 percent as the field has narrowed, but he is still locked in a tight battle with Texas Sen. Ted Cruz for dominance, a new NBC News/Wall Street Journal poll shows.
Trump gets the support of 40 percent of Republican primary voters, while Texas Sen. Ted Cruz gets 35 percent. Ohio Gov. John Kasich, in third place, has the support of 24 percent of GOP primary voters.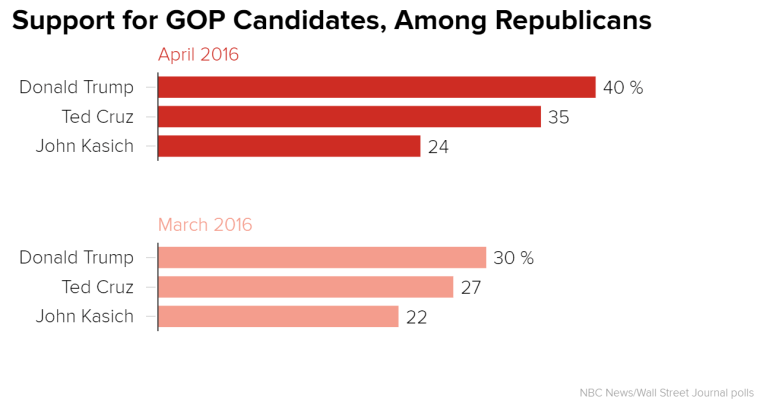 The margin of error for Republican primary voters in the poll is +/- 5.6 percent.
In March, Trump led Cruz by three points, 30 percent to 27 percent, with Kasich garnering 22 percent. In February – when Marco Rubio, Jeb Bush and Ben Carson were still in the presidential hunt -- Cruz held a slight advantage over Trump, 28 percent to 26 percent.
Trump outperforms Cruz most decisively among Republicans who do not have a college education (45 percent to 38 percent) and men (42 percent to 35 percent). Cruz thrives among very conservative voters (52 percent to Trump's 40 percent), while Kasich leads among Republicans who describe themselves as moderate or liberal (44 percent to Trump's 33 percent and Cruz's 23 percent).
Among Republican primary voters, both Cruz and Kasich are viewed as more broadly acceptable than Trump.
Sixty-three percent say they can see themselves supporting Cruz, with 35 percent disagreeing. For Kasich, 61 percent can imagine backing the Ohio governor, while 33 percent cannot.
For Trump, the GOP frontrunner, 61 percent of Republican primary voters say they can see themselves backing him, while 38 percent disagree.

With more primary contests to come in the spring and early summer – but with persistent questions about whether Trump can reach the 1,237 delegates required to clinch the Republican nomination outright – a majority of Republicans say that he should still receive the nod if he's the GOP candidate with the most votes after the primary season concludes.
According to the poll, 62 percent of Republican primary voters say that the winner of the Republican nomination should be the candidate who received the most votes in the primary, while 33 percent say the nominee should be the candidate whom the delegates at the convention believe would be the best party standard-bearer.