Republican Gov. Scott Walker of Wisconsin is behind by double digits in his re-election bid, while Democratic Sen. Tammy Baldwin is comfortably ahead in hers as a near majority of likely voters say they prefer Democrats to control Congress, according to a new NBC News/Marist poll of the state.
In Wisconsin's race for governor, Democratic challenger Tony Evers gets support from 53 percent of likely voters in a head-to-head matchup, while Walker gets 43 percent.
Among the larger pool of registered voters in the state, Evers' lead is 9 points, 52 percent to 43 percent — down from his 13-point lead in July's NBC/Marist poll.
When the ballot is expanded to include the Libertarian and Green Party candidates running for governor, Evers is ahead by 8 points among likely voters, 50 percent to 42 percent.

Looking inside the head-to-head numbers among likely voters, Evers leads among Democrats (97 percent to 2 percent), nonwhite voters (70-24), women (60-36) and independents (56-36).
Walker, meanwhile, is ahead among Republicans (96 percent to 3 percent), whites without a college degree (51-45) and men (50-46).
While Walker is facing the most challenging race and political environment of his career, a different poll from Marquette Law School released Wednesday showed the governor ahead by 1 point among likely voters, 47 percent to 46 percent.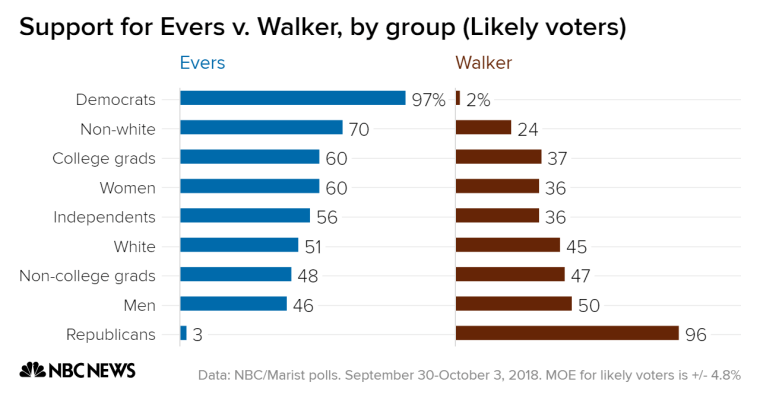 In Wisconsin's Senate race, the NBC/Marist poll finds Baldwin getting support from 54 percent of likely voters, and GOP challenger Leah Vukmir getting 40 percent.
The Marquette Law poll also showed Baldwin ahead by double digits, 53 percent to 43 percent.
Trump's job rating in Wisconsin: 45 percent
The NBC/Marist poll also finds 45 percent of likely voters in Wisconsin approving of President Donald Trump's job performance, while 50 percent disapprove.
Among registered voters, 44 percent approve of Trump's job — up from 36 percent in the July NBC/Marist poll.
"While President Trump's popularity in the state he narrowly carried in 2016 has improved, his standing remains upside down," says Lee Miringoff, director of the Marist College Institute for Public Opinion, which conducted this survey. "Coupled with the enthusiasm advantage Democrats have over Republicans in the state, Democrats are positioned to hold their Senate seat and lay claim to the governorship."
In addition, Democrats hold a 6-point lead in congressional preference in Wisconsin, with 49 percent of likely voters saying they prefer a Democratic-controlled Congress, versus 43 percent who want Republicans in charge.
Asked a different way, 50 percent of likely voters say they'll back a Democratic candidate in their district, while 44 percent say they'll support a Republican candidate.
And 53 percent to 40 percent, Wisconsin voters say their message in November will be that more Democrats are needed in Congress to serve as a check and balance on Trump, rather than more Republicans are needed to help the president pass his agenda.
Health care, economy are top midterm issues in the state
In Wisconsin, 27 percent of likely voters single out health care as the top issue that could decide their vote next month, 26 percent cite the economy and jobs, and 10 percent say immigration.
And 42 percent say they're more likely to vote for a candidate who opposed Brett Kavanaugh's nomination to the U.S. Supreme Court, versus 33 percent who say they're more likely to vote for someone who supported him. Twenty-two percent said the issue made no difference to their vote.
In the Senate contest, Baldwin voted against Kavanaugh, while Vukmir said she supported him.
The NBC/Marist poll was conducted — via landline and cell phone interviews — from Sept. 30 through Oct. 3 among 943 adults (which has a margin of error of plus-minus 3.7 percentage points), 781 registered voters (plus-minus 4.1 percentage points) and 571 likely voters (plus-minus 4.8 percentage points).