WASHINGTON — In the last two decades, more women have become their family's primary breadwinner, and views of working mothers have become drastically more positive. But when it comes to women's actual experiences with inequality and harassment in the workplace, the more things change, the more things stay the same.
A new NBC News/Wall Street Journal poll finds that a majority — 52 percent — of Americans say that men do not accept and treat women as equals in the workplace, virtually unchanged since the poll asked the same question in 1999.
Women are particularly pessimistic, with 61 percent saying that their male counterparts fail to treat them as equals, exactly the same share as 19 years ago.
And in June 2000 and now, exactly the same share of women — 44 percent — say they have personally experienced discrimination because of their gender.
The stagnancy in how women view their treatment in the workplace comes as more of them have taken on a role as their household's primary wage earner. Nearly half of employed women — 49 percent — say that they work primarily because they are their family's main breadwinner, up from 37 percent in 2000. That includes 42 percent of working women with children.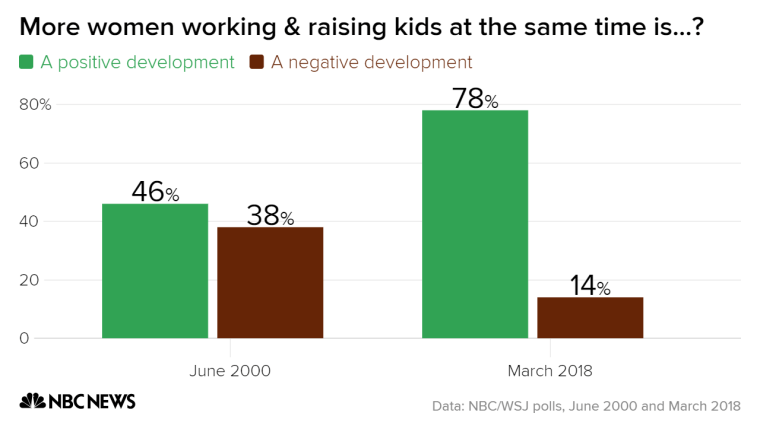 "While Americans have become less judgmental about working mothers, this is a story about taking one step forward and one step back," says Corrie Hunt of Hart Research, which conducted the poll along with Public Opinion Strategies. "As Americans, we've become more willing to say the right things about women in the workplace, but we haven't put the supports in place to back it up. Our words have not yet been put into actions."
Perceptions of working women who are also raising children have indeed become far more positive in the last two decades. In 2000, just 46 percent of Americans called it a positive development that more women are working while raising children, while 38 percent called it a negative development. Now? An overwhelming majority, nearly eight in 10 (78 percent) call it positive, and just 14 percent disagree.
(There is, however, a noticeable partisan difference. While a similar number of men and women —77 percent and 79 percent, respectively — say that the growing number of mothers in the workplace is a positive development, a smaller share — 61 percent — of Trump voters agree, compared to 89 percent of Clinton voters. More than quarter — 27 percent — of Trump voters call the increasing number of mothers in the workplace a negative development.)
There is also a lingering partisan difference in views of how women overall are accepted in the workplace. While only 28 percent of Democrats say that women are treated as equals in the workplace and 68 percent disagree, Republicans say that women are treated equally by almost a 20 point margin. Nearly six in 10 Republicans — 58 percent — say women are treated as equals by their male counterparts, while 36 percent disagree.

And there's also a notable gender gap when it comes to ways that women experience workplace inequality. Majorities of employed men don't believe that there's a significant gap in how women are paid, promoted and valued at their workplaces, while employed women are a bit more divided. Only about one in seven men say male workers get promoted more readily than women and get paid more for doing the same work, while about one in three women say the same.
The #MeToo movement: Just a third say response to harassment has gone too far
Similar to an October 2017 NBC/WSJ poll, about half of working women — 49 percent — say they have personally received an unwelcome sexual advance or other kind of sexual harassment at work.
Many workplaces are trying to address the issue, although the poll also finds that few Americans say they're making personal changes. Overall, about half of Americans — 48 percent — say that the #metoo movement has increased discussion about what's appropriate in their workplace, although only 18 percent say they've personally changed their behavior as a result of the increased attention to harassment.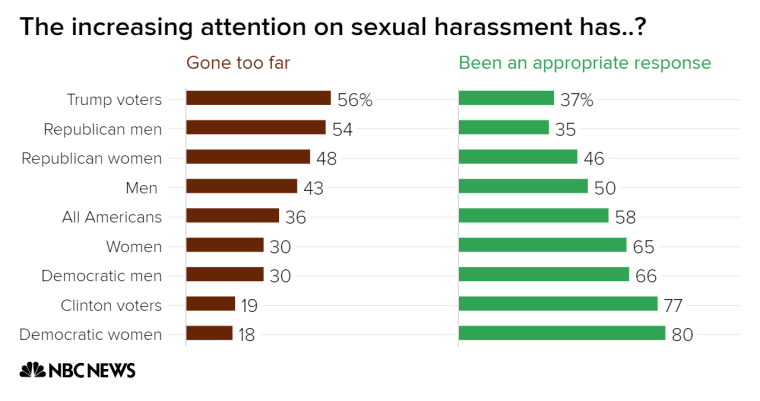 While there has been some discussion of a backlash against the #metoo movement, a majority of Americans — 58 percent — say that the problem of sexual harassment is being appropriately addressed, virtually unchanged since the end of last year. But the 36 percent who say the response to sexual harassment has gone too far includes more than half of Trump voters (56 percent).
Americans also have grown even more convinced that the movement to address sexual harassment in the workplace has changed attitudes about the issue in the long run. Two-thirds (67 percent) say the changes will be long term, up from 60 percent in December.
The live-caller NBC/WSJ poll was conducted March 10-14 of 1,100 adults — nearly half reached by cellphone — and it has an overall margin of error of plus-minus 3.0 percentage points. The margin of error among the 930 registered voters is plus-minus 3.2 percentage points.