When President Donald Trump captured the White House in 2016, he won with an electoral map that showed a shift in long-standing voting patterns, hammering away at the Democrats' "Big Blue Wall" of states in the upper Midwest. New state polls from Marist this week, however, suggest those older patterns may be reemerging in favor of the Democrats this year and they could have big impacts this November and beyond.
Trump won the presidency with victories in Wisconsin and Michigan, states no Republican presidential candidate had won in more than a quarter century. He also got within two points of winning Minnesota, a state that has not voted for a GOP presidential nominee since 1972.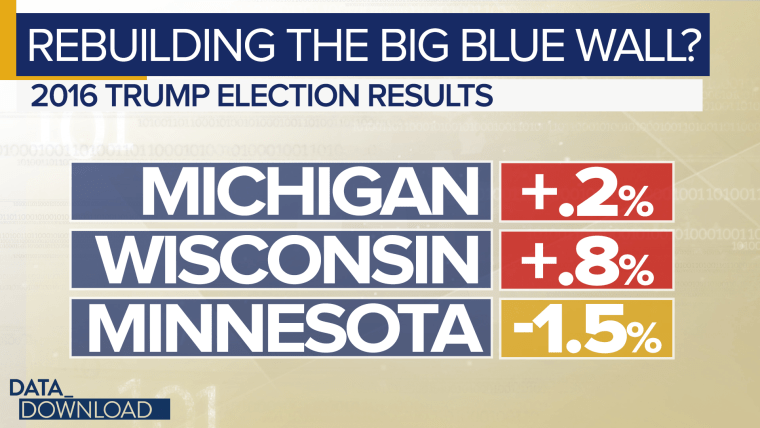 His success in those places was largely viewed as a part of Trump's broad appeal with blue-collar manufacturing voters. All three of those states are in the top 10 for manufacturing employment in the United States, according to the U.S. Census.
But this week a set of NBC News/Marist polls showed Trump's approval rating was deep underwater in those states. He didn't break 40 percent job approval with registered voters in any state and his job disapproval number was above 50 percent in all of them.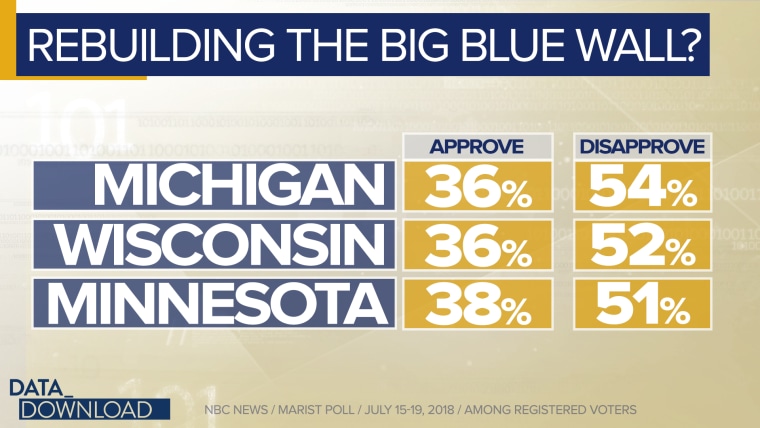 Those are not good numbers by any measure and they aren't a result of a lack of attention. Trump has visited each state this year — for rallies in Michigan and Minnesota and for the groundbreaking of a new manufacturing plant in Wisconsin.
Of course, Trump's presidency is still young. He's less than halfway through this term and that means there is still time for him to turn those numbers around.
But November is looming — Election Day is 100 days away as of Sunday — and in many voters' minds the president has become synonymous with the Republican Party. The polls suggest that could be a problem for the GOP this fall.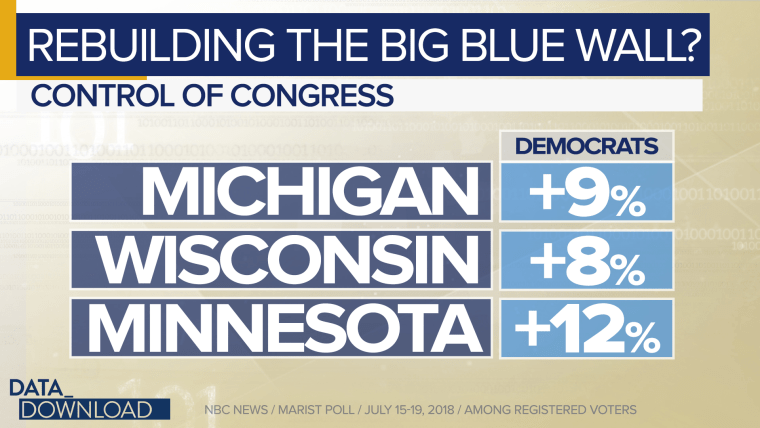 On the "generic ballot," there's a polling question that asks "what is your preference for the outcome of this November's congressional elections." Republicans trail by a solid number in each state. Voters favor the Democrats by 9 points in Michigan, 12 points in Minnesota and 8 points in Wisconsin.
Perhaps more troubling for Republicans, those numbers cover a broad swath of territory in each state.
Democrats hold massive leads in those states' big city areas, a greater than 20-point lead in each. That's not a huge surprise. Democrats tend to own the big cities. But the Democrats also hold solid edges in those states' suburban areas: 8 points in Michigan, 10 points in Minnesota and 11 points in Wisconsin.
If those numbers are right, and they hold this fall, Republicans are going to have to lean hard on small town and rural locales to carry them. There are some places those voters could help — Minnesota's 1st and 8th are heavily rural districts held by Democrats and they are rated as tossups by the Cook Political Report.
But there are many more places where these numbers are a concern for the GOP.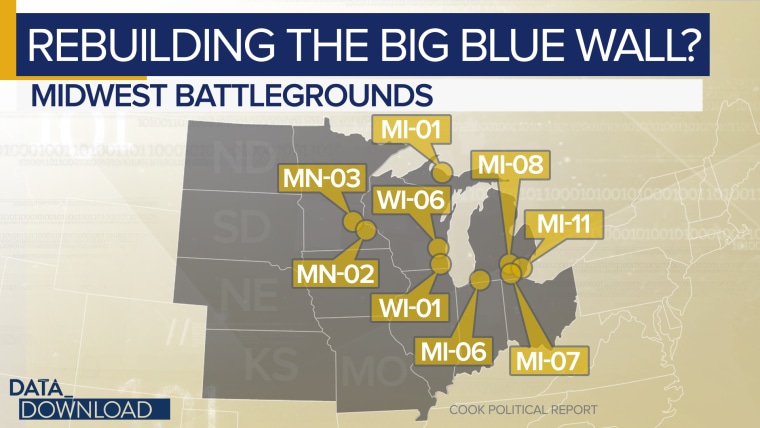 Michigan, Minnesota and Wisconsin are home to nine Republican-held House seats currently listed as battlegrounds by the Cook report. There are four Senate races in the states this fall — one each in Michigan and Wisconsin and two in Minnesota. And each state has a governor's race.
Those seats will matter a lot in determining control of Congress in 2019 and they could also matter when it comes to congressional redistricting after the next Census. In each of these states, the governor can veto redistricting lines.
The bigger issue, however, may be the overall mood and partisan lean of these states that were so crucial to Trump's 2016 win.
It's a midterm election, of course, and Trump is not formally on the ballot, but these numbers are likely a cause for concern in the White House. At the very least they suggest a "Big Blue Wall" may be rising again across the upper Midwest in 2018.