WASHINGTON — In three politically important Midwest states — including two that were key in deciding the 2016 election — President Donald Trump's job approval rating is below 40 percent, and Democrats hold a sizable lead for the upcoming congressional midterms, according to a trio of new NBC News/Marist polls.
In Michigan, which Trump won by nearly 11,000 votes, 36 percent of registered voters approve of the president's job, while 54 percent disapprove.
In Wisconsin, which he won by about 23,000 votes, another 36 percent give Trump a thumbs up, with 52 percent giving him a thumbs down.
And in Minnesota, which Trump narrowly lost by 1.5 percentage points, his rating stands at 38 percent approve, 51 percent disapprove.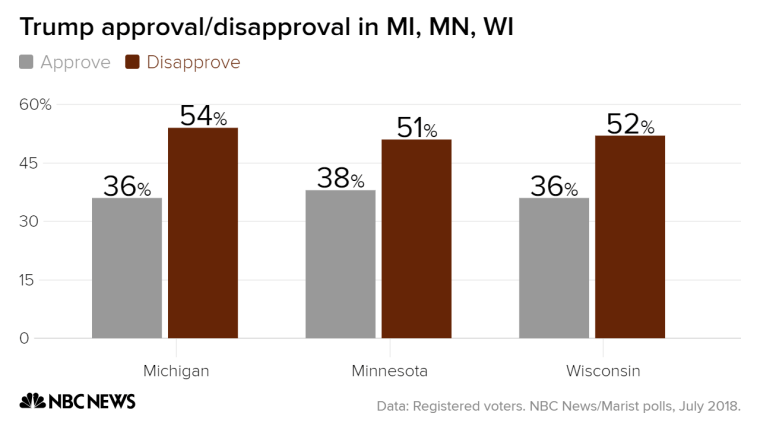 What's more, with November's midterm elections less than four months away, Democrats enjoy a lead in congressional preference from 8 points to 12 points in these three states.
In Michigan, 45 percent of voters prefer a Democratic-controlled Congress, while 36 percent want a GOP-controlled Congress (D+9).
In Minnesota, it's 48 percent preferring the Democrats, to 36 percent backing the Republicans (D+12).
And in Wisconsin, Democrats hold a 47 percent-to-39 percent lead in congressional preference (D+8).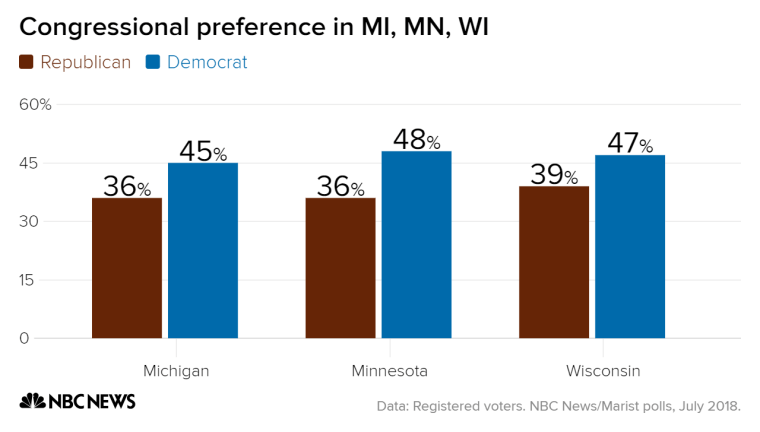 "Donald Trump carried or came very close to carrying these three states in 2016. But it's a very different picture for this fall's elections," says Dr. Lee M. Miringoff, Director of the Marist College Institute for Public Opinion.
In all three states — which hold competitive House, Senate and gubernatorial contests in 2018 — the Democratic leads are boosted by female voters, whites with college degrees and independents (though Republicans hold a 1-point edge here in Minnesota).
Republicans, meanwhile, have advantages with male voters and whites without college degrees.
Majorities say 2018 vote is message for "check and balance" on Trump
Also in the NBC/Marist polls — which were conducted July 15 to July 19, so mostly after Trump's widely criticized July 16 press conference with Russia's Vladimir Putin — majorities in all three states say their vote in November will be a message that more Democrats are needed in Congress to be a check and balance on the president.
By contrast, about a third of voters in Michigan, Minnesota and Wisconsin say their vote will be a message that more Republicans are needed to help President Trump pass his agenda.
"Donald Trump's standing in each of these states casts a long shadow over the midterm elections," Miringoff says.
On the economy, about four-in-10 voters in all three states say the economy has improved and give Trump some credit for it; about a third say the economy has improved but don't give the president credit; and about a quarter say the economy has not improved.
A third of voters in these states say Trump deserves re-election
And only about three-in-10 voters in all three states say President Trump deserves re-election in 2020.
In Michigan, just 28 percent believe he deserves re-election, while 62 percent say it's time to give another person a chance.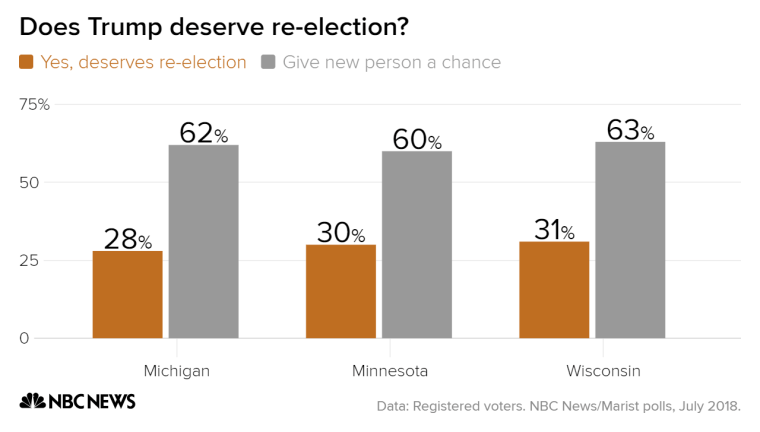 In Minnesota, 30 percent of voters say Trump deserves re-election, versus 60 percent who disagree.
And in Wisconsin, 31 percent say the president should be re-elected, and 63 percent say he shouldn't.
The liver-caller NBC/Marist polls were conducted July 15-19 among respondents contacted by both landline and cell phone.
The margin of error for the 886 registered voters in Michigan is plus-minus 3.9 percentage points. The margin of error for the 876 registered voters in Minnesota is plus-minus 4.0 percentage points. And the margin of error of the 906 registered voters in Wisconsin is plus-minus 3.8 percentage points.
More numbers from the NBC/Marist polls will be released on Thursday.